DeVon Franklin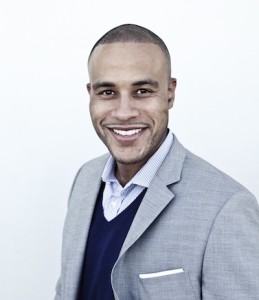 DeVon Franklin is a rarity: an African-American studio executive at the forefront of Hollywood. He currently serves as Senior Vice President of Production for Columbia Pictures, a division of Sony Pictures Entertainment where he oversaw the remake of one of 2010's biggest hits, The Karate Kid, starring Jackie Chan and Jaden Smith, which grossed over $350 million worldwide.
DeVon also worked on The Pursuit of Happyness and Hancock starring Will Smith, the faith-based hit Not Easily Broken, produced by Bishop T. D. Jakes and the romantic comedy, Jumping the Broom starring Angela Bassett and Paula Patton. He was formerly a studio executive at Metro-Goldwyn-Mayer (MGM) and got his start as an intern for Will Smith and James Lasstier.
In addition to his entertainment industry pursuits, DeVon is also a preacher and motivational speaker. He became a published author when Simon & Schuster released his first book, Produced By Faith, in May of 2011. It's a how-to-guide about pursuing your career without compromising your faith. He's appeared on CNN, Fox-11 Morning News and featured in Essence Magazine, LA Focus and IAE Magazine. 
DeVon was recently named by The Hollywood Reporter as one of the top 35 executives under 35 and one of the top 10 industry impact players by the NAACP. He sits on the board of Film Independent and American Black Film Festival. He is a graduate of the University of Southern California with a B.A degree in Business Administration and a minor in Cinema-Television. He's from the San Francisco Bay Area and lives in Los Angeles.