Laura Dern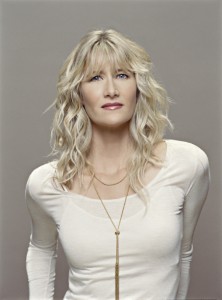 Laura Dern has proven to be one of the great actresses of her generation showing that she is capable of great depth and range, touching audiences and critics alike with her moving and heartfelt performances. In 2010, in celebration of their family legacy in film and television, Dern, her mother Diane Ladd and father Bruce Dern were awarded with the first ever Family Star Ceremony on the Hollywood Walk of Fame.
Dern will next be seen in the highly-anticipated HBO series Enlightened this coming Fall, in which she serves as the star, Executive Producer and Co-creator alongside prolific writer and director Mike White.  In this 30-minute, dark comedy Dern portrays 'Amy Jelicoe,' who is introduced to viewers while she is in the midst of experiencing an emotional breakdown at work that forces her to seek treatment. She comes out of treatment "enlightened" and ready to make peace with her mother, ex-husband and former employees and confront her 'demons' with a newfound  perspective.  The show will reunite her with HBO, where she starred in the 2008 Emmy award-winning ensemble film Recount.
Dern was recently seen in a poignant role in the indie film Everything Must Go with Will Ferrell and Rebecca Hall. Dern portrayed 'Delilah,' an old high school classmate who assures Will Ferrell's character, 'Nick' he really does have a heart when he visits her out of the blue. The film was directed by first-time director Dan Rush and based on a Raymond Carver short story. The film premiered at the 2010 Toronto Film Festival.
In 2010, Dern appeared in Universal Pictures' Little Fockers, the sequel to Meet the Parents and Meet the Parents. The film also starred Robert DeNiro, Ben Stiller, Dustin Hoffman and Barbra Streisand. In the film, Dern played 'Prudence,' the headmistress of the elementary school that the Fockers' kids attend.
In 2008, HBO's Recount revisited the controversial 2000 presidential election in Florida. Dern starred alongside Kevin Spacey, Bob Balaban, Ed Begley, Jr., John Hurt, Denis Leary, Bruce McGill and Tom Wilkinson. The ensemble cast all played key players in one of the most dramatic events in U.S. history.  For her performance as 'Katherine Harris,' Dern earned a 2008 Golden Globe award for "Best Performance by an Actress in a Supporting Role in a Series, Mini-Series or Motion Picture Made for Television" and was nominated for an Emmy Award and Screen Actors Guild Award.  The film was written by Danny Strong and directed by Jay Roach.
In 2007, Dern starred in Year of the Dog alongside Molly Shannon, Peter Sarsgaard and Regina King.  The movie was written and directed by Mike White.
In 2006, Dern was seen starring as three different characters in David Lynch's feature film, Inland Empire. The film premiered at the Venice Film Festival and was screened at the New York Film Festival and AFI Film Festival. At the 2007 Independent Spirit Awards, Film Independent gave their Special Distinction Award to David Lynch and Laura Dern for their collaborative work on this movie, as well as Blue Velvet and Wild at Heart.  The film was shot entirely on digital video.  StudioCanal co-financed the project with Lynch and longtime producing partner Mary Sweeney.
In 2005, Dern filmed the Todd Robinson directed drama Lonely Hearts, based on the 1940's true story of two homicide detectives who track a murderous pair of killers known as the Lonely Heart Killers who lured their victims through personal ads.  Dern played the detective 'Martha Beck' alongside John Travolta.
Also in 2005, Dern appeared in a supporting role in the Don Roos directed dark comedy, Happy Endings, an ensemble film with Maggie Gyllenhaal, Lisa Kudrow, Tom Arnold, Jason Ritter and Bobby Canivale. The film premiered at the Sundance Film Festival and served as the closing night film of the Los Angeles Film Festival.
Dern also appeared with Julianne Moore and Woody Harrelson in the 2005 Dreamworks film The Prize Winner of Defiance Ohio, directed by Jane Anderson. The film told the story of how a single mother raised her ten children by entering a variety of contests in the hopes of winning the rewards.
In 2004, Dern starred as the complex and conflicted Terry Linden opposite Mark Ruffalo in the feature film We Don't Live Here Anymore for Warner Bros. Independent.  Warner Bros. Independent acquired the rights to the film after it received critical acclaim at the 2004 Sundance Film Festival.  Directed by John Curran and based on two short stories by Andre Dubus II (In the Bedroom), this drama examined the consequences of infidelity which enveloped two marriages.  Dern's performance earned her strong critical reviews and praise from the industry and her peers and proved once again her chameleon-like ability to become the character's in which she portrays.
Dern appeared in a diverse selection of roles in three very different feature films in 2001.  She starred alongside Sean Penn and Michelle Pfeiffer in New Line Cinema's critically acclaimed I Am Sam, as Steve Martin's suspicious dental hygienist girlfriend in Artisan Entertainment's dark comedy, Novocaine, and opposite William H. Macy in Focus for first time director Neil Slavin.  Focus was screened in competition at the Toronto Film Festival.  Dern also had a cameo appearance that year in Universal Pictures' "Jurassic Park III," which re-teamed her with director Joe Johnston and actor Sam Neill.
On television in 2001, Dern delivered a captivating performance in Showtime's Damaged Care in which she portrayed the real-life 'Dr. Linda Peeno,' an advocate and whistleblower against HMO's managed care practices. Dern also served as a producer on this project.  Earlier that year, Dern appeared in Lifetime Television's "Within These Walls," opposite Ellen Burstyn. Dern also starred in Showtime Television's quirky romantic comedy, Daddy and Them, a film written and directed by Billy Bob Thornton.
In January of 1999 the Sundance Institute presented Dern with the Piper Heidseick Award for Independent Vision (recently re-named the Sundance Institute to Independent Vision Award), following in the footsteps of previous honorees such as Nicolas Cage, Tim Robbins, Kevin Spacey, Benecio Del Toro and Julianne Moore.  Each year, this award is bestowed by the Sundance Film Festival in recognition of the original voice and vision of an actor whose work reveals commitment to independent spirit and artistic merit.
In 1996, Dern starred in Miramax Films' critically acclaimed black comedy "Citizen Ruth," directed by a newcomer at that time, Alexander Payne (who has since earned an Academy Award for his film, Election.)  Dern portrayed a young, glue-sniffing homeless woman whose pregnancy becomes a lightning rod for both Pro-Life and Abortion Rights groups. She received rave reviews by critics such as David Denby of New York magazine who commented, "Laura Dern's performance is startlingly vivid and detailed….sheer exuberant comedy. She has the gift of transparency" and The Hollywood Reporter which stated, "Dern distinguishes herself as the frazzled, self-destructive Ruth. Dern's gangly exuberance and trashy thrashings are perfect."  Citizen Ruth was screened at the Montreal Film Festival where Dern was awarded "Best Actress" for her role.
In 1993, she starred opposite Sam Neill and Jeff Goldblum in Steven Spielberg's worldwide phenomenon and record-breaking box office success, Jurassic Park, the first of the trilogy about cloned dinosaurs.   Later that year, she starred opposite Clint Eastwood and Kevin Costner in the Warner Brother's film A Perfect World, which Eastwood also directed.
In one of the most critically applauded performances of the year, Laura Dern received both an Academy Award nomination and a Golden Globe nomination in 1992 for her performance as 'Rose' in the acclaimed film Rambling Rose, directed by Martha Coolidge and co-starring her mother, Diane Ladd.  Janet Maslin of The New York Times boldly stated that Dern is weirdly lovable in a "sidesplitting performance proving herself as a terrific physical comedian." This film upholds its place in history as the first time that a mother/daughter team has earned Academy Award nominations for the same project.
In 1985, Dern won the Los Angeles Film Critics' New Generation Award for her performance in the coming-of-age story Smooth Talk and Mask.  She has starred in two films for director David Lynch: Blue Velvet in 1986 and Wild at Heart, winner of the Palme d' Or at the 1990 Cannes Film Festival, which co-starred her Nicolas Cage.  Dern's other film credits include Robert Altman's Dr. T and the Women, October Sky, Mask, Fat Man and Little Boy, Haunted Summer, Teachers, Foxes and Ladies and Gentleman, The Fabulous Stains.
Dern made her directorial debut with a short film called "The Gift," which aired as part of Showtime's "Directed By" series in October 1994.  The cast included Mary Steenburgen, Bonnie Bedelia, Isabella Rossellini, Mary Kay Place, Peter Horton and her mother, Diane Ladd.
In 1997 Dern was nominated for an Emmy Award and won an American Comedy Award for her guest-starring role in the controversial Puppy Episode of the ABC comedy, "Ellen." She received a 1998 Golden Globe nomination for her role in Jane Anderson's "The Baby Dance," produced by Jodie Foster's Egg Productions for Showtime. "The Baby Dance" was also awarded with two 1998 Peabody Awards.
Dern received the Golden Globe Award for Best Actress, as well as Emmy and Cable ACE nominations for her starring role in the 1992 telefilm "Afterburn."   Her other work on television includes Showtime's critically acclaimed film noir series, "Fallen Angels," for which she received an Emmy nomination, and Showtime's original film, "Down Came a Blackbird," which she also produced, opposite Vanessa Redgrave and Raul Julia.
Out of appreciation and respect for the extraordinary gift the Dern family has brought to the big and small screen, The Hollywood Entertainment Museum honored Bruce, Diane and Laura with the Hollywood Legacy Award.
Dern resides in Los Angeles with her two children.