Francisco Velasquez, Senior Manager, Project Involve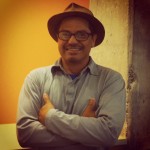 After receiving his B.A. in Latin American Literature and Theater Arts from Occidental College, Francisco Velasquez joined the airline industry where he traveled and attended many film festivals. He found filmmaking irresistible and decided to enroll in the M.F.A. film program at UCLA. His thesis film Jacaranda received the coveted Bud Yorkin Masters Film Fellowship and premiered at the prestigious New Films/New Directors Film Festival in New York City.
In 2003, Francisco was hired by Slackline Brothers, a company dedicated to the extreme sport of slacklining, as their Media Director, where he designed and implemented marketing campaigns. His passion for independent film led him to manage Film Independent's diversity program Project Involve where he nurtures the careers of the Project Involve Fellows by partnering them with established mentors in the film industry.
Contact Francisco Velasquez: fvelasquez@filmindependent.org