Stephanie Allain, LA Film Festival Director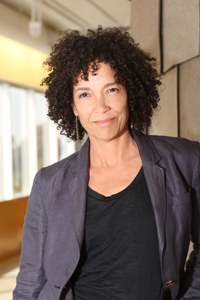 Stephanie Allain is an accomplished film producer and former studio executive who has been an advocate for visionary filmmakers for more than two decades.
As a Columbia Pictures executive, Ms. Allain was instrumental in the making of John Singleton's Boyz N The Hood, which garnered Singleton two Academy Award nominations and set the bar for contemporary urban dramas.
She spent a decade at the studio launching the careers of first time filmmakers including Singleton, Robert Rodriguez and Darnell Martin. Several of the films she supervised, including El Mariachi and I Like It Like That garnered awards at Cannes, Telluride and the Sundance Film Festivals.
During her tenure at Columbia Pictures, Stephanie rose through the ranks to become Senior Vice President of Production – the highest creative production position for an African American for over a decade.
Between 1996-2000, as President of Jim Henson Pictures, she produced brand movies Muppets From Space, Elmo In Grouchland and Caroline Thompson's Buddy. In 2000, she headed production at 3Arts Entertainment, producing Biker Boyz and Good Boy!
She formed her own production company, Homegrown Pictures, and in 2004 produced Craig Brewer's Hustle & Flow, which won the Audience Award at Sundance in 2005, an Academy Award for Best Original Song and earned a Best Actor nomination for Terrence Howard.
In 2005, she produced Sanaa Hamri's directorial debut, Something New for Focus Features (nominated for two NAACP Awards) as well as Brewer's Black Snake Moan, starring Sam Jackson and Christina Ricci. In 2008, Ms. Allain traveled to her native New Orleans to produce Hurricane Season, starring Forest Whitaker and Taraji P. Henson for The Weinstein Company. Most recently she produced Tina Gordon Chism's directorial debut, We The Peeples, starring Craig Robinson and Kerry Washington, which will be released by Lionsgate in 2012.
Ms. Allain is a member of the Academy of Motion Pictures Arts and Sciences, Producers Guild of America and Women In Film. She sits on the board of directors of Film Independent, has chaired the Spirit Awards Nominating Committee, juried numerous festivals and is an Adjunct Professor at USC's Peter Stark Program.
She lives in Los Angeles with her composer husband, Stephen Bray, and their teenagers, Jesse and Milena. Her oldest son, Wade Allain-Marcus, is an actor.