5 Reasons You Shouldn't Wait to "Fix it in Post"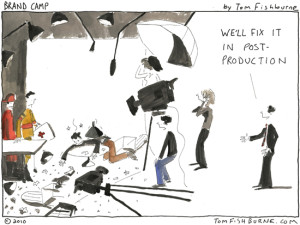 If you're a filmmaker, you've no doubt heard someone say, "It's okay, we'll fix it in post." You may have even been the someone who said it. But waiting to think about post-production until you're there can cost you — in money and time.
Lucky for you, The Post Lab's Chris J. Russo recently led a class for Film Independent members on developing the best post strategy for your film. From the technical to the tactical, here are five tips from Russo to get your post-production plan started before it's too late.
1. Work backwards – think from finish to start
Once your editor comes on board, determine what your post needs are before you start shooting. Create a post workflow from the beginning that works. "Ask yourself, 'what kind of movie am I making?' The next Brokeback Mountain? Or Paranormal Activity? You need to devise a plan for how to make the movie you want."
Be prepared creatively as well. Before you walk on set on the first day of production, you should have already done all of your homework as a director or producer. That way, you can make quick decisions when the pressure is on. "When you get to post, it can cost a great deal to change creative decisions," Russo warned.
2. Understand the tools at hand
Get to know the technology that's available to you – do tests. According to Russo, there are misconceptions that it's cheaper and easier to do post digitally. You can do it faster and cheaper, but will the results be better? Be realistic about what you're doing and think it through.
There are lots of options when it comes to technology and you need to understand the workflow before you shoot – you should be "testing camera sensors, understanding the advantages of shooting on the Alexa vs. the RED, etc. It's really a good idea to get to know these tools first."
3. Delivery – know your formats before you shoot
Know what formats you will need to deliver on in advance. For example, if you know you want to submit to Sundance, find out what exhibition formats they're asking for. You should know this at the beginning of the process so that you can properly prepare for delivery. Figuring it out early on will help you save money.
4. Be realistic with your money and time
Prepare a realistic budget and post schedule. "For some reason, people feel they don't need to allocate money in the budget for post. You really should do your research. Call post facilities and get bids. See if they can achieve what you want to do. The thing about post is that there are hard costs. You're dealing with people helping you with deliverables, etc. Set aside money for these needs," said Russo. Avoid the temptation to dip into this budget during production.
5. Build your team now
Build a solid team that can help you through the post process. Make sure that you hire people that will enhance your process. "Unfortunately, traditional post facilities are closing down every day. Boutiques are competing for your business and they want to help you and hold your hand through the process. Don't be afraid to pick up the phone and build relationships with them." Reach out and make the connections that will help you complete your film.
October 16th, 2012 • 2 Comments