ASK A PRO: Animal Trainer Sarah Clifford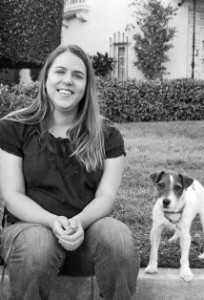 Sarah Clifford began her career in the film industry in her early twenties as an on-set Production Assistant. Although Sarah was well on her way to earning enough PA days to apply to the DGA as a 2nd Assistant Director, she changed course after witnessing a team of professional animal trainers working with trained crows on the set of The Matrix Reloaded. It was then that she suddenly had her light-bulb moment: working as an animal trainer would combine her two greatest loves – animals and films.
Sarah made the switch to animal trainer in 2002. Less than four years later she started her own animal company, Animal Savvy. Sarah's recent projects include 2011′s The Artist, the upcoming Hitchcock (Fox Searchlight – 2013) and Fun Size (Paramount Pictures – October 2012).
Sarah took some time to answer our questions about what it takes to wrangle animals on-screen (cute and cuddly, or otherwise). Here's what she had to say:
1. What does being an animal trainer entail? What types of animals do you work with?
The majority of the job entails lots and lots of cleaning, feeding, animal husbandry and enrichment. The training is also a daily aspect, of course. We spend thousands of unpaid hours training and socializing our animals to be set-ready. It is a very time-consuming process, but it is ultimately very rewarding when your animal performs well on set and makes you look good!
I've worked with a vast number of animal species – from baby ducks, to cockroaches, snakes, birds, rats, mice, goats, chickens, turkeys, raccoons, deer and for the most part, cats and dogs. Dogs will always be my favorite species to train. My dogs are also like my kids. I just love them to death!
2. What are the top three things filmmakers should keep in mind when working with animals and animal trainers?
Really the main thing is good communication between the director and the head animal trainer. The more information the trainer can get about the shot, every detail possible, the better the trainer can prep the animals for the shot with all the elements involved.
3. What are three tips for getting the most value for an indie film budget when it comes to filming with animals?
Prep training – rehearsing and recreating the shots beforehand so the animal is fully prepared. We try to recreate the scenario as closely to how the actual shots will be on the day. If it's an exterior shot it's best to prep the animal outside, if it's a night shot then it's best to train that animal at night, if they are going to be working on an odd surface of flooring, then we try to recreate that, too. We do everything we can in our prep training to try to eliminate the element of surprise.
Good communication between the trainer, director, and producers.
Allowing your trainers access to the props and costumes to prep with, access to the set to acclimate the animals to, access to work with the actors – all ahead of time. While this access is not always possible, it can help save money in the long run and will be very beneficial to the animals and to getting the shot.
4. Required viewing: (list your top three films of all time)
Well this is embarrassing because it shows what a total sap I am, but here are my top three favs: The Wizard of Oz, Sound of Music, Forrest Gump.
5. Required reading: (must read material in your area of expertise)
There are a lot of animal training and dog training books out there. I read as many as I could when I was first starting out. Not one trainer has all the answers. My method of training is picking up tips on what works for me and what feels right with my animals. I take in the good and toss out the bad and like to get as much exposure to other trainers as I can.
I also watch training videos on Youtube. I'm amazed by how advanced the kids have become as little trainers with their clicker-trained dogs these days!
6. How can filmmakers find a good animal wrangler?
The best way to find a good animal trainer and a good animal company is by word of mouth. I would say that 95% of my companies' jobs are by referral. Talk to other producers, UPMs, or coordinators about which animal companies they've used in the past, who seemed to be the most professional, and who does quality work. Remember cheaper is not better; if someone gave you a low price, but the animals did not deliver, then I would not recommend hiring that person again.
I also don't recommend using production listing resources like the LA 411 for hiring animals. This is because any random person can call him or herself an animal wrangler these days and you won't know what you are getting without a solid reference. Once you find an animal company or an animal trainer that you are comfortable with, stick with that person. Loyalty in this business is always valued and appreciated!
– by Kelly Thomas, Filmmaker Advisor
September 11th, 2012 • 2 Comments