Books Have Rights, Too (and you want to buy them)
By Cherita Smith / Web Coordinator / @lafemmecherita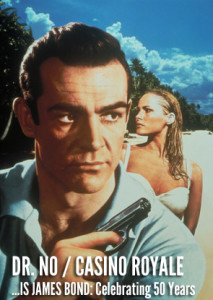 After a summer-long celebration of that screen legend you know as Bond… James Bond, we tip our shaken martinis once more with a Film Independent at LACMA double feature of Dr. No — the Bond film that started it all 50 years ago — and Casino Royale (fun fact: Casino Royale was actually the first James Bond novel, though not the first film).
It's hard to believe it's been half a century since the world was introduced to that most famous of secret agents (and to Sean Connery). But indeed, it was 1962 when the low-budget* film based on Ian Fleming's sixth novel about the now-iconic British spy was released.
The rest, as they say, is history.
Since all that history began with a book… and the acquisition of that book's rights (by one Harry Saltzman), and the attempted buying of those rights (by another Albert R. Broccoli), and the partnership formed to share those rights (Saltzman and Broccoli 4ever — or at least until 1975)… and since there's probably more than a few of you looking to turn a cherished book into a film of your own, we've combed through our Legal Ease archives for all the posts on how do you turn a book into a movie without getting sued that we could find.
Q: I have been chasing the film rights to a book written by an American author. I have gone through the various publishers and have finally been given the name of the agent who represents the author in the States. I am interested in knowing if the film rights to the author's book are available, and if they are, I want to know the correct pathway to go down to purchase them… [read the answer here]
Q: Is there a big difference between an option for a screenplay and an option for a book?
[read the answer here]
Q: I have a question regarding the rights needed to make a film "based on" a book, and/or "inspired by" a book. Is there a legal difference between these two terms? It seems that one implies a more direct adaptation ("based on") and the other a looser connection to a book, but is there some legal basis for determining this? Also, does one need to purchase the rights to a book that "inspires" their film? How about a book that it is "based on"? [read the answer here]
Q: Hello, wondering if you could help me with a point regarding film rights for a book from a foreign writer (non-U.S.). Do you require the rights from the estate or the original publishing house in Europe or the U.S.? Also, how long should the rights be held for? What is the standard — 25 years or more? How do parties usually settle this particular issue? [read the answer here]
Q: I'm in the process of purchasing a two-year option on a biography. Here's the scoop: The author is dead, but his widow is still alive and now lives in Mexico. Their last agent lives in England (where it was originally printed), and that's who's handling this now. It was last printed by [Well-known Publishing Company]. It's not in print anywhere anymore, and at the moment, it seems as though the author's widow retains all rights. Before I send money and sign the agreement, I'd like to make sure there are no ugly surprises waiting for me… [read the answer here]
*Dr. No only had a budget of $1 million, with an additional $100,000 given to complete the climax. By contrast, Skyfall, the newest Bond film coming late this October, has an estimated budget of $150 million! Inflation, anyone?
September 27th, 2012 • No Comments