COMPOSER MICHAEL BACON ON DOWNTOWN EXPRESS
After a multitude of collaborations on non-fiction projects, composer Michael Bacon has taken his partnership with director David Grubin to the next level in their latest film, Grubin's first narrative, Downtown Express.
The film follows musicians, both classically trained and the ultimate street performers, as they sort out their dreams and follow through with artistic endeavors in a film that is primarily driven by music. The job took Bacon from his traditional role as a score composer to that of a musical director in charge of both creating and capturing the music on screen and off.
You seem to have found a great collaborative partner in Downtown Express director David Grubin…
Yeah, he changed my life. He gave me my first job in New York after I'd been pounding the pavement for almost two years. I couldn't even get a meeting. Someone that had worked within his office knew me from my writing-songs-for-strange-projects years, and David happened to be looking for somebody that could write songs but also knew how to orchestrate and arrange. He'd had a composer on [a project] that didn't work out so he was in a little bit of a bind and needed to find someone really quickly and as I said before, right place, right time. I went into his office and I played him a couple songs that he really responded to and I played him some instrumental music and you know, we were off. Every job to this day I can trace back to that original break that he gave me and decided to trust that I could deliver.
What's kept you working with him over and over — is it a "if the phone rings" thing, or is it a certain dynamic you two have?
Yeah, it's an incredible dynamic, I can't even tell you how many hours of programming we've done. It must be at least 50 hours, plus now this feature film. David is not a musician, but he's a total music buff and just loves music. I find that, if I were to describe myself, I tend to be naturally drawn to melodies and music that tends to maybe stand out more than some other people, and of course that can be a negative, too. If someone wants a more minimal score I have to really ratchet down my normal instincts.
But David loves to hear more melody, he waxes poetic when he hears it. Of course, you have to come through for every project, you can't be late, you have to be completely reliable and I think when David hires me he feels confident that he'll get a score that he really likes and that works well with his project, but it'll also be on time and on budget.
Downtown Express is David's first narrative. You've worked on a lot of documentary programming with him; did this new narrative allow you more freedoms?
This film was a really pretty different thing because it's completely driven by the music: either it's being driven by the songs that I wrote with members of the band who are in the film, or by the concert music that plays. The idea of the film is that you have this Russian virtuoso (Sasha, played by Philippe Quint) on the violin who has this overbearing father. The father is living vicariously through him and wants him to be this gigantic violinist. His father's a cellist but he never really made it so [Sasha] has this opportunity at Julliard and he has this very strict music coach who plays piano with him. Then he falls in love with this young, beautiful street musician (Ramona) who's played by Nellie McKay, and decides he wants to be in her band.
As his relationship grows with Ramona, he starts to lose interest in Julliard and his father's dreams for him, and those dreams are replaced by his own dreams of a relationship with her and the kind of music that he's really stimulated by, which is more improvised rock and roll stuff. So they pursue the band.
As the band starts, Ramona's kind of bored with the whole project and they get together and the band all writes a song together, which the band actually did in my studio. I wanted to set up a situation where all the guys in the band would write this song that we created in the studio. When we went out to shoot it we just recreated it exactly.
There's a scene where you see a bunch of musicians sitting around learning a song and you see the classical violinist getting into it and finding his own voice within the band, and then the next scene you see the band's song has developed into two verses and an instrumental and the next time they're in a bigger club with bigger amps and better instruments, and now it has a chorus and has become a real song. So the narrative of the relationship is always carried by the songs. It was a real challenge to try to figure out how to make that work. I became a character; I wrote a bunch of songs with Nellie Mackay and some of the songs we wrote all together with a bunch of the band, and just kind of tried to make the music spring from the film.
The other really difficult thing was that I had to be in charge of getting everything recorded because everything was recorded live in these many, many different locations in New York City – 42nd Street, a Times Square subway station where there was no electricity available, these strange places in Bushwick (which in the middle of the summer was 90 degrees and you had to turn all the fans off)… I had to have this live band. I had to record it properly and make sure everybody knew their parts and make sure Nellie knew the lyrics. It was quite a challenge.
I'm literally just now finishing up the CD that we're going to release where I took the tracks from the film and brought them to put them up on the level to which is more of what a CD would sound like rather than a live band on a film. I'm really pretty pleased with how the whole creative process worked out; everybody's still friends and everybody has a piece of the action. A lot of the music in the film was written by about six of us and then we also have beautiful concert music tracks that Philippe Quint just finished recording in Berlin.
That's the main actor? Can you tell me more about his background?
Yes, he's a concert violinist. He plays all over the world and he's absolutely the most phenomenal violinist I've ever heard. Ironically, after John Corigliano — who was my teacher — won an Academy Award for the music in The Red Violin, he recomposed three or four pieces out of the score called the Red Violin Caprices, which are absolutely, devilishly hard. Only the crème de la crème of concert violinists can even touch them. It's just really fun to all of a sudden find my friend Philippe who I've worked with all these years on this film is now playing my teacher's composition.
It must have been fun to collaborate with musicians and start from scratch writing songs with Nellie and Philippe. Is that something that was completely new or do you have a group of musicians that you work with normally when composing a score?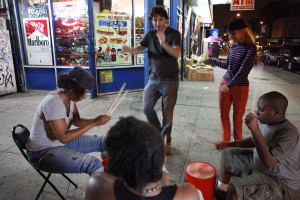 It was totally new. If they weren't true collaborations, they wouldn't really be believable in the film. In a funny way, I had to set up this sort of fantasy world of this band called Downtown Express, which didn't exist, and had to try to figure out what kind of songs would they write.
What kind of stuff would they be playing in the subway? Would it be hardcore punk or maybe a little jazzy or fusion-y or would it be country? I just had to sort of visualize what kind of stuff they would be doing.
Once I met the people in the band, I had an overall sense of what the sound should be and what their dimension would be, how far they would go one way, for instance. The guitar player in the movie is a jazz guitar player and a really "out" kind of player and I just kind of let him loose and said "play what you feel." And Nellie can be pretty "out" in a different way. I think that when you cast the people in the movie as actors as well as musicians, you never know what's going to happen. But I think the result musically was really true to what might actually have happened if it were a real situation.
Did David have a lot of say over the genre of the music they would have played while busking or is that pretty much determined by you or the casting?
It was pretty much my thing. Nellie and Philippe and I had gotten together for about five years; every once in awhile we'd go in the studio we'd kind of try some stuff and none of that really went in a direction that I felt good about. The next plan was to put four to five of [Nellie's] songs into the movie and try to make that work. When we really looked at that, that didn't seem right.
I'm not sure I was originally planning on writing all the songs, but it ended up being the most practical and easiest thing to do. David was always engaged; I would play him the demos, but he trusts me pretty much and he sort of has to! Because we would show up on a day for a film shoot and there was thirty people on the film crew and here's this little band, and my job was to make sure they were rehearsed and we had a song to play and that everything was ready to go.
So you really acted as a complete producer of the music, composing along with mixing and mastering. Is that normal even when composing for docs?
The big thing that was different was the live recording. I would almost never do any live recordings; it would all be in my studio, in my own world. Luckily, I was looking for an assistant and I got this guy [Steve Buonanotte] from Craigslist and I really felt like he was a trustworthy guy. I hadn't worked with him that long and I told him what I wanted to do technically with the tracks. A couple of tracks were re-recorded and played on the set, a bunch of them were done right on the set.
He came up with a very simple way of recording on a laptop with a remote digital interface and so everything we did we had, most of the time, a set of electronic drums, because that's what that band would have been playing on the subway. He recorded the drums and the keyboards that Nellie McKay was playing midi as well as live, so later on we could go back and fix things and edit stuff together. We hid earpieces for the band, so there's click [track] and we had a lot of different ways of getting around the challenges of recording something live. I give Steve Buonanotte an enormous amount of credit for getting the live stuff recorded and getting it ready for fixing and editing. We ended up with stuff that either is recorded live or you can't tell it wasn't.
And then in the legit side we had the same kind of challenge. I hate when I go to a movie and someone's playing the violin and the fingers are not matched up at all. Luckily, we had the star of the show who's a real violinist, so we pre-recorded some stuff for him and he played some stuff live. But the actress playing his coach had no idea how to play the piano, so we did a lot of things where we brought in a concert pianist to play stuff and were able to get the face and arms of the actress perfectly matched up. The actor who played the cello in the classical quartet is a wonderful actor, but he doesn't play the cello, so whenever you see his fingers, they're my fingers because I'm a cellist. That was a lot of fun, trying to figure out how do you do that.
For instance, there's a scene, it's supposed to be Julliard, where Sasha the violinist is with his coach and he's playing but they have to have a conversation at the same time, so we couldn't pre-record the violin because in the conversation he had to respond to what he was saying by what he was playing. Whereas the actress (coach) isn't a real pianist, so we had a pre-recorded piano and then he had to play his part live while he talked on top of it, so you have to think through "how the hell are we going to do that?" because there's all these problems of "can we hide the ear piece?" and "how do we record the violin decently?" on a film stage that is not meant for sound. I really enjoyed that challenge. I think if I ever do another project like this I'll be very, very prepared for it because I really learned a lot about how one does that.
It sounds like the music is definitely going to be a mixture of Sasha and Ramona, which equals you: your classical sensibilities and rock and roll nature.
I feel that way, and I hope other people do too.
—Jasmine Teran, Online Community Coordinator
Latest tracks by Downtown Express
Listen to music from Downtown Express, then catch the film in Los Angeles Friday, August 25 – Thursday, August 30 at Laemmle's Town Center 5.
August 23rd, 2012 • 1 Comment