FESTIVAL FILMMAKER SPOTLIGHT: CORY MCABEE
Director: Cory McAbee
Festival Entry: Crazy & Thief
Narrative Competition
With only a homemade "Star Map" and their own imagination to guide them, a brother and sister take a fantastical journey through the real world in this ode to being a little kid from cult director Cory McAbee.
Directed By: Cory McAbee
Producers: Cory McAbee, Scott Miller, Steve Holmgren
Screenwriter: Cory McAbee
Cinematographer: Scott Miller
Editor: Matt Cowan
Music: Cory McAbee
Cast: Willa Vy McAbee, John Huck McAbee, Gregory Russell Cook, Graham Standford


We asked Crazy & Thief director Cory McAbee about everything from his inspirations to the challenges of working with a tantrum-prone two-year-old. Here's what he had to say:
Who are you and what do you do?
My name is Cory McAbee. I'm the writer/director of Crazy and Thief. My past films include The American Astronaut and Stingray Sam. I am currently performing as singer/songwriter for Captain Ahab's Motorcycle Club.
Who were your early mentors in filmmaking?
I started filmmaking in seclusion. My first film was an animated short that took 3 years to paint. After the paintings were completed I looked for a filmmaker to help me photograph the images and attach the soundtrack. Lance Acord lived a half a block from me. He helped me turn my work into a film. He was a student at the time.
Who/what influenced your perspective and creative decisions for your Festival film?
Global warming was one influence. I had been writing music and stories that addressed my fears. My work was becoming dark and depressing. I didn't think the world needed anything like that from me, so I wrote a story about love. I thought an honest portrait of childhood would be a great thing to put into the world at this point in time. I wrote the screenplay based on things that my children had said and created a story that would take place in their world, but told as fantasy. Much of the story telling, musical segments and editing choices were inspired by the first season of Sesame Street.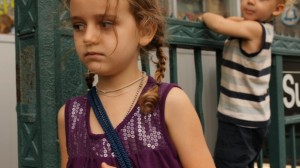 What challenges did you face while making your film?
My lead male actor would often throw tantrums because he wanted Tic-Tacs. He was two years old. I've heard there are adult actors who behave the same way.


What's been the coolest experience with your film?
No one wanted to fund this film, so I made it without any money. Everyone who worked on it did so out of kindness, but with a great deal of enthusiasm and excitement for the project. It was a positive experience. I'll always refer to it when making other films.
What are you most excited to do/see at the LA Film Fest?
When I attend festivals I usually go with filmmakers who I've met and have enjoyed talking with to see their films.


Learn more about Cory McAbee at corymcabee.com.
Make sure you check out Crazy & Thief at the LA Film Fest – get tickets at lafilmfest.com!
June 12th, 2012 • No Comments