MARK LANDSMAN ON HIS INFLUENCES AND THUNDER SOUL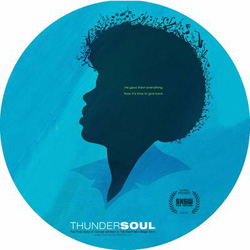 Mark Landsman's Thunder Soul hits theaters this Friday, so in lieu of a traditional interview we asked him, what five documentary films influenced him as a filmmaker during the creation of Thunder Soul. 
I find it challenging whenever anyone asks me to list a 'top five' of anything–especially movies–because I love a lot of them for a lot of different reasons–it's tough to do a process of elimination.  But in thinking about it, in terms of the top five docs that have made the greatest impact on me as a filmmaker and most influenced my current project, Thunder Soul, I think it'd be these.  I offer them up knowing that there are many more that live in the brain drive and influence me even when I not realizing it.
httpv://www.youtube.com/watch?v=Jet-Ubwk5l8

The Times of Harvey Milk (Rob Epstein and Jeffrey Freidman, 1984)
In college I took a course called The American Documentary Tradition–thankfully taught by the most leftist prof in the entire U.  We watched his hand-picked canon–starting with Nanook of the North and making our own way north through cinema verité and points beyond.  We'd watch the films as a group at our prof's house and then have a meaty discussion after.  I'll never forget the night we got to Rob Epstein and Jeffrey Friedman's The Times of Harvey Milk.  No one made a sound the entire time as the movie played, silent until the very final image — a candlelight vigil of thousands filling the streets of San Francisco to mourn the loss of a hero and a dear friend.  My throat was so swelled with tears I was trying unsuccessfully to suppress–until I looked around and saw that all 20 of us were crying.  And then we all just allowed ourselves to cry together, to feel the outrage and the sorrow.  In that moment I understood a power in film that far transcended entertainment.
httpv://www.youtube.com/watch?v=ZIP4E3cKY9o

Wattstax (Mel Stuart, 1973)
The first time I saw this kickass concert film many years ago I was knocked out by the line-up of Stax legends and the genius of the performances — The Bar Kays, The Staple Singers, Isaac Hayes and Rufus Thomas' over the top, "Funky Chicken" killed me. What struck me later, when we watched the film for archival research for Thunder Soul, was how deeply it captures an era in black and American history.  Yes, it's some of the best concert footage I've ever seen shot on film.  But more enlightening to me was everything else in the movie–the crowd shots, daily life on the streets in Watts just a few years after the riots, Richard Pryor and others speaking frankly about the social ills plaguing the community at that time.  It's a complex film–one that I hope will soon become required viewing in U.S. History classes.  For me, it rivals Gimme Shelter as one of the all-time great concert films that's about so much more than the concert itself.
httpv://www.youtube.com/watch?v=Ph2Y-epihlk

Hoop Dreams (Steve James, 1994)
When I think of the phrase, "you could never have scripted this", this is the doc I think of first.  The filmmakers had no idea where the story would go, and I don't think they could've ever predicted that it would take five years of their lives. The committment to telling that story was epic and so was the movie they ultimately made.  When we set out to make Thunder Soul, we knew very little about what would happen.  All we knew was that 30 people who were in a triumphant high school funk band in the '70s would be reuniting for the first time in 35 years at their old bandroom-that was it.  We could never have predicted all that unfolded–it was just too incredible.  I was inspired by James and the Hoops Dreams filmmakers because they allowed themselves to get swept up by the story– not knowing where it was going to take them.  That's what we attempted on the film–do our best to stay afloat and trust we weren't going to wipe out before it's really done.
httpv://www.youtube.com/watch?v=xzj-vb7Lj0A
Hands on a Hard Body (S.R. Bindler, 1997)
This was one of the first docs I saw in the theaters and loved from start to finish.  I was amazed at how entertaining, funny and engaging it could be to watch a bunch of people at a random Toyota dealership trying to keep in constant contact with a pick-up truck long enough to win it.   This movie enlightened me to the fact that it doesn't matter what the characters in your movie are doing–they could be frying an egg or plotting the overthrow of a government–if they're interesting people you want to watch them.
httpv://www.youtube.com/watch?v=VgA98V1Ubk8

The Fog of War (Errol Morris, 2003)
The Thin Blue Line was the very first doc I ever saw in a theater and the one that convinced me that docs could be as compelling and often more so than "real movies".  I loved that film, but was hit even harder by his later film for a few reasons.  Top was that essentially you're watching a talking head, so logic would have it you'd eventually get bored.  But you don't, you can't look away.  It's the nature of the interrogation, the way it's filmed, the archival he and his brilliant editor, the late and extraordinary Karen Schmeer, expertly wove–and Morris' consistently haunting, evocative music choices.  All that, and of course the magnitude of the film's political context, make for a perfect storm.
Mark Landsman is a Los Angeles-based independent filmmaker who produced and directed Thunder Soul, the feature-length film on the extraordinary reunion of the legendary Kashmere Stage Band. The film is currently playing in theaters nationwide and opens in Los Angeles on Friday, October 7.
October 3rd, 2011 • 1 Comment