Production Spotlight: The Light in Her Eyes
Film Independent Fellows Julia Meltzer and Laura Nix have been following preacher Houda al-Habash, the leader of Al-Zahra Qur'an School for women and girls, since 2008, and have come away with a powerful, inspiring documentary filmed in Syria during a social movement thriving in a country controlled by a repressive regime, The Light in Her Eyes.
Film Independent: Julia, how did you find yourself in Damascus? And then how did you come to find Houda-al Habash?
Julia Meltzer: I lived in Damascus for a year in 2005 supported by a Fulbright fellowship. I taught journalism at the University of Damascus and was working on another film with my husband, David Thorne. Two of my colleagues were studying Qur'an with Houda and they invited me to meet her at the mosque. From the moment I entered Al-Zahra Mosque, I knew there was an amazing story to tell.
FIND: Why were you inspired you to tell her story?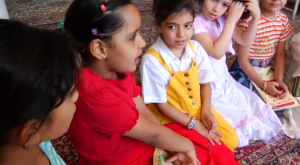 JM: When I first spent time in Houda's mosque, what caught my attention was the organized environment and that girls were encouraged to read and ask questions. The fact that they were reading the Qur'an, a complicated religious text, made the scene all the more compelling and complicated. I also wanted to understand more about why young women were making the choice to practice Islam in a more conservative way, and how the environment in the mosque shaped them and their beliefs.
Laura Nix: I'm drawn to characters who don't fit a mold, and Houda's mixture of progressive and conservative values is confounding, and provocative. When you first meet her, it's very easy to stereotype her, and only see what our culture would encourages us to believe about conservative Muslim woman. Yet the space she creates for the women at her mosque is surprising and inspiring.
FIND: Laura how did you and Julia meet and how did she convince you to become a part of The Light in Her Eyes?
LN: Julia and I have been friends for about 10 years. We were in touch frequently when she was in Syria and first shot at the mosque in 2008. I got involved in the film in early 2009. I was immediately drawn to the footage she shot in the women's side of the mosque because I realized I had never seen that documentary before. Those images create a powerful and heated dialogue about the Islamic revival, and people's attitudes towards religion in general. Most people assume women are the passive subjects of the revival, but the film reveals how women in Syria are actually the ones driving it.
FIND: Can you talk about some of the challenges of entering such a conservative Islamic environment and recording women during prayers and education times and with their families?
JM: Hands down, the most challenging aspect of making this film was the fact that we were shooting in a country ruled by a repressive military dictatorship. The Syrian regime rules by fear and it is infectious and affects everyone, even us. Although we were never in any danger, we were concerned for our subjects and how our presence as Americans might negatively affect them. As far as working within a conservative Islamic environment, we were always welcomed with open arms.
LN: It's also difficult to shoot in a conservative and repressive environment, because it takes a long time to build trust and gain access. It took Houda several years to grant permission to shoot in the mosque, and then to let us into her personal life. There were many days when shoots would be canceled at the last minute. Or we had to send our gear over separately, so people wouldn't see us arrive or leave with it. We had to accept these moments as part of the process.
FIND: Could you talk a bit about your film aesthetic? What's the visual look you are going for in The Light In Her Eyes? Are there specific filmmakers whose work has most inspired you and who somehow inform what you're doing in The Light In Her Eyes?
JM: I shot most of the film and I wanted viewers to feel close and comfortable to our characters both within and outside the mosque. The first summer that I spent in the mosque, it was just me and a sound person, Itab Azzam. I made the decision to work with just one other person, a Syrian, at first because I wanted the girls to be at ease with me and the camera.
LN: It's always difficult to speak about filmmakers who inspire you, because indirectly you are then compared to their talent. But I can say we are both inspired by filmmakers who tell in-depth stories about complicated subjects, so we watched many films by directors like Kim Longinotto and Laura Poitras, to study their story structure and visual strategies. Our decision to mainly rely on verité footage, versus talking heads, makes the editing process much harder. But we want viewers to experience what it feels like to spend time in Houda's mosque, and in her community.
FIND: The film has a very strong message of feminism and the empowerment of women, how did you capture that?
JM: Interestingly, I think that our understanding of Houda's empowering message has grown over the years that we have been making the film. As we spent more time with Houda and her community, we were able to understand her mission more clearly. For some women in Houda's community, it was only through the process of studying Islam that they were encouraged to pursue their non-religious education. Meeting women who had left their primary education, and encouraged by Houda to return to school when they were in their mid 30s was very eye-opening for us.
LN: And yet, it's very tricky. While we see feminist elements in many aspects of Houda's mission, she would staunchly deny being a feminist, or embracing its principles. But by encouraging women to become educated in Islam, Houda gives them the knowledge they need to distinguish religious doctrine from cultural traditions, which are often conflated. So, for instance, her student learns that the Qur'an doesn't actually say women can't leave the house to work or go to school, although a male relative might tell her the opposite. Over the course of the film, viewers see how that knowledge is slowly changing Houda's community.
FIND: You've chosen to use crowd funding to help raise funds for your film. Can you tell us how that is going, and also how people can get involved if they are interested?
LN: It's going really well, we're almost at our goal! When people told us that one of the most important aspects of crowdfunding was audience building, I didn't get it. But after we received pledges from Bahrain, Canada, Lebanon, the UK, it totally clicked for me. I would completely recommend launching a crowdfunding campaign for anyone making an independent project. But it's also a lot of work, so I would be prepared to put the time in before, during and after.
JM: The most satisfying part is getting positive feedback from both friends and total strangers. Fundraising for independent films can be a very disheartening and lonely experience. Kickstarter allows you to feel that you are part of a larger community of people who really care about getting the film made and out there. The best thing is the people who support you are invested and they're with you for the rest of the ride.
FIND: You were both in the 2011 Film Independent Documentary Lab, what did you learn in the lab that you were able to use in the creation of The Light In Her Eyes?
JM: In the FIND Doc Lab we met amazing filmmakers and made great friends. There is always something to learn from seeing other people's work and hearing them talk about their process. All of the mentors involved were passionate and thoughtful people who generously shared their own struggles and insight with us. The Doc Lab definitely helped in the process of finding our story and creating a structure for our film.
LN: I also loved the experience of being in creative sessions for docs so different than our own, and realizing something significant about our own story. Whether their doc was about a former drug addict challenging the landspeed record, or a gay activist in Uganda, I could still apply the lesson to our film. Good story analysis and strategy apply across the board.
FIND: What advice do you have for filmmakers embarking on the documentary journey?
LN: Other than winning the lottery? Make sure you are inherently fascinated by the story you're about to tell because you're going to spend a very long time with your subjects in their world. You'll need that passion to carry you through the darker times.
JM: The documentary journey is long and arduous, taking place over months and years. So be kind to your filmmaking friends and support their work as well, because those are the people who will help you get through it.
You can follow Follow Laura and Julia's Kickstarter campaign progress here!
July 8th, 2011 • 1 Comment