Kickstarter Successes to Inspire
By Cherita Smith / Web Coordinator / @lafemmecherita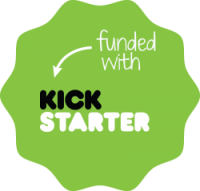 2012 was the year of crowdfunding. Everywhere you went, it seemed like someone was doing it, or wanting to know how. "Support my Kickstarter campaign!" became the rallying cry of filmmakers near and far. We even wrote about it a time or two (or three). You may be thinking, that's great, but did any of them succeed?
The answer: a resounding YES.
Nearly 20% of this year's Film Independent Spirit Award nominees were on Kickstarter. And the Film Independent curated Kickstarter page went from two successfully funded projects and just $20,099 raised in 2010, to 28 successfully funded projects and over $877,000 raised in 2012.
And the numbers just keep growing — at the start of this year, Kickstarter announced that $100 million has been pledged to independent film since they began in 2009. So if a crowdfunding campaign is in the cards for you this year, here's a list of successes (and a nifty infographic) to use as inspiration.
Spirit Award-nominated films with Kickstarter campaigns:
January 28th, 2013 • No Comments