FIND Answers: Chris Stinson on Line Producing
By Lee Jameson / Film Education Coordinator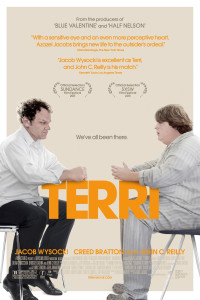 Chris Stinson is a producer and line producer who has worked in production on more than 30 features during the last 10 years, including Don McKay, Me And You And Everyone We Know, Harsh Times and Adventures Of Power. His two most recent films, Terri by Aza Jacobs and The Future by Miranda July, played at the Los Angeles Film Festival in 2011. In 2005, he was chosen for the Film Independent Producing Lab.


Stinson's upcoming projects include the biopic Nina about Nina Simone, which is to be directed by Cynthia Mort and It Is What It Is, to be directed by Susanna Fogel. Stinson has several features in development at his production company, Live Free Or Die Films, and can be reached at Chris@LiveFreeOrDieFilms.com.
I am looking to hire a line producer for my first film. What is a line producer's first set of responsibilities when they sign on to a project? How do they shape the pre-production process?
This varies for almost every project. Some films are fully financed when I'm approached and on others some preparation has already taken place, like on Terri, while other films I've been a part of may be in development and prep for over a year, like The Future, and most recently, Nina. Generally speaking, one of the first things I do for any feature is a schedule and a budget. Then we decide where to shoot the film. Often I'll budget for more than one city for cost comparison purposes. Once we pick a state and city, the first two people I usually hire are the casting director and location manager.
What budgeting software do you use?
I use Entertainment Partners Movie Magic Budgeting.
My film is at the $1.5M budget level. Can I afford to work with union crews?
I've done several films that were in the $1.5M range and we were with SAG, WGA, and IATSE on a few of them. All of these unions are somewhat accommodating to low budget films. And yes, there are great non-union ADs out there. All said, it's always preferable to be union and use union crews if for no other reason than the crew gets healthcare. Healthcare is good and something I strongly believe in.
I'd say half the films I've done have been union (IATSE). One of the main advantages is you get to hire union crewmembers. These days, all of my favorite crewmembers are in IATSE. I've never done a non-SAG film as they have rates that accommodate practically any budget.
If you realize you will not meet the goals of the day, what types of compromises and negotiation take place? What should be prioritized?
Inevitably things on set don't always go according to plan. Anything from a camera body malfunctioning to a late actor arrival can set you back hours and jeopardize making your day. When this happens I generally have a quick meeting with the director, cinematographer and the 1st AD to discuss what adjustments need to be made to complete the day's work. Usually there's a creative workaround to still make the day.
A few things that can happen to stay on schedule include combining two shots into one shot, which more than once has worked out to be better than the original two shots.
My favorite 1st ADs make lists with the director of shots (aka "shotlists") that are time permitting and save those shots for the end of the day. This way, when you're falling behind schedule, you already know what can be sacrificed. Making those decisions on set in the thick of it is not when I like to solve problems. It's always best to fix it in prep.
February 12th, 2013 • 2 Comments