FIND Answers: Sarah Clifford, Animal Trainer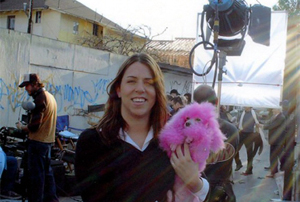 Sarah Clifford began her career in the film industry as an on-set Production Assistant, until she witnessed a team of professional animal trainers working with trained crows on the set of The Matrix Reloaded. It was then that she had her light-bulb moment: working as an animal trainer would combine her two greatest loves – animals and films.
She made the switch to animal trainer in 2002 and hasn't looked back. Less than four years later she started her own animal company, Animal Savvy, and has since worked on projects including 2011′s The Artist and the upcoming Hitchcock (Fox Searchlight – 2013).
Last week we chatted with Sarah, and she gave us the run-down on being an animal trainer. But the questions kept coming. Lucky for us, Sarah was kind enough to keep on answering, giving a more in-depth look at the hairy world of animal wrangling for film.
1. How much time do you need to prepare for a production?
Every job needs a different level of prep time because our needed prep time is based on the scripted or storyboarded action. It also depends on the species of animal you are working with.
2. What is your process of working with the American Humane Association (AHA) throughout the production?
I have a great professional relationship with all the reps from the AHA. I love having them on my jobs to back me up for the safety of the animals. Producers should always make sure they contact the AHA well in advanced and provide the necessary paperwork so they can get their end credit disclaimer. It is the production's responsibility to contact and communicate with the AHA – not the trainer's.
3. Are some animals more difficult than others?
Yes, some animals are more difficult to train because of the nature of the species. Some animals have a stronger prey or predator instinct. Some animals are more noise sensitive. Some are nocturnal species, so it's more challenging to work with them during the daylight hours. Your animal trainer is the professional who knows how to read the animal and to get the best performance from them. It's their job to let you know the strengths and weakness of the animals and for the trainer to be able to read the animal to know how it is feeling every moment it's on set.
4. Where do you find your animals?
We get our animals from breeders, rescues, shelters, zoos — it just depends on many different factors. I prefer to always get my dogs from the shelters.
5. Do you have doubles?
Yes, most animals have doubles. All cats are rented out in "teams." For feature films with multiple scenes, most dogs are required to have doubles. Sometimes if it's a smaller role then dogs are not required to have a double, and for some mixed breed dogs it's impossible to find them doubles. It all depends on the action and how often the animal plays.
6. When done, do you keep the animals or adopt them out?
Most of the time we keep our animals, but sometimes after filming we adopt them out. Often times, the time crew members end up taking home an animal double if there are any for adoption after the shoot.
On The Artist, I had rescued a Jack Russell Terrier from the Big Bear Animal shelter. I named him Dude, and he was scheduled to be euthanized at any time. He had been at their shelter for a long time and he looked enough like Uggie to be a viable dog double. Dude ended up being a great little dog and I used him for just two scenes in The Artist. After the movie ended I adopted him out to a wonderful elderly couple, who absolutely love and adore him like their own child. They write me and send me photos of Dude all the time. I love happy endings like that!
7. And, of course, you have to tell us about the dog from The Artist and your experience with that production. (Did you go to the awards shows?)
When I got a call from line producer, Jonathan McCoy, whom I had worked with several times before, he told me about a little silent French film that needed a well-trained Jack Russell Terrier. When I read the script I became intrigued and I knew my company had to get this movie. I knew the perfect dog for the job who was a set experienced JRT named Uggie. He is owned by a close friend of mine, Omar Muller, who's also a skilled animal trainer.
I knew Uggie was perfect for the role because he was already fully trained and very experienced on sets. I really pushed to have the French director come meet him in person, as I knew that would seal the deal. Sure enough after multiple e-mail exchanges, director Michel Hazanavicius and his producer Emmanuel Montamat came to meet Uggie and as I had hoped, we were awarded the job.
Working on the set of The Artist was one of the most challenging and also rewarding experiences of my career. There were communication struggles because of the language barrier with having a French-speaking director and lead actors. The hours we worked on set were extremely long, and Uggie played in nearly every single scene. I did have two backup dogs on set, but we ended up using Uggie in the majority of the scenes. I was the head trainer for the majority of the movie, as Omar had already committed himself to another job and was out of the country for the much of the shoot.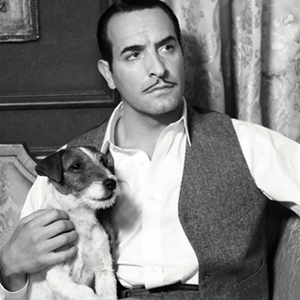 This posed another challenge because Uggie had never been worked by another trainer his entire life, so I had to learn how to work him just like Omar would, giving him specific vocal tones and cues that were unique to him. Omar did come back for the final week of filming, which was a reprieve for me.
We were both told that this movie would likely never see the light of day in America because there would never be an audience for a silent black & white film with American audiences. I was bummed that I might not ever be able to see this because we had worked so hard on it that Omar and I wanted to see the finished product.
Well, as you can see, the French producers were wrong – America embraced this film with open arms, and eventually it became very easy for us to find it and see it. We never could anticipate that it would win an Academy Award for Best Picture. In our wildest dreams we never knew that Uggie would become one of the most famous dogs in the world for this role! I still get the goosies even saying that. How could you ever know that you're potentially working on the set of a movie that can become a best picture winner?
The entire media experience after this film came out was surreal. As most people know, Uggie was invited to every major talk show and award show. I attended several talk shows like Jimmy Kimmel Live with Uggie and also attended the Weinstein pre-Oscar party and their Oscar party. Uggie got to hang out in the presence of stars like Katy Perry, Meryl Streep and Scarlett Johansson, and I got to tag along with him! When you sign up to be an animal trainer, having a "glamorous" life is about as polar opposite as it gets. Animals are messy and it's usually a dirty job – so getting to walk red carpets and hang out with celebrities was a very unique perk.
8. Some filmmakers assume they can use their own or friends' animals in their movies as a cost-saving measure. What are the pros and cons?
In my opinion, there are no real pros to this, only cons in the majority of circumstances. I would not recommend trying to use an animal that is not specially trained to perform on set. It can be very stressful for the animal if they aren't conditioned to working on sets, especially with domestic cats. Also, most people don't realize it is against the Federal Law to use unlicensed animals in any form of media. Animal suppliers like myself have to carry a number of permits, most importantly a USDA exhibitors license.
If you're a producer and plan to show your film anywhere, I would recommend asking your animal supplier if they have all the proper licensing so that your production does not run into any problems down the line or get fined.
9. What are some of the most difficult tricks you have animals do? The easiest?
Some of the most "difficult" tricks for an animal trainer are much different than what a normal person would perceive as being difficult. One of the most common requests we get are: just have the dog hang out on set, just being a dog — organic. The word "organic" can be our enemy. This is because these are trained dogs that know they are working on a set so the dogs are waiting for a specific action.
It's hard to get them to just wander about and not do a specific behavior, especially since the camera has such a limited perspective. Having a dog just "hang out" is ten times more difficult than getting a dog to skateboard, or backflip, or do another behavior that someone else might perceive as being difficult. That's because if the dog knows how to do a backflip then it can offer that behavior on cue easily, because it's already trained to do it.
10. What kind of equipment do you need on set? Is there something in particular that should be budgeted for?
Animal Trainers should supply most of their own equipment such as crates, training tools, water bowls, treats, etc. Most of us have large SUV's, trucks, or vans that we transport our animals in and stage them out of when on set. The type of stuff we don't supply are things seen on camera – collars, leashes, certain props the animals have to interact with. As far as props go, it is very important that if an animal has to wear a costume, or hold something in their mouth, eat something, interact with a prop, etc.., the trainers should get all that stuff from props or the costume department well in advance to get the animals used to it.
In addition to that, production should be sensitive to the temperature needs of the animals. In Southern California it can get very, very hot in summer and very cold in the winter. Productions should always consider keeping an extra pop-up tent aside, in case the trainers are having a difficult time finding shade for their vehicle at that particular filming location. Having a portable AC unit is also recommended on hot sets or a portable heater for cold locations.
Keep in mind that the animal is out of its normal, safe environment and they can't speak up when they are overheated or feeling uncomfortable so it's only fair to try to accommodate them as best as we all can and try to keep them as comfortable as possible while on set. It is ultimately the animal trainer's responsibility to request these items and to know what her animals will need.
– by Kelly Thomas, Filmmaker Advisor
September 18th, 2012 • No Comments