SCREENSHOT: HIPSTERHOOD – A WEB SERIES, IRONICALLY
By Cherita Smith / Web Coordinator / @lafemmecherita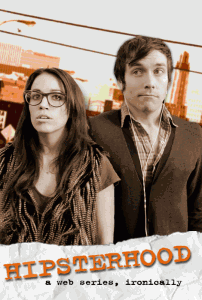 The twenties had flappers. The sixties had hippies. And the aughties? We've got hipsters. Writer/director/producer and Project Involve Fellow Shilpi Roy explores love and (mostly awkward) romance in the age of the hipster with her new web series Hipsterhood — deftly demonstrating the first rule in online content creation with the title and premise alone: be timely and relevant.
Describe Hipsterhood in 140 characters or less:
What? Fine. Hipsterhood is a comedy web series about two hipsters who keep seeing each other around the neighborhood, but can't get to the next level of actually talking.
Why hipsters? What did hipsters ever do to you? (Or, how did you come up with the idea for this web series?)
Ha. That's a fun way to frame the question. I moved to Silver Lake four years ago because rent was still cheap in the area, but never considered myself a hipster, and like the general public, laughed at their hipster style, obscure music and other generic hipsterisms. Then, last year I found myself buying a pair of skinny jeans (ironically in Wisconsin of all places) and I started to have an identity crisis:
Am I a hipster now? If my neighborhood is now affecting my style options, what else has it changed about me? Are my favorite bands the ones you've never heard of, am I thinking of turning vegan? Wait, everyone makes fun of hipsters, are they making fun of me too now? Or, is it possible that hipsters are normal people like the rest of us?
Thus, Hipsterhood was born.
What drew you to a web series rather than a film, short or otherwise?
Quite a few things. But it all stemmed from my original goals which was I wanted to do something hard to direct but easy to produce (it was not, in fact, "easy" to produce, but at the time I thought it would be). So I came up with this concept of following the inner dialogue my hipsters have as they think about talking to each other. All the "dialogue" is actually Voice Over, which meant that I wouldn't really have to deal with sound on set and would be able to shoot while establishments were open, but I would have to work out some kind of system with my actors when it came to directing what they were "thinking."
I also really wanted to work with episodic content, something I'd never done before, because with episodes, you can't drag out the process. You have to be done at some point, so you can work on the next episode.
Adding new things to the internet is like adding water to the ocean. What's your marketing plan of attack to cut through the noise and build an audience?
The first thing I did was consciously not set a release date until I was done with post-production on the entire series.
This may seem weird to most filmmakers because everyone knows episodic means you have to shoot and edit while you're continually releasing things, but you don't actually have to do that when you're distributing to the internet and the release date is arbitrarily set!
This allowed me to put together a well thought-out marketing plan which basically involved scouring the internet for blogs, internet news magazine, tumblrs, other web series, youtube artists, and any site, big or small, that might in the slightest way be interested in my content (we're talking about hours and hours of surfing the net in my spare time) making a huge excel document of all these places, and then, when we had promotional materials and videos in hand, approaching them about getting press, or promoting the series, or me, in whatever way they feel comfortable.
It is a long, boring process that is definitely not fun for someone who would rather be making films, but it had to be done, so I'm doing it. I knew that people would respond well to the content once they saw it, so I'm really concentrating on reaching as many people as I can and getting them to watch it. Articles like this one help a lot.
For my marketing and distribution plan, I did a lot of consulting with other web content creators, as well as CreatorUp, an online web series school that's just starting up, and so got some strategy suggestions based on an upcoming online tutorial they'll have out in about a month, you can learn more about them at www.creatorup.com.
Learning from other people's successes and mistakes seems to be the best way to go since marketing is so specific to content and audience.
And what about funding—how are you financing this: Grant? Loan? Five-finger discount?
Ha. I am not sure what a five-finger discount is, but suffice to say it is self-financed. Originally, I wanted to get sponsors for the series, but I realized that, to get any company interested, I'd have to do major re-writes and turn it into something entirely different. My husband, Anthony C. Kuhnz, is a cinematographer, and we own all the necessary equipment for doing basic shoots (we have a small production company called Odd Frames Media where we make web videos for small companies) so I even decided against doing a Kickstarter campaign, just financed it with a little bit of savings. We're talking 3 person crew max, and of course everyone's working for free, so it was manageable on the financial front.
Speaking of crew: do you have collaborators, or is this a one-woman show?
While I would classify this as a one-woman show, you can't make anything without collaborators. Obviously, my actors were extremely necessary and have been great, and my husband shot the entire thing and also did all the music and color correction. In addition, I do have a couple of women working with me on marketing and promoting the series, but at the end of the day, I am the only writer/producer/director of Hipsterhood. Though, I really want to thank my publicity manager for getting up at 4:30am with me to send out press releases, and then patiently waiting on me because I had to figure out how to fix a glitch on the website (also made the website myself; you learn so many new skills as a one-woman show!).
What's been the hardest part of bringing Hipsterhood to the world so far?
Well, producing the shoots turned out to be way harder than I thought it would be. Now I know why everyone shoots web series in their apartments: one easy location.
I purposely decided to make every single episode happen in a different, public, location. Which meant there was no way I could do a traditional shoot with back to back shoot days because I was at the mercy of my locations. It actually took quite a while to get all the shoots done because no one's schedules ever coincided, but I finally did!
The hardest part now is trying to get people to physically click on the video. There's alot of support and positive feedback, but at the end of the day, if it's not a cat video, people aren't as motivated to click and watch and then come back for the next episode! I purposely made each episode under 3 minutes because I know from my own internet behavior that people aren't as likely to watch something if they know it's long.
When it comes to marketing and promoting, I know there are people who are getting paid really high salaries to figure out and implement the same things that I'm figuring out and implementing, and I have way fewer resources, so I'm just doing the most I possibly can and at the end of the day, it's a learning experience for my next project.
What do you do when you're not reflecting on the awkward joys of hipster love for the internet?
Hiking. I got into it about a year ago, and LA is such a great place to go hiking, I got hooked. I am now one of those people who eagerly looks forward to 7:00am hikes on Saturday morning. My husband thinks I'm crazy (as do most of the people reading this, I'm sure) but hiking really helps de-clutter my mind of all the hipster nonsense I constantly think about as I'm trying to promote the series, so it's a great re-set button for me.
Of course I do things like watch TV, have non-hipster related conversations on Facebook with friends, and occasionally talk to my parents on an actual phone. My day job is freelance editing, so sometimes I have a lot of time, and sometimes I have none, it just depends.
Now fess up: Would you call yourself a hipster, ironically?
(Sigh). Yeah. I guess so. At the end of the day, you live in one place long enough, it does change you. So anyone who is thinking about moving into the Silver Lake area but does not consider themselves a hipster: beware!! It's inevitable. It even happened to my husband, and he was pretty much the opposite of a hipster when he moved into the 'hood. Now he's so into obscure music and skinny jeans that he's even more hipster than me!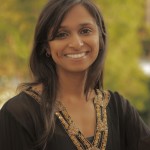 Hailing from Charlotte, North Carolina, Shilpi felt the urge to go West after undergrad and has been in LA ever since. She started her career working for Warren Littlefield, the former head of NBC. After attending the USC School of Cinematic Arts, where she made the award-winning short film The Indian & the Samurai, Shilpi worked for prestigious and controversial companies such as Brave New Films and PlayboyTV. Shilpi's many filmmaking skills keep her constantly busy on a multitude of projects. In between jobs, Shilpi blogs for Film Independent, shoots her own passion projects with her husband Anthony, and plays with her large and cuddly cat, Taiko.
DON'T MISS HIPSTERHOOD HAPPY HOUR EVERY TUESDAY AT 5PM!
Episodes release every Tuesday at 5pm with related content released on Thursdays, but you don't have to wait to catch the latest episode — it's been released early for your viewing pleasure. Watch it now:
And a recap of the web series creation wisdom in this post:
Make your content timely and relevant.
Consider holding off on a release date until post-production is done. Bonus: you'll be sure to have material for teasers and trailers.
Put together a well thought-out marketing plan. Scour the web for sites that might be into your content, then pitch them (having the aforementioned promotional materials helps).
No need to go it alone: consult with other web content creators and sources like CreatorUp. Learn from other people's successes and mistakes.
Attention spans are short. When it comes to online video content, shorter is better.
Get outside and de-clutter your mind (it's what Shilpi does, but it's good advice for all)!
August 28th, 2012 • No Comments