It's Who You Know: How a Mentor Can Help Your Film Career
20 Years of Project Involve: Through the Eyes of a Fellow
By Miles Maker / Project Involve Fellow / @milesmaker
Filmmaking is about finding yourself over and over again. No one ever makes a perfect film, but our lives aren't perfect either. With each attempt to say something relevant, the act of sharing a piece of our being ultimately reveals something we didn't know about ourselves. Filmmaking is a symbiotic give & take of self-expression, discovery and artistic consumption.
Then there are those among us who give more often than they take. The givers in our industry make more than creative contributions; they make our seemingly insurmountable obstacles feel quite possible and our aspirations sound altogether do-able if not inevitable.
By sharing their passion and demystifying the process, their lessons learned empower us to avoid making similar mistakes. These are the caring parents, and we are their wide-eyed students. These teachers and mentors among us impart their knowledge and experience for the growth and vitality of the creative community. We need more mentors.
The Secret of Success
For the first time in my seven-year amoebic existence in the movie business, I feel privileged, fortunate and lucky to be gifted with a mentor. However, luck is borne of positioning, preparedness and probability: the smarter you work, the luckier you become, so I've been 'lucky' enough to volunteer my skillset on some exceptional films and inject myself in rooms and conversations with some of the industry's most accomplished professionals and emerging talent. There's no magic way to make the magic happen, but some ways and means propel you faster and further than others.
Having searched for that secret cookie-cutter fast track formula buried somewhere in the success stories of others, I nail the networking events, scour the screenings, frequent the film festivals, patronize the panels and convene at conferences hoping to get lucky. But when that mover & shaker and influential dealmaker extends a hand to acknowledge my amoebic existence, that's all it almost always ever is: just a handshake. Nothing more—perhaps a business card if I'm luckier, and if by chance I receive a return phone call, I'm really on a roll! In most cases I'd have been just as lucky to get an e-mail reply, but I'm forever confident my luck will never run out.
---
"I nail the networking events… but when that mover & shaker and influential dealmaker extends a hand to acknowledge my amoebic existence, that's all it almost always ever is: just a handshake. Nothing more.
---
Enter Film Independent, the non-profit arts organization that brings you the Spirit Awards and the Los Angeles Film Festival. Project Involve is Film Independent's signature diversity program, dedicated to increasing diversity in the film industry by cultivating the careers of under-represented filmmakers. This nine month program provides invaluable mentorship, professional development and encouragement, and a community of like-minded filmmakers, collaborators and friends. There are now over 1,000 Fellows—alumni of Project Involve, the Filmmaker Labs, Spirit Awards grant winners and Los Angeles Film Festival Jury winners.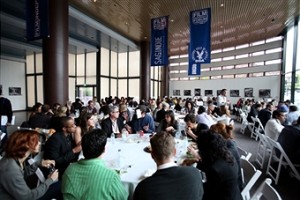 Accomplishment & Obligation
I walked into my Project Involve orientation with a feeling of accomplishment. Having survived their vetting process (which includes the application, an essay, letters of recommendation and interviews with Jane Hwang of Artist Development and the program's manager, Francisco Velasquez), I was surprised to discover only 30 lucky inductees had been selected. When introductions were made, I then discovered I'm the only 2013 PI Fellow in acquisitions / distribution.
Now in its 20th year, FIND Fellows include: Ramin Bahrani (At Any Price), Jon M. Chu (G.I. Joe: Retaliation), Nekisa Cooper and Dee Rees (Pariah), Ruben Fleischer (Gangster Squad), Marc Forster (Quantum of Solace), Lynn Shelton (My Sister's Sister) and most recently, myself (without a noteworthy title of my own making to speak of). That feeling of unearned accomplishment I walked in with has now become a self-imposed weight of obligation—to excel and succeed in the name of those talented persons who might have been selected in my place.
As a Mentor Being Mentored
If I'm so lucky, I'll be gifted with the opportunity to share my experience with Project Involve and impart some valuable advice and counsel as I transition my marketing skillset into project development and international sales. As your mentor being mentored, I'll share my increasing knowledge of movie packaging, talent attachments, pre-sales, film financing and global markets with information and resources to inspire and motivate filmmakers to think beyond national borders to sell their movies worldwide.
After all, development and sales are intrinsically linked; the same people I negotiate the license and sale of completed films in as many as 60 foreign territories are the very same players who are potentially willing to enter pre-sales agreements for exceptional works that are artfully packaged for international appeal. There are some who insist films by and for people of color won't sell internationally, and I intend to challenge that notion. When I can chart consistent success in this regard, it's no longer luck!
Thanks Film Independent!
A 2013 Project Involve Fellow, Miles Maker develops, produces, markets and sells movies; connecting art & commerce, titles with global markets, motion pictures & ROI.

Click here to learn more about Project Involve
December 5th, 2012 • 2 Comments