John Singleton is Forum Keynote Speaker! Also, a Hackathon.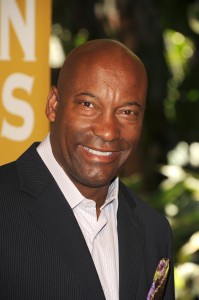 This just in: Academy Award® nominated director John Singleton will give the keynote address for the 2012 Film Independent Forum. At age 24, Singleton was the youngest individual and first ever African-American to be nominated for an Academy Award® for Best Director.
Boyz N the Hood, John Singleton's first feature film, landed him Oscar® nominations for Best Director and Original Screenplay. His other films as a writer/director/producer include: Poetic Justice, Higher Learning, Shaft and Baby Boy. He also directed Rosewood, 2 Fast 2 Furious and Four Brothers, and through his New Deal Productions, he produced the independent films Hustle & Flow, Black Snake Moan and Illegal Tender.
"There's no better way to start the Forum than with the advice of such a seminal filmmaker as John Singleton," said Maria Bozzi, our Director of Education. "Since his breakthrough with the very personal and highly acclaimed Boyz N the Hood, Singleton has established a path that many filmmakers have strived to emulate — his advice will be sure to inspire those attending the Forum."
Are you ready to be inspired? Register for the Forum today if you haven't done so yet: filmindependent.org/forum
This year's Forum now with more Hack
A fun new addition to this year's Forum will be the MOVIE HACKATHON — 41 hours of non-stop hacking to create original tools and apps that can be used by fans and filmmakers alike. Brought to you by ZEFR and Co.Create from Fast Company, the Hackathon is an initiative to bring the film and technology communities together to create new engagement experiences and tools for filmmakers and film lovers.
The final hacks will be presented to Forum attendees on Sunday, October 21 and judged by a panel of leaders in both film and tech, including Yair Landau (partner, MK Capital), Sam Teller, (managing director, Launchpad LA), Dan Beldy (advisor, upLynk), Zach James (co-founder, ZEFR) and award-winning filmmaker Ondi Timoner.
Oh, and did we mention there will be prizes? Of the cash money variety? That's right, three cash prizes will be awarded to the winners ranging from $500 – $2,500. So if you're a developer and you're interested in participating in our inaugural Movie Hackathon, sign up at www.zefrhackathon.com.
October 9th, 2012 • No Comments