Journey of a Web Series: How I Went from Season 1 to Season 2

If 2012 was the year crowdfunding became mainstream, then 2013 will probably be the year the web series grows up, with more filmmakers trying to make the jump from one season to two, to full-on established show. Hipsterhood — highlighted in SCREEN SHOT last year — is one such series. Project Involve alum and Hipsterhood creator Shilpi Roy shares her experience making that leap.
By Shilpi Roy / Creator of Hipsterhood / @Iplish
Going from point A to Point B seems obvious to many people, we spend our lives doing it. And in the web series world, point A is season 1 and point B is season 2, yet most never complete the journey. In fact, I recently read an article about how 2013 is "the year of the web series second season" and, while my series Hipsterhood was not actually mentioned in the article, I fall into that elite class of content creators who are figuring out how to sustain their story — and their fans — over a long period of time.
My web series Hipsterhood was made on a shoe-string budget by me, an independent filmmaker, whose idea of thinking ahead was making sure that I had next month's rent money in the bank. So, when my Hipsterhood experiment turned out to be reasonably successful, everyone started asking me "what next?" And I'll be honest: I made the classic indie film mistake of not planning for the future. While I was making season 1, it seemed way too early to think about a season 2. Now it seems I was stupid not to.
I had no idea what was next, but I knew I didn't want to do season 2 of Hipsterhood. Why? I was burned out. It's one thing to subconsciously be a hipster and do hipster things all day. It's another to consciously be a hipster, and think about it every day, for months at a time. We all feel burnout when it comes to film projects, and this was no different.
While I dreamed of my next project being an artsy independent feature film in black and white on 16mm, I kept seeing all these Twitter and YouTube and Facebook comments from people I didn't know — fans of Hipsterhood. And they were all really upset that the show was over. And that's when I realized, not only had I managed to connect with total strangers, but they wanted more! I felt a responsibility to my fans to continue the show. So, I took a little time to relax, and then I said "good-bye burn out" and decided to tackle season 2.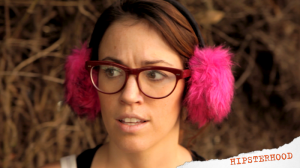 ---
"While I was making season 1, it seemed way too early to think about a season 2. Now it seems I was stupid not to."
---
Once I had a script I believed in and was really excited about, the question of money reared its ugly head. I knew I couldn't pull in the same amount of favors and freebies like I had for season 1. This time, I was going to pay people, I was going to do it "right." There was just one question: where was the money going to come from? My pocketbook could no longer afford to take the hit.
I decided to go after corporate sponsors. I knew I could find companies that hipsters would approve of, so I wouldn't lose my street-cred. And they'd have tons of money, right? "Branded content" is today's buzzword, right? I have a fan base that someone will be interested in, right?
WRONG. WRONG. WRONG.
What I found in my months-long trial of grueling cold-calling, exhaustive LinkedIn searches and marathon networking is that it's nearly impossible to have a brand or corporation be interested in your audience and content as an independent. Most companies are not including them in their marketing budgets, so even if they are interested, they can't find the money. In fact, industry insiders finally broke the news to me: most branded content is birthed within the company; they will come looking for you if they need you, so don't go looking for them. While this certainly isn't the case for everyone, it was the case for me.
I came to fork in the road: I could continue down this path of corporate sponsorship and maybe in the next six months I could convince a company to give me funds in exchange for my captive audience, or I could do a Kickstarter campaign to cover the bare minimum balance I needed and be shooting in a month.
Needless to say, I chose the latter.
Now that I'd decided how I was going to get money, I had to do one more thing. Make a list of pros and cons of what worked and what didn't for season 1, and figure out how to improve both lists for season 2.
Season 2 of Hipsterhood is going to showcase even more of the neighborhood, with more community involvement, like the fundraiser we're throwing at Los Globos, a stunning bar and nightclub space, more contests for the fans and better behind the scenes coverage of actual production so that everyone can partake in the experience of making the show. This time around, I need to dedicate a lot more time and energy to behind the scenes and extras material. The internet is an interactive place, and a good web series is more than just a show, it's an experience.
Of course, none of this will happen without a successful Kickstarter campaign. Check it out at http://bit.ly/hipsterhood.
But wait! There's one more thing that I should consider right now. Am I planning on having a season 3? If I start planning for it now, it's gonna be so much easier to produce down the road, I won't have any of these problems that I had getting season 2 made—
—Nah. It's too early to start thinking about that. Let's just get through season 2 first.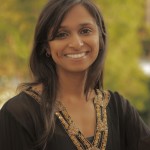 Hailing from Charlotte, North Carolina, Shilpi felt the urge to go West after undergrad and has been in LA ever since. She started her career working for Warren Littlefield, the former head of NBC. After attending the USC School of Cinematic Arts, where she made the award-winning short film The Indian & the Samurai, Shilpi worked for prestigious and controversial companies such as Brave New Films and PlayboyTV. Shilpi's many filmmaking skills keep her constantly busy on a multitude of projects. In between jobs, Shilpi blogs for Film Independent, shoots her own passion projects with her husband Anthony, and plays with her large and cuddly cat, Taiko.
February 5th, 2013 • No Comments