Producer, Writer, Director, Try: The Many Paths of Filmmaking
20 Years of Project Involve: Producer Stephanie Allain
By Miles Maker / Project Involve Fellow / @milesmaker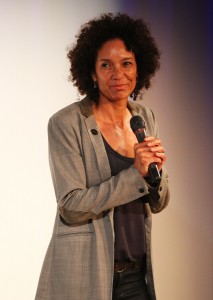 ---
"Your currency in this
town is knowledge,
passion, and knowing
who the talents are."
---
"It couldn't be a better time. I wish I could start over now."
These were the opening words Stephanie Allain spoke after being introduced to our Project Involve Class of 2013. Having mentored PI Fellows for two decades, Stephanie stressed the inherent value and golden opportunity in being accepted into such a prestigious program.
Stephanie has supported Film Independent's mission since the beginning — back when Project Involve was specifically for young women of color, ages 18 to 24. In fact, she hired her 2011 protégé, Mel Jones. Stephanie herself started out humbly by reading scripts.
"When you read lots of scripts and analyze them all, you become very knowledgeable about what works and what doesn't," she said. "So when I read John Singleton's Boyz n the Hood, I new exactly what I wanted to do, and I felt I had been put there to do something about it."
At that moment, a young producer's journey began. But she added, "You have to find your own way. For YOU. I've been at this 25 years and I'm still figuring it out."
Unearth the Potential in Your Life Experiences
I can relate to this because I thought I was a screenwriter when I finally summoned the courage to try my hand in the movie business. After years of sales for more companies and products than I care to remember, I decided to do what I knew I should've been doing all along. Yet even then my expectations were shortsighted; I had no idea my events management experience had honed me to become a producer, or my boiler room days of cold-calling on commission had developed my gift of gab to pitch just about anything with confidence and conviction.
"A producer is a salesman. Seductive," Stephanie said. "Your belief in what you're selling lures people into getting involved and taking action. Everybody is a producer. You should be one as a filmmaker because nothing's gonna happen unless you do something. Produce that."
I often speculate as to where I would be had I leaped into the entertainment industry at 19, but I'm also gifted with a wider skillset of discovered abilities since I learned to master job-hopping first. Stephanie Allain's words of wisdom assured me that my previous years of employment were truly well spent. She urged us all to live freely and fully, to not let our focus on the business consume us. "You're going to meet a lot of people, personalities and egos. Respect everyone because nobody ever stays in the same position," she warned.
So true! I've seen movie publicist Ava DuVernay become a filmmaker and then win Best Director at Sundance. I've seen actors like Adepero Oduye emerge from relative obscurity before Pariah to star alongside Queen Latifah, Phylicia Rashad, Jill Scott and Alfre Woodard in Lifetime's version of Steel Magnolias. I watched Nekisa Cooper emerge from this very same Project Involve program to win the John Cassavetes Independent Spirit Award. Yes, the very same people seated around this room may be the next names and faces I see in the spotlight very soon.
Feed Your Bigger Passion with Smaller Accomplishments
As a Senior VP at Columbia 20 years ago, Allain observed that there are actually fewer Black female executives now than back then. This illustrates our need to be entrepreneurial in establishing our own businesses to create our own work. "Your currency in this town is knowledge, passion and knowing who the talents are. Have an opinion and know what you're talking about," she advised. "You have to make good on your own plans to yourself."
"Even if you're not a writer, write. We're all writers. Exercise that muscle. Content creators need to be writers." She championed the need for team building in terms of relationships over resumes, and warned us not to embark on a project just because it's a piece of business. "Do it because you love it and want to do it."
With such an inspiring and motivational beginning, I'm looking forward to future Project Involve workshops with keen anticipation. My biggest takeaway from the experience was Allain's method with which to continue to press forward: "Set goals. Stretch. Grow to meet them. Feed your bigger passion with smaller accomplishments."

A 2013 Project Involve Fellow, Miles Maker develops, produces, markets and sells movies; connecting art & commerce, titles with global markets, motion pictures & ROI.

Click here to learn more about Project Involve
November 14th, 2012 • No Comments