Project Involve: Six Degrees of Production Connections
20 Years of Project Involve: Fellows, Friends & Family
By Mel Jones / Los Angeles Film Festival Assistant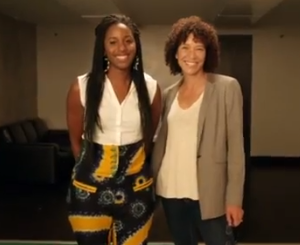 ---
"I now have not only possibly the best
mentor in the history of mentorship,
but I also get paid to learn from her."
---
I've heard a number of people refer to the "Film Independent family." I thought it was a marketing ploy to attract people to the organization. What filmmaker wouldn't pay a membership fee to be a part of a family of talented DPs and editors and producers and composers who all have similar goals and visions?
A year ago, I would've bet my MFA degree that Film Independent was selling a dream, but my outlook has certainly changed. What facilitated this metamorphosis was my acceptance into Project Involve. Project Involve literally rocked my world.
No, seriously. I came into the program with a degree from one of the best film schools in the country, a student loan the size of an LA mortgage and… no job. What? It happens everyday, but somehow I thought I would be different. So, in an effort to continue on the path that had chosen me and to fulfill my desire to make films that change the world, I applied to Project Involve.
I was paired with the phenomenally talented independent producer Stephanie Allain (Black Snake Moan, Hustle & Flow), my mentor who later became the Director of Film Independent's Los Angeles Film Festival. She is now my boss. Yes, I now have not only possibly the best mentor in the history of mentorship, but I also get paid to learn from her.
But that's not all. Stephanie helped to bring films like Middle of Nowhere to the LA Film Fest. This quiet film that explores a woman's life after her husband's incarceration has won a number of awards and is now nominated for a few Spirit Awards as well.
The PI Connection & Production Opportunities
I've had the opportunity to further support Middle of Nowhere by producing a PSA for its Social Action campaign. When I looked around me during production, I realized that my team was comprised of what I now can call my film family. Ironically, they are mostly Project Involve Fellows: my DP, Michelle Lawler; production designer, Dalila Mendez; my contact at Ava Duvernay's office… all Project Involve Fellows. Even Wendy Cohen, the Sr. Director of Film Campaigns for Participant Media — one of the distributors of Middle of Nowhere — serves as a Project Involve Mentor.
My story is only one of many who have benefited from this "PI connection." In fact, I believe that Film Independent grossly downplays the impact this community really has on burgeoning independent filmmakers.
Take a look at the PSA for Middle of Nowhere — it's just a small sampling of all this PI family has to offer.

Click here to learn more about Project Involve
December 12th, 2012 • 1 Comment