Safe Haven Premiere – Auction to Benefit Film Independent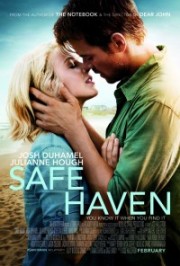 Calling all Josh Duhamel fans: Attend the Safe Haven Premiere, After-Party & Tonight Show Taping!
Thanks to the generosity of The Tonight Show and Relativity Media, we have another auction to benefit Film Independent: 2 tickets to the world premiere of the new Lasse Hallstrom film, Safe Haven, based on the Nicholas Sparks novel and starring Josh Duhamel.
Not only does the auction winner get to attend the premiere of the film, but they also get to attend the official after-party and the taping of The Tonight Show with Jay Leno when Josh Duhamel is on. Bidding is now open on charitybuzz, but ends this Thursday, January 31 — get your bid in today!
An Unforgettable Premiere Experience
If yours is the winning bid, then the fun kicks off on Tuesday, February 5 when you and a friend arrive at the NBC Studios in Burbank, bypass the audience line and are personally escorted to your seats to watch a taping of The Tonight Show with Jay Leno where Josh Duhamel will appear as a guest. Afterwards, you'll head over to the iconic Chinese Theatre at Hollywood & Highland to attend the film's red carpet premiere, followed by the exclusive after-party at The Annex next door — this will definitely be a night to remember.
Based on the novel from Nicholas Sparks, the best-selling author behind the hit films The Notebook and Dear John, Safe Haven stars Julianne Hough as a mysterious young woman newly arrived to a small North Carolina town, whose sudden arrival raises questions about her past. Slowly, she begins to put down roots, and gains the courage to start a relationship with Alex (Josh Duhamel), a widowed store owner with two young children. But dark secrets intrude on her new life with such terror, she is forced to rediscover the meaning of sacrifice and rely on the power of love in this deeply moving romantic thriller.
Get Your Josh Duhamel Fix & Support Indie Film Too
In addition to an amazing premiere experience, your winning bid will help support our artist-driven mission and year-round programs for independent filmmakers. If you're as passionate about creating a vibrant film culture as we are, and want to have a premiere experience you won't forget, get your bid in today: Safe Haven Premiere & Tonight Show taping.
And if you're not able to bid, you can still help by spreading the word — just click to tweet this. Thank you for your support!
January 25th, 2013 • No Comments