SCREENSHOT: Cinely, the Social Platform for Filmmakers
By Cherita Smith / Web Coordinator / @lafemmecherita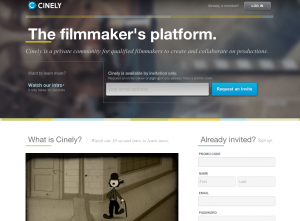 In this digital age of Facebook timelines and pinteresting tweets, you're probably thinking another online social network is the last thing you need. Understandable.
But… what if it was a private community of filmmakers and production companies and agencies vetted with IMDb credentials or other real-world experience — a network you could connect with to find collaborators for your next film, or a new gig? That sort of network would look a lot like Cinely.com.
Touting itself as the filmmaker's platform, Cinely aims to "help bring together the filmmaking community and provide opportunities for all filmmakers to work on productions and advance their careers." As that's a goal we can get behind, we chatted with Cinely founder David Litwin to learn more:
Describe Cinely in 140 characters or less:
Cinely is a private community for qualified filmmakers to create and collaborate on productions.
How did you come up with the idea for Cinely?
Cinely actually started as a very small project. At the USC School of Cinematic Arts, they own the copyright of films that are produced there, and there's no way for students or alumni to share their work in an online environment. Cinely was originally conceived as a way to allow video sharing in a private, network-based environment. The site has since evolved to be less about sharing content (as YouTube and Vimeo do a great job there) and more about connecting filmmakers for the purpose of collaborating and finding new opportunities. In short, it has grown from a site focused on content to one focused on the filmmakers themselves.
Are you at all worried that people will think, oh no, not another social network, and be hesitant to join?
No. We have a very controlled model of growth, where on the one hand we focus on targeting a very specific audience, and on the other hand, we work on communicating a clear message on how the site will benefit them. For example, this month we have focused on the USC Film alumni/student community, and early next month we will expand to the NYU and UCLA communities. Not only has there been a high percentage of activations through this method, but we also get many 'Request for Invite's' from people who want to join the site through word of mouth.
"Social" is really a means to an end on Cinely. I think the most powerful way it functions is as a way of connecting filmmakers — who wouldn't otherwise be connected or even know of each other — for future collaboration.
---
"'Social' is really a means to an end on Cinely. I think the most powerful way it functions is as a way of connecting filmmakers — who wouldn't otherwise be connected or even know of each other — for future collaboration."
---
And why exactly should filmmakers join Cinely? What's the benefit for them?
This is a tough question to answer, since the needs of the community can be so diverse. For example, a student filmmaker might be looking for a few crew and cast members for a project; a seasoned producer might be looking for new content to develop; a talent agent might be looking to find up-and-coming directors. Having said that, we try and provide a generalized set of tools that will be beneficial to the largest segment of our userbase. To illustrate a couple:
✔ Tools to manage productions (upload dailies, post openings, communicate with your team):
✔ Connecting people who have worked together on productions:
The main benefit to filmmakers will be the opportunities available on the site. In the next few months, we have three contests planned. One of these will be a short film contest with Emmy®-winning producer Sid Ganis selecting the winning film. The other two contests will be for creating new content, and both contests will be awarding substantial prizes. We haven't officially announced these yet, but this is really where Cinely begins.
Cinely members are approved individually — besides IMDb credits, are any other criteria needed for approval?
In the most general sense, a member is approved based upon whether their addition would improve the overall community. For example, if someone has zero IMDb credits but made a good short then they would certainly be approved. (We're currently working on improving the invitation process to allow for this.) Currently, we decide on a member's approval, though we'd like to move towards having the community itself decide on the approval of new members.
Cinely is a free service, so what about funding? Do you have a team of investors, or do you have another means of financing?
Cinely is currently internally-funded. Our revenue model is based upon companies and individuals using Cinely for the creation of content and to find talent.
Finally, what has been the most difficult part of bringing Cinely to the world?
Since the initial idea of Cinely, it has been a couple years of struggle and perseverance to get to a point where we have a product that we are proud of and a vision that we are committed to. It's a continual process of failure, learning and improvement, and the only way to stick with it over such a long and difficult period of time is to love what you're doing and what you're building, and surround yourself with great people.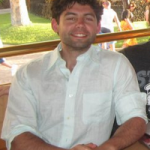 For your Cinely invite, go to www.cinely.com and use the promo code FILM_I.
David Litwin is a software developer and the founder of Cinely. He is a graduate of USC's School of Cinematic Arts and before that studied applied math at Michigan.
November 20th, 2012 • 3 Comments