SCREENSHOT: CUENTAME
Many in filmmaking are driven by more than their passion to create and entertain.  They're driven by a call for social justice.  Such is the case with online content, activist, organizing entity Cuéntame. Let's let them tell us the story of their story.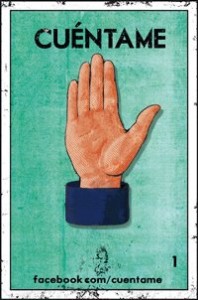 In 140 characters or less, describe your website.
¡Latino Instigators! Watch our films, make an impact and join in the powerful conversation. http://facebook.com/cuentame
The idea around Cuéntame is pretty multi-faceted.  It incorporates activism, film, ground action… how did you come up with that?
We started with a simple concept. How to re-create the Latino dinner table online. How to create a community by Latinos, for Latinos and the public at large – where people would share and interact – through the media and films that we created.  We knew that it was through telling the personal and everday stories that would mobilize folks and get people counted. We came up with – Cuéntame which literally translates to – "tell me your story" or "count me in".  We are into our third year, and stronger than ever!
This is an enormous undertaking. What made you so confident that it would even work?
More than a drive by confidence, it was drive by need and a sense of obligation. Not all issues affect all peoples the same – and there was a lot needed to be done in our community. For us it was important to make sure it is the community speaking out for themselves. It is their project – we mobilize around it. The desire for something like Cuéntame is almost self-evident – communities are eager to speak out and platform is something that is congenitally put to good use.
I understand that you've been able to make Cuéntame your full time day job.  How did you pull that off?
It involved endless sleepless nights, morning shoots, 24/7 working on the side. It involved a whole lot of passion and dedication and even more: Patience! But as soon as you start seeing the impact your making, it only drives you to go further and further. Everyday we face the challenge to make sure to keep up to date with the issues and conversations within and out of the Latino community and we like to do it in a manner that is not only informative, and educational  but creative, fun and engaging.
You have a Facebook following of 75,000.  How is that even possible? How do you keep them coming back for more?
Having the audience be the creators – is what keeps folks coming back. It's that simple – if you give your audience the power and the voice – they will use it. Telling stories that are honest, true and that resonate – that put our audience always at the forefront. Cuéntame is not about how we get them to come to watch but rather how we tell their stories.
What's the hardest part of putting all of this out there?
The hardest part is maximizing each piece. Making sure that the hard work put by everyone involved pays off in a big way. Because we produce more than 200 videos a year – it becomes exponentially tougher.
200 pieces a year! Are you kidding? That's crazy. You have to have collaborators for something like that.
Yes! We have hundreds of thousands of collaborators nationwide. Our supporters, send us images, articles, stories, interviews, videos or just share their thoughts, comments and opinions. Then the hard working Cuéntame team of bloggers, producers and editors put it all together.
You can learn more about Cuéntame by checking out their facebook page, their website or their twitter!  As I mentioned, they're a multi-platform web entity so be sure to check out their work as well as one of their most recent pieces featuring Josefina Lopez – screenwriter of Real Women Have Curves.   Cuéntame will be with Josefina at the Boyle Heights Film Festival this weekend and so will Cuéntame. Check them out!
March 1st, 2012 • No Comments