SCREENSHOT: EastSiders

So you want to conquer the web, but you don't know how? In SCREENSHOT, you'll find stories showcasing how other filmmakers are doing their digital thing so you can learn to do it too.
By Cherita Smith / Web Coordinator / @lafemmecherita
What happens after the world ends? In the new web series EastSiders, writer/director and award-winning playwright Kit Williamson explores the aftermath of infidelity on a gay couple in Silverlake. After self-financing the first three episodes in time for the Mayan apocalypse-that-wasn't, Williamson and crew launched a Kickstarter campaign to secure funding for a full season. Thanks to media attention and #TeamEastSiders buzz, their fundraising campaign was a success — and they've still got one week to go before their Kickstarter ends. Naturally, they've increased their goal.
Williamson shares his strategy for EastSiders' digital success with us. His advice? Have a plan for launch and post-production — don't just throw it up on YouTube if you want to succeed.
Describe EastSiders in 140 characters or less:
EastSiders is a dark comedy about a gay couple struggling to stay together through infidelity, drunken outbursts and double standards in Silverlake, California.
How did you come up with the idea for this series?
I knew I wanted to write a story with gay characters that were afforded the same complexity we expect from straight characters. I don't often identify with the gay characters that I see on television, because they're usually written in a kind of shorthand; the audience is expected to assume all sorts of things about the characters' lives because of their sexual orientation, and it gets pretty stock. The fact that Cal and Thom are gay is just a fact, not a premise.
I also knew that I wanted to set the story in my neighborhood. Part of this was just pragmatism, but beyond that I really love the neighborhood and I am grateful for the support that local businesses have shown us. Our second episode takes place in The Cha Cha Lounge, which is such an iconic, cool bar. We definitely want to feature more local landmarks as the series continues.
What drew you to the web rather than a more traditional filmmaking route?
First and foremost, I wanted to get the series seen by as many people as possible and I felt that putting the series online would be the best way to do that. More quality GLBT series are being produced than ever before, but there are still very few out there. As a viewer myself, I noticed there weren't a lot of stories out there like ours.
I also really wanted to explore the form. I'm a playwright, so I tend to write really long, dialogue driven scenes and I wanted to give myself an exercise in brevity. I really enjoyed the process of condensing the narrative into smaller chunks — each episode takes place over the course of a single day.
What's your marketing/distribution plan to build and keep an audience?
We launched our facebook page, twitter and tumblr a month before we launched our first episode and tried to premiere something new every day. We also reached out to gay and mainstream press well before our launch so that we'd already be on their radar when our first episode came out. Our producers John Halbach (who also plays Ian) and Kristyne Fetsic did most of the leg work. We were really grateful and surprised by how enthusiastically our PR efforts were received. We try to keep our audience as involved as possible in preproduction, production and post so they know that we're working hard to bring them new episodes.
How are you financing this project?
The first three episodes were financed out of pocket, which was only possible because everyone involved volunteered their time and talents. We launched a Kickstarter campaign to finance a full season and passed our goal in four days.
The response has been incredible — we've raised over $20,000 and the campaign is only halfway over! It's so exciting to know that we will definitely be making a full season — and that we might be able to make it even better than we'd hoped.
Do you have a day job?
I have several day jobs, actually! I'm a grad student and TA at UCLA. I also wait tables and bartend. I actually made most of my money this year acting in commercials.
What's been the hardest part of bringing the series to the world so far?
In the beginning it was hard finding the right group of people. I actually almost gave up on the project because I didn't have a good team around me. I'm really grateful to have found the collaborators that I have.
And speaking of collaborators… what about yours?
I am blessed to have several amazing collaborators: my producers Kristyne Fetsic, Jonathan Stahl, John Halbach and Chrissy Dodson, and my associate producers Jaz Moore and Beth Wheatley have been incredibly supportive and there's no way I could've made this project happen without them. That's one of the reasons I love filmmaking — it takes a village and you get to know people really well working with them on a project from start to finish.
Any special advice for other filmmakers out there looking to get started in the digital world?
Make sure you have a plan for post-production — it'll help separate you from the pack if you take the time for color correction and a quality sound mix. Also make sure you plan your launch, don't just throw it on YouTube. Our first two episodes took place in December to coincide with the end of the Mayan calendar — it's a minor plot point in the show, but I think it helped us get some of our initial press.
Last but not least, I'd just say don't be afraid to take risks. Make the show that you want to see and be confident that there is an audience because you are a member of that audience.
And now, for the recap:
Generate buzz by reaching out to press before you launch.
Also before: use social media to build a fanbase, and have a plan to keep them engaged.
Plan for post-production — a quality look will help separate you from the pack.
Plan your launch, don't just throw it on YouTube. Timing it to current affairs might get your series some extra media attention (Are you sensing a theme here? Planning works!).
And finally, don't be afraid to take risks!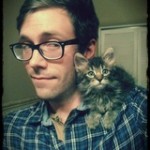 KIT WILLIAMSON began his career on Broadway, in the Tony-nominated revival of Talk Radio. Other credits include Numb3rs, Death Valley, 2011 Moby Dick (The Asylum), Para-Normal (Screamfest LA), Panacea (Sacramento Horror Fest), The Untimely Concurrence (AOF Fest winner, best LGBT short) and Best Friends Forever from director Brea Grant, which will premiere at Slamdance in 2013. Other stage credits include "Made in Poland" at 59E59. He can also be seen on the web in Hipsterhood: The Series, this Daywalt Fear Factory short, and this registered immortal PSA on Funny or Die. He is currently pursuing his MFA in playwriting at UCLA.
January 30th, 2013 • No Comments