SCREENSHOT VOL. 3: ORDER OF THE GOOD DEATH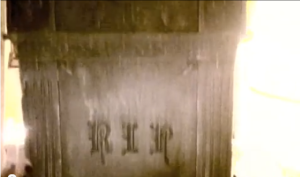 Full disclosure, I think Caitlin Doughty is one of the coolest ladies around.  Featured on Jezebel repeatedly for her blog Order of the Good Death (score!), picked up by Popcurious, and currently available on film site Mubi, she's a bit of an Internet sensation. A California state licensed mortician she could give the family of Six Feet Under a run for the money when it comes to fantasy and entertainment. So let's get down and dirty with Caitlin!
First the hard part, in 140 characters or less, describe your site:
The Order's website is a place to interact with mortality.  The message is that an interest in death is totally natural– in fact, healthy!
OK, how did you come up with this?
I have been researching and writing about death for years, but was always really hesitant to put myself out there with my ideas.  The Internet is a scary place.  I had a secret, password-protected blog for a few years that probably twenty people tops actually read.  The Order of the Good Death started at the beginning of 2011 when I finally decided I was ready to go public.  I invited artists that I knew to help me, and we started creating a website, producing videos, writing, photography, all manner of content about facing and engaging with death.
People are usually drawn to kittens and porn on the internet, what made you think people would like death?
I had absolutely no idea if people would like it.  With the Ask a Mortician series, I only knew that people loved to ask me death questions at parties, on planes, etc.  But that didn't mean anyone would want to see me rambling on camera with pictures of my head Photoshopped onto the Grim Reaper's body.  It was a risk because I put my face and personality behind it.  It's the real me, talking about death the way that I really talk about it.  I was afraid people would see it as disrespectful or campy.
What do you do when you're not Photoshopping yourself into the Grim Reaper?
I work as a funeral director for a green cremation company.  Since I started to really invest myself in Order of the Good Death and producing Ask a Mortician it's literally like I have two full time jobs.  It's a lot of death, but fortunately that's what I love.  Death never gets old, only the logistics involved.
You have a pretty loyal following, not to mention Dodai at Jezebel, what do you think keeps people coming back for more?
Death curiosity keeps people coming back.  We're all morbid people; we just don't all admit it.  It also helps to build a community around the website, Facebook, twitter, etc.- all the internet things I was so afraid to do for so long have proved to be really helpful.  Working with sites like Jezebel has also been a huge help in generating viewers.
What's the hardest part of putting Order of the Good Death together?
The hardest part is the time it takes.  Dolly Parton said, ""It takes a lot of money to look this cheap."  It takes a lot of time for Ask a Mortician to look so thrown together.  The aesthetic is midi synth music, bad Photoshop, choppy editing, etc- but you'd be surprised how long that takes to accomplish!
Do you have anyone that helps you make it look so "cheap"?
I have a lot of collaborators in general, but with Ask a Mortician it's pretty much just me and my friend David who does the music.  I had to learn a lot of things on the fly, but having control over the aesthetic and tone of everything is empowering.  I'm talking to people about adding new elements (animation, guests, etc.).
Have a question for the Caitlin the Mortician? Send her a question, she may answer you in her next episode!
Check out the latest Ask A Mortician released Tuesday January 17. It's been up for two days and already has nearly 8000 views.  That's amazing!
Check out last week's week's screenshot here.
–by Erikka Yancy for Film Independent
January 19th, 2012 • No Comments