Silver Linings Playbook for the Forum Opening Night Film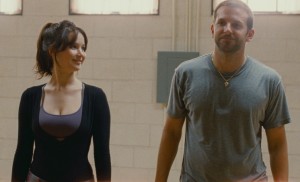 If you're attending the Film Independent Forum, you're in for a treat: this year kicks off with a screening of David O. Russell's Silver Linings Playbook, to be followed by a Q&A with producers and talent.
Fresh from its People's Choice win at the Toronto International Film Festival, Silver Linings Playbook stars Bradley Cooper as Pat Solitano, a depressed high school teacher who's lost everything: his house, his job, his wife. After spending eight months in a state institution, he finds himself living back with his mom and dad (Jacki Weaver and Robert DeNiro). Pat is determined to rebuild his life, remain positive and reunite with his wife, despite the challenging circumstances of their separation.
When Pat meets Tiffany (The Hunger Games' Jennifer Lawrence), a mysterious girl with problems of her own, things get complicated. Tiffany offers to help Pat reconnect with his wife, but only if he'll do something very important for her in return. As their deal plays out, an unexpected bond begins to form between them, and silver linings appear in both of their lives.
And that's just opening night. The rest of the Forum weekend will be packed with invigorating talks and discussions on everything from financing your film to marketing and distributing it (and a whole lot more), brought to you from panelists like:
Rian Johnson (writer/director, Looper)
Lynn Shelton (writer/director, Your Sister's Sister)
Rory Kennedy (producer/director, Ethel)
Rodrigo Garcia (director, Albert Nobbs)
Lynette Howell (producer, The Place Beyond the Pines)
Dana Harris (Editor-in-Chief, Indiewire)
and many more!
To see who the many more are, check out the full schedule and list of guest speakers. And if you haven't registered for the Forum yet, do it today: filmindependent.org/forum
October 2nd, 2012 • No Comments