Sneak Peek: Project Involve Shorts Compilation
20 Years of Project Involve: Flexing Those Filmmaking Muscles
By Pamela Miller / Grants Coordinator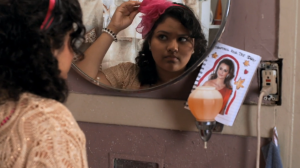 Every year, we invite our group of Project Involve Fellows to flex their filmmaking muscles by producing short films over the course of the nine-month program. It's no easy feat: deadlines are tight, budgets are micro and they have to do it all as part of a team — even though they've barely just met.
No wonder so many of the Fellows tell us that short film production is the most challenging — and rewarding — aspect of Project Involve. As one put it, "It turned into the most vital part of the program for me. It allowed me to assume responsibility and face adversity in ways I would not have encountered other than in the face of actual production."
Six teams were each given a $2000 stipend, resources like production insurance, camera and sound packages and a theme. This year's themes — California and democracy — were handed down from the shorts program funder, California Council on the Humanities.
Sure, there were bumps in the road – rainy shoot days, deadline pressures, an occasional personality clash. But as you can see by this sneak peak of the finished products below, all the teams rose to the challenge and found the learning experience well worth the blood, sweat and tears. "The most crucial part of any filmmaker's development," said one Fellow, "is actually making films. It is the most valuable growth experience because it is actually *DOING* instead of just talking."
This project was made possible with support from Cal Humanities, an independent non-profit state partner of the National Endowment for the Humanities. For more information, visit calhum.org.

Click here to learn more about Project Involve
December 3rd, 2012 • No Comments