SPIRIT AWARDS SPOTLIGHT: Keep the Lights On
The Best Feature Nominee Many Didn't See Coming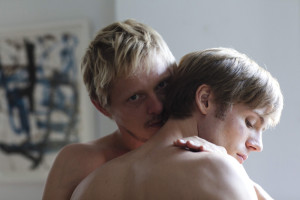 Keep the Lights On chronicles an emotionally and sexually charged journey of two men in New York City through love, friendship and addiction.
Documentary filmmaker Erik (acclaimed Danish actor Thure Lindhardt in his first leading role in a U.S. film) and closeted lawyer Paul (Zachary Booth, Damages) meet through a casual encounter, but soon find a deeper connection and become a couple. Individually and together, they are risk takers—compulsive, and fueled by drugs and sex. In an almost decade-long relationship defined by highs, lows and dysfunctional patterns, Erik struggles to negotiate his own boundaries and dignity while being true to himself.
A Teddy Award winner at the 2012 Berlin International Film Festival, and the winner of Outsanding US Dramatic Feature at Outfest 2012, Keep the Lights On is nominated for the following Film Independent Spirit Awards:
Where Can You Watch It?
As part of the Spirit Awards Nominee Screening Series:
In Los Angeles: Saturday, January 19, 2013 at 8:00 pm
In New York: Friday, January 25, 2013 at 7:00 pm
For more information on the Nominee Screening Series, visit spiritawards.com.
Buy, Rent or Watch Online
This film isn't available on DVD or for online viewing just yet. However, if you're a voting eligible Film Independent member current as of December 7, 2012, a DVD screener might be available! Check with the Film Independent membership department to find out more.
December 27th, 2012 • No Comments