Sundance Recap: Four Films to Watch in 2013
Our intrepid Film Education coordinator braved the wilds of Park City during Sundance for the first time this year. Several days and countless movies later she's returned, older and wiser and ready to share…
By Lee Jameson / Film Education Coordinator
After a whirlwind of screenings and snow, the 2013 Sundance Film Festival showcased a number of standout new voices from its diverse roster of filmmakers. Below is a recap of some of my personal favorites from the festival, with highlights from Q&A discussions with the filmmakers. All of these films were picked up for U.S. theatrical distribution, so keep an eye out for them in 2013.
Ain't Them Bodies Saints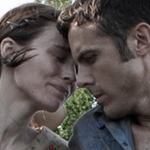 Winner of the U.S. Dramatic Cinematography Award, writer/director David Lowery's meditative tragedy Ain't Them Bodies Saints is one of the most acclaimed films to come out of Sundance this year. Starring Rooney Mara, Casey Affleck and Ben Foster, Saints is a beautifully crafted drama centering on the doomed romance of two Texan outlaws.
In addition to his work as a writer/director, David Lowery is an accomplished editor with 27 titles under his belt. He co-edited this year's Sundance award-winner Upstream Color, along with writer/director Shane Carruth. Lowery's talents as an editor are evident when viewing Saints – the layered use of sound and hypnotic pacing to construct a sense of longing is both bold and assured throughout.
Malickian in tone and composition, Saints' visual achievements can be credited to cinematographer Bradford Young (Pariah, Middle of Nowhere). Young "was a complete genius when it came to the outdoor scenes we were shooting," said Lowery. "There is a lot of darkness in the film. We described the dark texture as dirty and there are a lot of blacks in the film stock. There's a degree of shadow that gives it a mood and texture."
The time period in which the film is set is almost impossible to pin down. When asked about this, Lowery said "I love films that aren't temporally based and the idea was that we set it in the 1970s, but everything in the movie is a strange blend of the 1950s, '60s and '70s. We wanted it to feel old."
Ain't Them Bodies Saints was acquired for domestic distribution by IFC Films.
Kill Your Darlings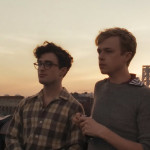 Director John Krokidas returned to Sundance this year after his short Slo-Mo played the festival in 2002. His debut feature, the Beat biopic Kill Your Darlings, which competed in the U.S. Dramatic category, has been receiving positive reviews, particularly for the performances of lead Daniel Radcliffe as Allen Ginsberg and newcomer Dane Dehaan.
Although the film took eight years to complete from conception to premiere, "we shot the film in just 21 days," said Krokidas. When asked about how he pulled together financing for such an ambitious first feature, Krokidas said that after Daniel Radcliffe signed on and "once momentum started with the cast, the rest of the financing came into place."
Krokidas and his co-writer (and former college roommate) Austin Bunn spent a great deal of time researching Ginsberg's experiences at Columbia University and uncovered stories about his college years that had not yet been explored. Bunn advised the crowd to "cultivate your curiosities and your obsessions. Nobody paid us to research these back stories." He added that "this story is just a footnote in a lot of their biographies." In college, Bunn researched a criminal case involving the characters in the film and "figured there had to be other sides to the story. So with that little seedling we just started digging."
Kill Your Darlings was picked up by Sony Pictures Classics last week for US, Australian, New Zealand, South African, African TV, and Eastern European territories.
Upstream Color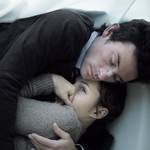 Writer/director/actor/producer/editor/cinematographer/everything-in-between Shane Carruth won the U.S. Dramatic Special Jury Award for Sound Design on Saturday night for his much-anticipated Primer follow-up, Upstream Color.
Nine years in the making, Upstream Color is a stylistic, complex sci-fi love story about mind control and personal freedom. Beyond this, the plot is challenging to describe and the film left many festival attendees scratching their heads.
In regards to his award-winning music and sound design, Carruth explained that he writes music "typically when I write the script. And I threw out a lot of it" when developing Upstream Color. Music and sound drive the narrative, as there is minimal dialogue (none in the last 30 minutes). "I knew it had to be lyrical and the music needed to change" as the story evolved. The film hauntingly revisits the same pieces of music "when characters experience the same emotional state."
In conjunction with these aural motifs, Carruth uses "narrow depth of field to convey something out of reach," which compliments the themes of control, memory, identity and loss. For example, Carruth employs stunning microscopic photography to explore the journey of a sinister worm inside one of the main characters. Carruth's masterful use of narrow depth of field directs the audience's attention in such specific ways that it renders dialogue almost unnecessary.
Carruth announced earlier this month that he will be distributing Upstream Color in the U.S. through his company erbp, but that it will open in New York at the IFC Center on April 5 before expanding to other cities.
We Steal Secrets: The Story of WikiLeaks
Oscar®-winning documentarian Alex Gibney has had a busy year. His documentary Mea Maxima Culpa: Silence in the House of God, an examination of corruption in the Catholic Church, was picked up by HBO in the fall. History of the Eagles Part 1, on which he served as producer, premiered at Sundance this year.
But it's his latest directorial effort, We Steal Secrets: The Story of WikiLeaks, that has garnered a great deal of acclaim and buzz following its world premiere at Sundance.
The documentary is not solely focused on WikiLeaks founder Julian Assange. Instead, Gibney attempts to provide a comprehensive background on the history of WikiLeaks and the other whistleblowers involved in its international explosion (and eventual implosion). Audiences may be surprised by how Gibney depicts Assange – not so much as a martyr of free speech, but as a paranoid and self-destructive individual.
When asked about how he approached the sexual assault case against Julian Assange, Gibney stated, "I went into the film convinced that the [sexual assault] case in Sweeden was a conspiracy, because the timing seemed so questionable." However, after conducting interviews with Assange's female accusers, his opinion regarding the conspiracy began to change. "It turned out to be quite the opposite," said Gibney.
We Steal Secrets: The Story of WikiLeaks will be released day-and-date on digital platforms and in theaters by Focus World.
January 29th, 2013 • No Comments