The Road to Park City: Poster Wars & Aftermath

Project Involve alum Erin Li's film, To the Bone, showed at this year's Slamdance Film Festival. Erin shares the experience of being in Park City with a film of her own — from the pre-festival elation and anxiety of getting her film accepted in part 1, The Road to Park City: Take-Off, to the down & dirty nitty-gritty of DIY publicity and the post-fest aftermath here.
By Erin Li / Project Involve Fellow & Director, To the Bone / @MsErinLi
It takes a lot of time, work and resources to promote a film. To the Bone did not have an extensive P&A budget, so I took a DIY approach and designed the posters and postcards with self-taught Photoshop skills. Talented photographer and photo editor Ryan Gayatinea had taken key film stills during pickups, so I had strong material with which to work.
There were a vast array of feature films premiering in Park City, so I knew it would be tough to cut through the noise. To capture people's attention on "the Main," I came up with a guerrilla marketing campaign for To the Bone and created some eye-catching flyers that related to the film's content — the film is about a pre-teen migrant farmworker who attempts to rebel against the status quo, with unintended consequences for herself and her family — and printed them on bright orange fluorescent paper.
Even with posters, postcards and flyers in hand, there are some serious poster skirmishes going down on Main, so you better come prepared. If you put up flyers at 10am, by noon (or sooner), your flyers will most likely be half-covered, if not entirely obliterated, by posters from other films.
There was one network, which will go unnamed (I am, after all, a huge fan) who hired poster soldiers who would periodically march up and down Main with staple gun and key art in tow, systematically covering entire boards with their film posters. Pow, pow…pow, pow! To the Bone flyer = now nowhere in sight.
At first, my reaction was – what the what?! Is there no common decency among indie filmmakers? Seriously, people, there is enough room for us all. A few days later, I got the hang of things and (gasp) started putting up To the Bone flyers over other posters. Before you start shaking your head, I should note that, for the most part, I carefully positioned flyers to avoid covering other films' screening times or actors' heads. Oh, who am I kidding…
At the end of the day, I don't know how many people actually stopped to look at the poster boards. However, many indie filmmakers, including me, feel like this is something do-able that can be carried out to help promote our films, in addition to campaigning online, via social media and in person.
After ten days in Park City, one lone To the Bone flyer was the only one left unscathed. Location: undisclosed Park City bus stop.
Special thanks to Christina Carrea, Susumu Kimura, Adam Choit and Diane Budzik for going to war with me and helping to hand out flyers and postcards!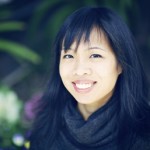 Erin Li focuses on originating, writing and directing character-driven, visually interesting and emotionally visceral films that expose audiences to under-represented worlds, people and ways of life – films that she hopes will entertain and inspire. Li's most recent film, TO THE BONE, tells the story of one preteen migrant farmworker who attempts to defy the status quo with unintended consequences for herself and her family. It was one of six films greenlit and commissioned by Film Independent to explore themes of California and democracy. Erin directed and co-wrote this film as part of Film Independent's Project Involve fellowship program. Li is curently developing a feature, COFFIN SCHOOL, about a recently transplanted Chinese grandmother who enrolls in a school that claims to teach people how to start life anew.

Click here to learn more about Project Involve
January 31st, 2013 • 2 Comments