this is _forum2013_schedule.php
Forum Schedule
OPENING NIGHT FILM: DALLAS BUYERS CLUB
Panelists Include: Screening followed by a Q&A with producers Robbie Brenner & Rachel Winter, moderated by Gregory Ellwood, Co-Founder & Editor-In-Chief, HitFix, followed by a reception.
Time: 7:30 pm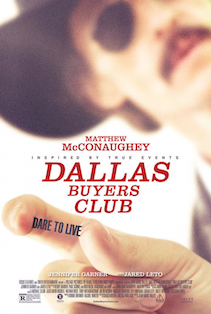 An imperfect man fights for survival during an uncertain time in America. Inspired by true events, Ron Woodroof's story of strength is told in Dallas Buyers Club, directed by Jean-Marc Vallée from an original screenplay by Craig Borten & Melisa Wallack. Spirit Award winner Matthew McConaughey portrays the real-life character, whose self-interest is galvanized into something much more.
A son of Texas, Ron Woodroof is an electrician and rodeo cowboy. In 1985, he is well into an unexamined existence with a devil-may-care lifestyle. Suddenly, Ron is blindsided by being diagnosed as H.I.V.-positive and given 30 days to live. Yet he will not, and does not, accept a death sentence.
His crash course of research reveals a lack of approved treatments and medications in the U.S., so Ron crosses the border into Mexico. There, he learns about alternative treatments and begins smuggling them into the U.S., challenging the medical and scientific community including his concerned physician, Dr. Eve Saks (SAG Award winner Jennifer Garner).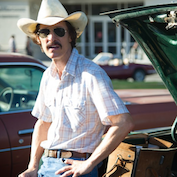 An outsider to the gay community, Ron finds an unlikely ally in fellow AIDS patient Rayon (Gotham Independent Film Award winner Jared Leto), a transsexual who shares Ron's lust for life. Rayon also shares Ron's entrepreneurial spirit: seeking to avoid government sanctions against selling non-approved medicines and supplements, they establish a "buyers club," where H.I.V.-positive people pay monthly dues for access to the newly acquired supplies. Deep in the heart of Texas, Ron's pioneering underground collective beats loud and strong. With a growing community of friends and clients, Ron fights for dignity, education, and acceptance. In the years following his diagnosis, the embattled Lone Star loner lives life to the fullest like never before.
Directed by Jean-Marc Vallée
Written by Craig Borten and Melisa Wallack
Starring Matthew McConaughey, Jennifer Garner, Denis O'Hare, Steve Zahn, Michael O'Neill, Dallas Roberts, Griffin Dunne, Kevin Rankin and Jared Leto
EXECUTIVE KEYNOTE ADDRESS
Panelists Include: Ted Sarandos, Chief Content Officer, Netflix
Time: 10:00 am
"WHAT'S IN IT FOR ME?": THE MILLION DOLLAR QUESTION
Panelists Include: Josh Welsh, President, Film Independent (moderator); Nina Yang Bongiovi, COO & Head of Film, JuntoBox Films; Head of Production, Significant Productions; Babacar Diene, Vice President, Acquisitions, Voltage Pictures; Cassian Elwes, producer, Dallas Buyers Club, Lee Daniels' The Butler, Ain't Them Bodies Saints; Matthew Greenfield, Senior Vice-President, Production, Fox Searchlight; Jamie Patricof, producer, The Place Beyond the Pines, Blue Valentine, Half Nelson
Time: 11:15 am
The first step to financing any type of project, or securing distribution for it, is finding out how your project matches the needs, interests and concerns of the financing and distribution partners you're seeking to involve. Each potential partner speaks a different language, and you should tailor your "ask" to their question "what's in it for me?" We assemble a group of sales agents, financiers, producers and distributors to discuss their role in financing and provide tips on the dos and don'ts when trying to involve them.
FUND THAT DOC
Panelists Include: John Lightfoot, Program Officer, The California Documentary Project (moderator); Lisa Kleiner Chanoff, Co-Founder, Catapult Film Fund; Luis, Ortiz, Managing Director, Latino Public Broadcasting; Rahdi Taylor, Film Fund Director, Sundance Documentary Film Program; Michele Turnure-Salleo, Director of Filmmaker360, San Francisco Film Society
Time: 11:15 am
Making docs can be a challenging venture. There are legal concerns and financial struggles at every turn. But fear not – there are organizations that are here to help. Meet the documentary funders who specialize in offering docs a helping hand and learn what they are looking for in projects and where other funding opportunities lie in today's competitive market.
OFF-THE-RECORD NETWORKING LUNCH
Time: 12:30 pm
Film industry professionals host tables for lunch and candid conversation.
SHOPPING YOUR PROJECT: A FINANCING CLINIC
Panelists Include: Paula Manzanedo Schmit, Vice President, Film Finances, Inc. (moderator); Josh Braun, Co-Founder, Submarine Entertainment; Gary Rubin, Executive Vice President, Cohen Media Group; Peter Trinh, Agent, ICM; Michele Turnure-Salleo, Director of Filmmaker360, San Francisco Film Society
Time: 1:45 pm
A group of Film Independent producing Fellows present their projects to a panel of experts and get advice on the potential pitfalls of their script, where to find the right support for their projects, and how to leverage their projects' elements into an attractive package for potential investors. The panelists' specific feedback and practical advice will provide useful packaging and financing tips for all.
IT'S THE ECONOMY, STUPID: DOCUMENTARY CASE STUDIES
Panelists Include: Lisa Leeman, writer/director, One Lucky Elephant (moderator); Jen Chaiken, producer, Inequality for All; Frank Evers, producer, The Queen of Versailles; Lauren Greenfield, producer/director, The Queen of Versailles; Jacob Kornbluth, director, Inequality for All
Time: 1:45 pm
The Queen of Versailles and Inequality for All brilliantly expose and examine the culture of greed and excess in America on the eve of the financial meltdown of 2007 and the income inequality that the crisis that followed made evident. The filmmakers behind these films share the trials and tribulations from their journeys creating two of the most acclaimed and impactful documentaries in recent years.
INDIELINK @ THE FORUM
Time: 3:00 pm
MADE IN L.A.: PRODUCTION CASE STUDIES
Panelists Include: Stephanie Allain, Director, Los Angeles Film Festival; producer, Peeples (moderator); Sebastian Dungan, producer, Inequality for All; Judi Levine, producer, The Sessions; Ben Lewin, writer/director, The Sessions; Nicholas Ozeki, writer/director, Mamitas; Jill Soloway, writer/director, Afternoon Delight; additional panelists to be announced.
Time: 3:30 pm
As film and TV production continues to flee Hollywood and our new mayor declares a state of emergency on runaway productions, we highlight the production of three very different films shot in Los Angeles. The teams behind Afternoon Delight, Mamitas and The Sessions take us behind the scenes to reveal what it took to get their films off the ground and into the marketplace.
GAME CHANGE: THE EVOLVING NARRATIVE OF VIDEO GAMES
Panelists Include: Samuel Roberts, Festival Director, IndieCade; Assitant Director, Interactive Media & Games Program, USC School of Cinematic Arts (moderator); Brendon Chung, Founder, Blendo Games; Tracy Fullerton, Associate Professor and Chair, Interactive Media & Games Program, USC School of Cinematic Arts; Maureen McHugh, author, China Mountain Zhang, Mothers and Other Monsters; additional panelists to be announced.
Time: 3:30 pm
New generations of games are becoming increasingly cinematic, employing traditional narrative storytelling elements within a non-linear interactive environment. Does this shift represent new opportunities for independent filmmakers and storytellers? How are the worlds of gaming and film intersecting in this content revolution? Independent game developers and industry experts discuss their process creating games with complex narratives and where the market is headed for auteur-driven video games.
U-FINANCE: CROWDFUNDING COMES OF AGE
Panelists Include: Lisa Callif, Partner, Donaldson + Callif (moderator); Matt Dallas, producer, Thunder Road; Steven Grayhm, writer/producer, Thunder Road; Marc Hofstatter, Film Lead, Indiegogo; Stephan Paternot, Co-Founder and Chairman, Slated; Marina Zenovich, writer/director/producer, Roman Polanski: Odd Man Out
Time: 5:00 pm
With the controversial crowdfunding campaigns of celebrities like Sylvester Stallone, Zach Braff, Spike Lee and Sylvester Stallone, Kickstarter is becoming a "household" term for funding. In addition to Kickstarter, a variety of crowdfunding sites like Seed & Spark and Indiegogo are offering artists and entrepreneurs multiple ways of engaging fans to fund their projects, while the online platform Slated matches investors with filmmakers. These online platforms will soon be able to offer profit shares to investors, thanks to President Obama's JOBS act, which will be in full effect by 2014! Filmmakers and representatives from different sites will discuss some experiences of successful crowdfunding and explore the impact the JOB Acts will have on crowdfunding through these different platforms. Is there a pot of gold at the end of the rainbow?
FIND NEW DOCS: WORKS IN PROGRESS FROM FILM INDEPENDENT FELLOWS
Panelists Include: Moderated by Jennifer Kushner, Director of Artist Development, Film Independent
Time: 5:00 pm
An exclusive opportunity to see documentary works-in-progress from Film Independent's Documentary Lab, and to hear the filmmakers talk about their projects' inception, financing and production. The Documentary Lab is a highly selective program designed to help documentary filmmakers who are in post-production on their feature length documentaries.
The 2013 Documentary Lab Projects being screened include: Birdmen; Kusama: Princess of Polka Dots; Mary Woronov, Cult Queen from Warhol to Corman; Mateo; Rich Hill; Shield and Spear (Fast Track participant); Storyteller: The Wonderful, Magical Life of the Man Who Saved Ben Hur; and Top Spin.
FILMMAKER KEYNOTE ADDRESS
Panelists Include: Ava DuVernay, writer/director, Middle of Nowhere, Venus VS.
Time: 10:00 am
INDIELINK @ THE FORUM
Time: 10:00 am
WHAT'S BEHIND A GREAT MARKETING CAMPAIGN?
Panelists Include: Liz Ogilvie, Director of Market Programs, Fandor (moderator); Lisanne Pajot, director/producer, Indie Game: The Movie; Marc Schiller, CEO, Bond Strategy and Influence; James Swirsky, director/producer, Indie Game: The Movie; additional panelists to be announced.
Time: 11:15 am
Get the inside scoop from top marketing experts on how to strategize the best marketing campaign for your project. How is the branding of a film conceived? Which tactics are best suited for certain genres or budgets? What are the considerations when choosing a release date? With print media on the wane, how can you grab people's attention and build a following in today's digital climate? Which trends are worth paying attention to and which are on their way out?
LUCY WALKER: SECRETS OF DOCUMENTARY EDITING
Panelists Include: Pedro Kos, editor, The Crash Reel, Waste Land; Lucy Walker, director, The Crash Reel, Waste Land
Time: 11:15 am
Two-time Academy Award nominated documentary filmmaker Lucy Walker (Waste Land, The Crash Reel) leads an informative presentation on editing for documentary films, post production workflow, and narrowing down footage or adding original material to create a cohesive and compelling story.
OFF-THE-RECORD NETWORKING LUNCH
Time: 12:30 pm
Film industry professionals host tables for lunch and candid conversation.
REPORTS FROM THE DISTRIBUTION TEST LAB
Panelists Include: Chris Horton, Associate Director, Sundance Institute's Artist Services (moderator); Asher Goldstein producer, I Am Not A Hipster, Short Term 12; Ron Najor, producer, I Am Not A Hipster, Short Term 12; Tom Putnam, director/producer, Burn; Brenna Sanchez, director/producer, Burn
Time: 1:45 pm
For the last couple of years the Sundance Institute Artists Services Initiative has served as a petri dish for filmmakers to explore innovative ways of distribution. Join us as filmmakers dissect their distribution strategies with Sundance Artist Services Director Chris Horton. What worked? What didn't work? What would they do differently?
WISECRACKING ON THE WEB: INDIE COMEDY ONLINE
Panelists Include: Mike Farah, President of Production, Funny or Die (moderator); Eric André, actor/writer/producer, The Eric André Show; Daniel Kellison, Founder, JASH; Mike Rosenstein, Director, Digital Content, Red Hour Films, executive producer, Burning Love; Jonathan Stern, executive producer & writer, Abominable Pictures; producer, Burning Love
Time: 1:45 pm
This year, Yahoo! sensation Burning Love earned an Emmy nomination; Eric André's off-kilter Adult Swim series The Eric André Show, which has exploded in popularity thanks to its online content, is hitting the road for a national tour; and Sarah Silverman, Tim and Eric, Michael Cera and Reggie Watts, along with co-founder Daniel Kellison debuted their comedy YouTube channel JASH – the first fully realized network to offer all its comedic partners complete creative autonomy. Hear how these artists and producers have found their home on established streaming services and make a living through short format web-based content while retaining creative freedom and building vast online followings.
THEATRICAL RE-INVENTED: ONE THEATER AT A TIME
Panelists Include: Russell Collins, CEO, Michigan Theater, Ann Arbor; Director, Art House Convergence; Founder, Cinetopia Festival (moderator); Hadrian Belove, Founder & Executive Director, Cinefamily; Nicolas Gonda, Co-Founder & CEO, TUGG; Dylan Marchetti, Founder, Variance Films; Jamie Wilkinson, Co-Founder, VHX
Time: 3:30 pm
As an increasing number of filmmakers realize the limited life of a festival hit, they're focusing more energy on building their brand of success through strategic partnerships with theatrical programmers, exhibitors with a strong sense of what makes a great theatrical experience, and innovative direct-to-fan platforms that magnify the power of a single screening. With the help of audience evangelists to spread the word, they are creating unique, one-of-a-kind experiences and building communities around their films that extend far beyond the theater walls. Join us as filmmakers and some of today's most brilliant minds in this field share how they're reaching their audiences directly and re-inventing the communal experience of film.
THERE'S AN APP FOR THAT: HANDHELD CONTENT
Panelists Include: Karin Chien, producer, Circumstance (moderator); Neal Edelstein, 
Founder, Hooked Digital Media; Andy Merkin, Head of Special Projects/Transmedia, Mirada Studios; Greg Pak, writer/director, Robot Stories; writer, Vision Machine.
Time: 3:30 pm
Filmmakers are turning to apps for the phone and the tablet, either as compelling storytelling tools in their own right, or as a way to build audience engagement around their films. On this panel, hear from filmmakers who are using the iPad in new and exciting ways: Andy Merkin (Mirada Studios), who oversees cross-platform and nontraditional storytelling projects; producer Neal Edelstein (The Ring), who released the horror film Haunting Melissa as an iPad app; and indie director Greg Pak (Robot Stories), who unveiled his film/graphic novel app Vision Machine at last year's Comic Con. Hear what creative possibilities these filmmakers have discovered in their tablets, and learn about the economics of working in this new environment.
CLASS OF 2013: RISING TALENT
Panelists Include: Anne Thompson, Owner, Thompson on Hollywood (moderator); Kyle Patrick Alvarez, writer/director, C.O.G.; Ryan Coogler, writer/director, Fruitvale Station; John Krokidas, writer/director/producer, Kill Your Darlings; Stacie Passon, writer/director, Concussion; Jim Rash, co-writer/co-director, The Way, Way Back
Time: 5:00 pm
The talent behind the lens of some of the most talked about independent films of the year talk about getting their films off the ground, building up to a successful theatrical run, working in different mediums, and what it takes to start and sustain a career today.
RECEPTION AND SLOAN AWARDS
Time: 6:15 pm