FILM INDEPENDENT PICKS 30 EMERGING FILMMAKERS FOR 2012 PROJECT INVOLVE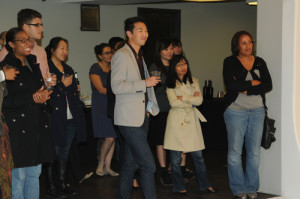 LOS ANGELES (November 9, 2011) — Film Independent, the non-profit arts organization that produces the Spirit Awards and the Los Angeles Film Festival, has selected 30 filmmakers for its Project Involve. Project Involve is the signature program dedicated to fostering the careers of talented filmmakers from communities traditionally underrepresented in the film industry. Producer Stephanie Allain (Hustle & Flow), director Dee Rees (Pariah), producer Nekisa Cooper (Pariah) will serve as guest speakers and Los Angeles Film Festival Artistic Director David Ansen and Zhiv Productions Joyce San Pedro will be mentors for the 2012 Project Involve class, with additional guest speakers and mentors to be announced.
"The diverse and talented filmmakers emerging from Project Involve continue to inspire us, and we remain committed to giving them the opportunity to further their careers," said Josh Welsh, Film Independent's Director of Artist Development. "It's been a joy to see Project Involve alumni, such as Pariah's Nekisa Cooper and Circumstance's Melissa Lee, share their work with a larger audience this year and receive industry recognition."
Sony Pictures Entertainment has established a new Diversity Fellowship in Project Involve, which provides year-round support to one talented participating filmmaker. This Fellowship enables Film Independent to provide a cash production grant and free professional development. The recipient will be announced at the Project Involve Showcase in April.
"As the first studio to support Project Involve, Sony Pictures Entertainment is thrilled to continue our long-time support by offering this production grant to an emerging filmmaker in this program," said DeVon Franklin, VP Production at Columbia Pictures. "We share Film Independent's passion in cultivating diverse talent and providing them with the tools needed to be successful in the entertainment industry."
Project Involve runs annually for nine months, and selects filmmakers from diverse backgrounds and filmmaking tracks. During the program, participants create short films, receive one-on-one film industry mentors, access to production-based master workshops taught by top film professionals, career development training, industry networking opportunities and more.
The 2012 Project Involve participants were selected based on the quality of their projects, their passion, vision, talent, and commitment to pursuing a career in the film industry. This year's filmmakers are:
Andrew Ahn, Director
Nicco Ardin, Producer
Christina Carrea, Cinematographer
Susana Casares Domingo, Writer/Director
Aaron Celious, Writer/Director
Naveen Chaubal, Cinematographer
Wonsun Choi, Industry Track: Acquisitions/Distribution
Danni Conner, Producer
Amparo de Miguel Viguer, Cinematographer
Rhys Ernst, Director
Ella Franklin, Producer
Teresa Gaviria, Producer
Rachel Goldberg, Writer/Director
Felipe Holguin, Director
Mel Jones, Producer
Susumu Kimura, Editor
Allison Lee, Writer
Erin Li, Director
Silka Luisa, Writer
Lucas Mireles, Director
Jesse Morrison, Producer
Tamir Mostafa, Writer
Victoria Page, Editor
Mason Richards, Director
Ben Rodriguez, Industry Track: Film Programming
Janine Salinas, Writer
Marlena Steiner, Cinematographer
Dana Turken, Director
Szu-Hua Wang, Editor
Ellie Wen, Industry Track: Development
Upon completion, participants become Film Independent Fellows, receiving year-round support including access to Film Independent's annual film education offerings, on-staff Filmmaker Advisor, and the Los Angeles Film Festival. Past Film Independent Fellows from Project Involve include Javier Fuentes-León (Undertow), Effie T. Brown (Rocket Science), Jon Chu (Step Up 3D, Step Up 2: The Streets), Cherien Dabis (Amreeka), Eric Nazarian (The Blue Hour), Nick Oceano (Pedro), Jennifer Phang (Half-Life), and Tze Chun (Children of Invention).  Previous mentors include Gregg Araki (Smiley Face, Mysterious Skin), Nicole Holofcener (Please Give, Friends with Money), Spike Jonze (Adaptation, Being John Malkovich), Kasi Lemmons (Talk to Me, Eve's Bayou), Christopher Nolan (The Dark Knight, Memento), Alexander Payne (Sideways, Election), John Singleton (Four Brothers, Boyz n the Hood), and Forest Whitaker (The Last King of Scotland, American Gun).  For information on all past Film Independent Fellows and their projects, please visit our online searchable FIND Talent Guide.
Film Independent's Project Involve is supported by The Academy of Motion Picture Arts & Sciences, the City of Los Angeles Department of Cultural Affairs, the Los Angeles County Arts Commission, Hollywood Foreign Press Association, HBO, Sony Pictures and Time Warner Foundation.
ABOUT FILM INDEPENDENT
Film Independent is a non-profit arts organization that champions independent film and supports a community of artists who embody diversity, innovation, and uniqueness of vision. Film Independent helps filmmakers make their movies, builds an audience for their projects, and works to diversify the film industry. Film Independent's Board of Directors, filmmakers, staff, and constituents, is comprised of an inclusive community of individuals across ability, age, ethnicity, gender, race, and sexual orientation. Anyone passionate about film can become a member, whether you are a filmmaker, industry professional, or a film lover.
Film Independent produces the Spirit Awards, the annual celebration honoring artist-driven films and recognizing the finest achievements of American independent filmmakers.  Film Independent also produces the Los Angeles Film Festival, showcasing the best of American and international cinema and the Film Independent at LACMA Film Series, a year-round, weekly program that offers unique cinematic experiences for the Los Angeles creative community and the general public.
With over 250 annual screenings and events, Film Independent provides access to a network of like-minded artists who are driving creativity in the film industry. Film Independent's Artist Development program offers free Labs for selected writers, directors, producers and documentary filmmakers and presents year-round networking opportunities. Project Involve is Film Independent's signature program dedicated to fostering the careers of talented filmmakers from communities traditionally underrepresented in the film industry.
For more information or to become a member, visit FilmIndependent.org.
November 9th, 2011 • 1 Comment