Armed to Sell: Tips From a Film Financing Pitch
#FINDForum 2012: Armed to Sell — A Financing Clinic
By Pamela Miller / Grants Coordinator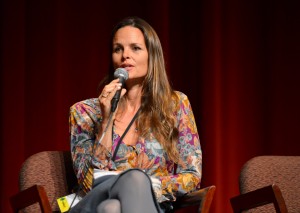 ---
"$300,000 is the new million."
— producer Heather Rae
---
Money makes the film world go 'round, so it's no surprise emerging filmmakers are forever seeking financing advice. During the Armed To Sell panel at the Filmmaker Forum, Artist Development producing lab Fellows were invited on stage to pitch their projects-in-progress to a panel of experts, who critiqued each project's fundraising approaches and helped brainstorm strategies.
One film that went under the microscope: Unmanned. Presented by producer Casey Fenton and writer/director Casey Cooper Johnson (aka The Caseys), Unmanned tells the story of a young Air Force drone operator who struggles to balance the stresses of going to war for the first time with the challenges of being a good father and husband as he commutes each day between suburban family life and the war he fights by remote control.
"What's nice is that it feels like there's commercial viability," said panelist Heather Rae (producer, Frozen River, Mosquita y Mari), "but at the same time there's an indie quality to it."
On the financing front, the duo got a head start by making a short film that's already raking in the buzz; Michele Turnure-Salleo, director of San Francisco Film Society's Filmmaker360 program, called it "absolutely amazing." Another early advantage: they're the winners of the Sloan Foundation's $25,000 producer's grant, given to producers with projects that revolve around science and technology.
Still, Unmanned's $3 million budget is challengingly high for first-time feature filmmakers—at one point Rae declared, "$300,000 is the new million." Here's a rundown of the ideas and insights The Caseys were given to meet their budget and make their film more attractive to financiers:
✓ Connect with funding organizations like the San Francisco Film Society.
"This project fits SFFS to a T," said Turnure-Salleo, pointing out that the program is able to fund the same project multiple times: "Screenwriting, development, production and post-production, so it would be possible to get as much as $500k from SFFS."
And as Mark Ankner, an agent in William Morris Endeavor's Global Finance and Distribution Group (WME's independent film division) pointed out: "If you get SFFS before making the rounds at agencies, it gives you a leg up."
✓ Enlist an established casting director.
A first feature with a $3 million price tag is going to be cast-dependent, and The Caseys were told they'd need a certain level of actor to justify their budget. To do that, they need to line up a proven casting director. Check. They recently began working with casting director Victoria Thomas, just off Quentin Tarantino's Django Unchained.
✓ Finally, explore possible in-kind deals with post-production houses.
With many having trouble justifying their bottom lines, production houses are more than willing to work on projects for equity—particularly if there's commercial appeal.
For more from the panel, check out these highlights:
October 30th, 2012 • No Comments