DISNEY-PIXAR BRAVELY DELIVER ONCE AGAIN
The 2012 LA Film Fest may be over, but our guest bloggers aren't done talking about all the movies they've seen! This post is from 10th grade guest blogger Jane, who brings her youthful outlook to the Festival's premiere of Brave: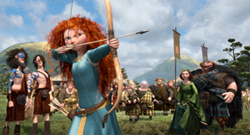 The highly anticipated new Disney-Pixar film, Brave, debuted Monday and Tuesday night at the Los Angeles Film Festival. The theaters were filled both nights, with a few fans even showing off their curly red wigs and bows, in homage to the movie's leading lady.
Brave tells the story of Princess Merida, a headstrong young girl who desperately tries to change her fate. Although today's teens aren't dealing with arranged marriages and mythical beings, the high expectations set for Merida were something I could relate to. Her mother's constant disapproval reminded me of how my own mom could be sometimes. Pixar films, whether they are about talking toys or monsters under our bed, often have a way of hitting home like that.
Before the screening, the directors of the film talked about the two research trips they took to Scotland. Brave was Pixar's first fairytale piece, set in ancient Scotland. The trips were definitely worth it. Pixar perfectly captured the natural beauty of Scotland, from a medieval castle to stunning landscapes.
This was also Pixar's first film with a female lead. Merida is the perfect choice for the company's first heroine. Unlike many of the Disney princesses before her, Merida is tough, and doesn't need a male companion by her side, except of course her mischievous little brothers. I appreciated this refreshing lack of a love story. It was not a story of romance, but centered more around family, especially the mother-daughter bond.
This was Pixar's first non-sequel since joining Disney, and many were skeptical of the company's ability to produce a film that could live up its predecessors. But Brave definitely delivered. The legend of Merida is one for adults, teens and children alike, highlighting the importance of family and also one's responsibilities. This headstrong princess will hopefully inspire us all to be a little more brave, and perhaps, even change our own fate.
—by Jane, 10th grade, for Film Independent
Brave is now playing in a theater near you! In the meantime, check out these highlights from the world premiere:
June 26th, 2012 • No Comments