Dispatches from TIFF
We interrupt your regularly scheduled browsing to bring you these dispatches from the Toronto International Film Festival by our Associate Director of Programming, Doug Jones, who braved midnight madness and an iffy hotel internet connection to share his TIFF experience with you:
Dispatch #1: Through a Lens, Darkly
Most of my time at this year's Toronto International Film Festival has been spent inside dark movie theaters, watching films from around the world. Occasionally, however, I emerged from the darkness and took a few snapshots to send back home.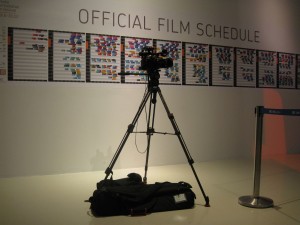 Dispatch #2: Orwa Freed
As the festival began, filmgoers could be seen wearing "Free Orwa" buttons in support of Orwa Nyrabia, the Syrian documentary film producer and film festival organizer who had disappeared in late August and was believed to be in the custody of Syria's intelligence service. Thankfully, earlier today, word came via Twitter that Nyrabia had been released, although details as to what exactly happened remain sketchy.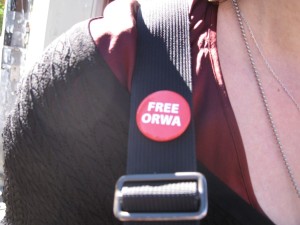 Dispatch #3: Photos from the Edge (of the red carpet)
For some reason, I always like to take pictures of other people taking pictures. Case in point: this shot of the red carpet arrivals at the North American premiere of On the Road, which was directed by Walter Salles and produced by former Los Angeles Film Festival Director Rebecca Yeldham. Somewhere in that milky darkness is Kristen Stewart, honest.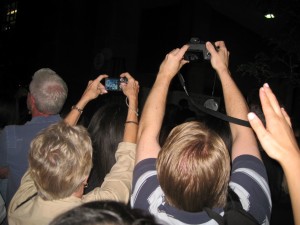 Dispatch #4: Street Art is the New Black
Grassroots marketing can be the independent filmmaker's best friend. To raise awareness of work, the filmmakers of Jump, a crime thriller making its international premiere at the festival, hired a local sidewalk artist to hit the streets, chalk in hand. Did it work? Well, two out of their three screenings are sold out.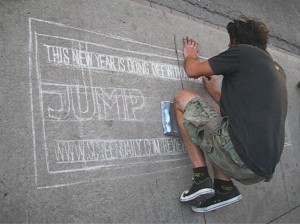 Dispatch #5: Fierce Independent
For every Goliath, there must be a David.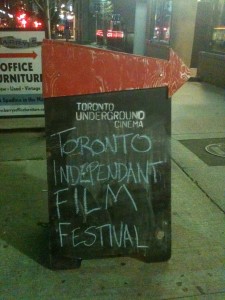 Dispatch #6: Lost Zzzs
Glancing over the shoulder of a fellow festivalgoer, I couldn't help but notice the note she wrote herself in the margins of her film guide. I know how she feels.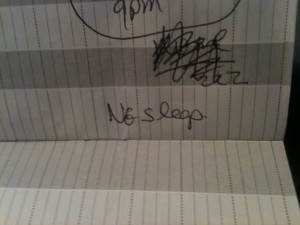 September 13th, 2012 • No Comments