Doug Jones' List of Lesser-Known-But-Still- Terrifying Halloween Flicks
It's October, and that means that lists are popping up all over with movies to get you in the Halloween spirit. I'm going to leave it to those other lists to point you towards the classics—the Halloweens, the Evil Deads, the The Hauntings and Old Dark Houses. Instead here are 13 lesser-known films that can be found lurking in the shadows, just waiting to be discovered.
Curse of the Werewolf — Directed by Terence Fisher. England, 1961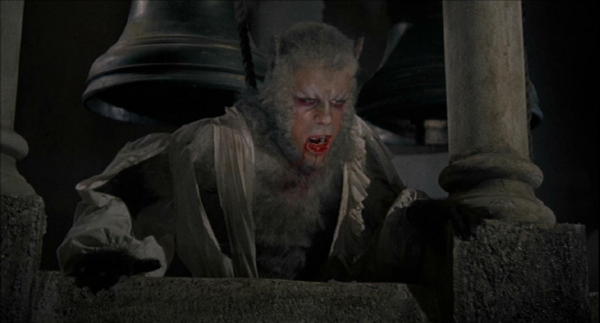 England's Hammer Studios produced countless vampire and Frankenstein films, but this marks their only foray into lycanthropy. Oliver Reed stars as Leon, a young man cursed from birth to transform under the silvery light of the full moon or whenever he gives into his baser instincts. (And this being a Hammer film, there are plenty of ample young women in peasant blouses to tempt him.) Curse of the Werewolf is, like many other Hammer films, a slow burn, but once it gets going and Reed starts sweating and gnashing his teeth, stand back.
The Last Man on Earth — Directed by Ubaldo Ragona. USA/Italy, 1964
The first of the three official adaptations of Richard Matheson's novella I Am Legend is the bleakest but the best of the bunch. The great Vincent Price stars as the medical researcher-turned-vampire hunter struggling to understand the plague that has seemingly killed everyone, including his wife and child. Now admittedly, Charlton Heston and Will Smith have the upper hand when it comes to the "action" scenes, but neither of them can come close to Price's mournful portrayal of one man's grief, loneliness, and obsession.
Deathdream — Directed by Bob Clark, Canada, 1972
One of the first films to explicitly deal with the Vietnam War, Deathdream is an idiosyncratic take on "The Monkey's Paw," recast for the volatile era. John Marley reunites with his Faces costar Lynn Carlin to play the parents of a young soldier who has mysteriously returned home from overseas. Naturally they're glad to see him, until people start dying. Tempering his social commentary with a unique take on zombie and vampirism, director Bob Clark (who would go on to direct Porky's and A Christmas Story) has made a film that is as audacious today as it was thirty years ago.
Deranged — Directed by Jeff Gilmen, Alan Ormsby, Canada/USA, 1974

The Canadian horror wave continues with Deranged, a grindhouse version of the Ed Gein story, directed by the screenwriter of Deathdream, Alan Ormsby. At first, Deranged>comes off as a bizarrely pitched, blood-soaked comedy of sorts. Some of the special effects by the then-unknown Tom Savini are so over the top, there's no choice but to laugh, and peculiar is the only way to describe the acting. Yet by the end of the film, all the "fun" sleaziness falls away and Deranged becomes a brutally unadorned and deeply uncomfortable portrayal of on-screen violence.
Vampyres — Directed by José Ramón Larraz, England, 1974

Two lesbian vampires drain their victims of blood and other vital fluids in this sexed-up piece of psychotronic cinema. For untold years, Fran and Mirium, played by Marianne Morris and Playboy playmate Anulka, have lured people to their posh castle for a bit of killing, after which the only way to get all that blood off is to shower together. When a male victim displays more staying power than most and discovers their secrets, he's torn between horror and lust. Spanish director José Ramón Larraz serves up a prime example of Euro horror—some kinks, plenty of blood, soft focus nudity, a few dream sequences—that's far more coherent than most of the output of his better-known fellow directors like Jess Franco or Jean Rollin
Demon Lover Diary — Directed by Joel DeMott, USA, 1980
When we showed Demon Lover Diary at the 2002 Los Angeles Film Festival, one audience member told us he drove over seven hours to get to the screening. That's a testament to both how seldom this documentary is screened and just how good it is. When her boyfriend is hired to shoot a low budget horror, filmmaker Joel DeMott comes along to capture the production. Although she arrives too late to film the earliest budget raising scheme of the filmmakers—cutting a finger off at work in hope of worker comp—she is on hand to capture all the madness that follows. Unlike in American Movie, where the filmmaker keeps a safe distance from the antics onscreen, there's no boundaries between DeMott and her subjects. Their relationship is antagionistic from the start, and it only gets worse, resulting in a true-life horror movie of obsession, delusion, and no-budget filmmaking.
The Changeling — Directed by Peter Medak, Canada, 1980
Still reeling from the death of his wife and daughter, a composer, played by George C. Scott, moves into an isolated house in the country where he hopes to bury himself in his work. Unfortunately for him, something has already been buried in that house, something with a dark secret. A classic ghost story told with a minimum of effects, The Changelingis truly frightening. There are certain moments in this film that are guaranteed to send a chill down your spine, or, if you're like my friend Alex, send you screaming from the room.
The Pit — Directed by Lew Lehman, Canada, 1981
I have had friends threaten that if I talk about The Pit to them, they will never speak to me again. I don't know why. It's a perfectly fine film about a disturbed 12-year-old boy and his talking teddy bear who throw people who have wronged them into a pit in the middle of the forest where they are eaten by monsters. Lew Lehman, who never directed another film, isn't too concerned with his film making sense. Where the monsters come from is never explained, and whether or not Teddy can actually talk or if it's all in Jamie's overheated mind is left maddeningly vague. What Lehman does dish up are heaping helpings of sleaze, as Jamie peeps at his babysitter, the lady next door, and, most disturbingly, a little ballerina his own age.
Demons — Directed by Lamberto Bava, Italy, 1985
How can you resist a movie that features a demon invasion, foretold by the prophesies of Nostradamus, that begins in a Berlin movie theater screening a film about a demon invasion, all set to the music of Saxon, Billy Idol, and Motley Crue? Cowritten and produced by Italian horror master Dario Argento and directed by Mario Bava's son, Demons doesn't waste much time with characters or logic, focusing instead on the delightfully gooey demon possessions, which come fast and furious once the lights go down.
Séance — Directed by Kiyoshi Kurosawa, Japan, 2000
Based on Mark McShane's novel Séance on a Wet Afternoon (as was an earlier film starring Richard Attenborough), Séance is one of Kiyoshi Kurosawa's most unsettling films. A sound designer and his questionably psychic wife hatch a plot to kidnap a young girl and then become heroes by "saving" her. Naturally things don't go according to plan. One of the forefathers of the recent wave of J-Horror, Kurosawa has a far subtler style than those who followed him. Rather than simple scares, he prefers to portray a world where everyone is haunted, whether they know it or not.
Dead Creatures — Directed by Andrew Parkinson, England, 2001
Please don't be scared off by the terrible, terrible video cover forced upon Dead Creatures. Yes, the film has its share of blood and guts, but it's more concerned with the human cost of a zombie plague. Wrietr/director Andrew Parkinson never refers to his characters as zombies. Instead they are portrayed as ordinary people struggling with an extraordinary problem. What would you do if your best friend or your daughter became a zombie? What lengths would you go to protect them? To keep them alive?
[REC] — Directed by Jaume Balagueró, Paco Plaza, Spain, 2007
On a routine assignment, a young news reporter follows some firemen to an apartment building to investigate reports of a disturbance. Moments after their arrival, they are attacked, the building is cut off from the outside world, and no one can—or will—explain why. It's a great set-up, and it's no surprise Hollywood jumped on the remake rights. Sadly that means they are also trying to bury the original, at least for a while. Word around this year's ComicCon was that [REC] would be released straight to video around the same time its remake, Quarantine, hits video.
Let the Right One In— Directed by Tomas Alfredson, Sweden, 2008
Let the Right One In is not just one of the best vampire movies in years. It's one of this year's best movies of any genre. Oskar's a lonely 12 year old whose only friend is the young girl who just moved in next door. They're a perfect match. She doesn't mind that he acts out violent revenge fantasies against the bullies at school; he doesn't mind that she only comes out at night, smells a little funny, and doesn't need to wear shoes in the dead of winter. Director Tomas Alfredson, working from a novel by John Ajvide Lindqvist, has produced a film that doesn't try to reboot the vampire mythos. Instead he uses it to produce a poignant and frightening portrait of violence, loneliness and young love. Let the Right One In will be released in theaters at the end of the month. Don't miss it.

Doug Jones got his first job, shoveling popcorn at the Hollywood Theater in Sioux Falls, SD, at the tender age of 14. Many years later, Doug is still working in film, currently as Senior Programmer for the Los Angeles Film Festival, but the Hollywood Theater was recently torn down to make way for a parking lot.
October 5th, 2010 • No Comments