Filmmaker: 25 New Faces of Independent Film – 2011
We're thrilled that Film Independent Fellow Sheldon Candis (Project:Involve, Directors Lab, Fast Track) has made Filmmaker Magazine's 25 New Faces of Independent Film -2011 list!  Also joining the list, David Lowrey, who presented his short Pioneer at the 2011 Los Angeles Film Festival.
Welcome to the 14th edition of Filmmaker's "25 New Faces of Independent Film."
When we started "25 New Faces" in 1998, one of our aims was to cover the newly emerging filmmakers who we loved but who might not find places in our quarterly print issues. Then, as the series developed and our selected filmmakers went on to great things, the list developed its reputation as a talent spotter. Indeed, it's been a thrill to watch our picks go on to critical and audience success, Sundance Grand Prizes, and even Academy Awards.
But the list has another function too. As much as it is forward-looking, hoping to catch people early in what we think will be amazing careers, it's also our personal and sometimes idiosyncratic snapshot of the current independent scene. Each person here is a story, and the sum total of these tales speaks to the ways filmmakers are reinventing themselves as the media landscape changes. For many of this year's picks, that reinvention is inextricably tied to the internet. These filmmakers are using internet distribution, social, and audience-engagement tools to leverage themselves in ways our first group in 1998 could never have dreamed of.
Particular trends this year? Curation is one. Three filmmakers on the list work as regular programmers, and their experience viewing hundreds of films informed the experience of making their own. There's more than the usual amount of genre — particularly science fiction. And, related, several of this year's filmmakers demonstrate a pretty incredible grasp of special effects, CG and motion graphics, creating remarkably imaginative images on tiny budgets. And, finally, as quite a few filmmakers this year show, for independent filmmakers emboldened with both lightweight equipment and a global consciousness, the world, not just their immediate neighborhoods, is a readymade backlot.
So, check out this year's 25, and periodically revisit these pages as we'll be updating them as new developments occur throughout the year.
Sheldon Candis: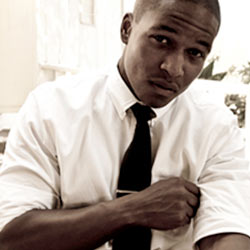 The URL for Los Angeles-based filmmaker Sheldon Candis's website is cinephileacademy.com, speaking to not only the USC grad's artistic interests but also his fusion of film and life. As a child born in Baltimore, "I was one of those kids who loved movies," he says, "and would watch them on my grandfather's old VHS player." Then, he'd spend time with one of his uncles, and those hours too, "even for a nine-year-old, felt like a movie." Learning Uncle Vincent is the film arising from those childhood memories — spiked with a healthy amount of imagination. "'It's about a young child being exposed to violence for the first time and coming of age through the realization that his once hero is a bad person," Candis says. "In the course of one day, a boy receives his rite of passage into manhood through the relationship with his recently released from prison uncle. It's a dysfunctional love story with a tragically optimistic ending. Every boy searches for a father figure — not everybody finds the right one."
Although Candis recently wrapped the film's 19-day Baltimore shoot, he's been living with this story for years. He co-wrote the script with fellow USC School of Cinematic Arts grad Justin Wilson, and took the project through the Film Independent Directors Lab as well as its Fast Track program. He also had some help getting it to actors from William Morris Endeavor. Still, it was a long process. "You go through peaks and valleys," Candis reflects, "and you try to keep your momentum." Meanwhile he kept busy with other projects, including music videos, corporate work and a short doc on homeless men in Japan funded by Scion Easy for Giant Robot magazine.
Two years ago he sent the script to the rapper Common for the role of Uncle Vincent, but "it didn't land." This year, with more actors attached in supporting roles (Danny Glover, Dennis Haysbert, Charles S. Dutton), he tried again. "One of my producers knows his manager, and he made a phone call. The manager said, 'If you drive to Philadelphia tonight and can close a deal with him, he'll do your movie.' I drove from Baltimore to Philadelphia at 10:00 p.m., met him for two-and-half hours, and he said yes."
Learning Uncle Vincent is what Candis calls a "dramatic thriller,  or 'driller'," and, indeed, the script makes its surrogate father/son relationship as gripping as its double-crosses and turf shootouts. "Vincent wants to be a father figure, but the sad reality is he doesn't have the tools," says Candis. "Common dug in deep and found these layers of wanting to be there for this kid. You see him struggle with [the idea of] failing before this kid's eyes. He rocked it." —
Scott Macaulay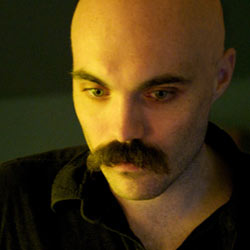 David Lowery -
In the middle of writing the follow up to his 2009 feature, St. Nick, David Lowery was stuck. "I reached a point in the script where it became very difficult," Lowery remembers. "I was trying to make it an action movie, but I wasn't sure why I wanted to make the story. So I did what I always do when I'm fed up, which is go for a run." While jogging, Lowery plucked the seed of a scene from his script — a father talking to his daughter one night — and spun it out into something a little different: a bedtime story between a father and his son. "The whole story erupted in my mind," says Lowery. "It was just there."
Upon returning home, Lowery typed the story out in one sitting, and that afternoon jog turned into Pioneer, one of the best shorts you'll see all year. A single scene, the short focuses on the father as he tells a violent story about a soldier and an absent mother to his absorbed young son. Both a fanciful tall tale and a mysterious, even frightening, parable, the bedtime story ushers not only the young son, but us too into a metaphorical, mixed-up place, where childlike wonder coexists with adult wisdom. Musician and actor Will Oldham plays the father and what a joy his sensitive, empathetic and pitch-perfect performance is! The four-year-old Myles Brooks is equally sensational. Pioneer premiered at Sundance 2011 and went on to win Best Short at SXSW, the Indie Grits Festival and the Ashland Independent Film Festival. The film will be released by Wolfe Video on DVD this August.
Recently, Lowery watched Pioneer on a double bill with St. Nick, which is a sparer take on childhood more concerned with tone and texture than story. "St. Nick is like a distended version of my memories of childhood," he says, "and Pioneer takes the same themes and collapses them into a more concise form. It represents a step forward for me as a filmmaker, and it's also directly personal, which is the reason I dedicated it to my dad."
When the Dallas-based Lowery is not directing his own features, he's making a living editing — both corporate and commercial work as well as indie features. He co-edited Dustin Guy Defa's tremulous relationship drama, Bad Fever, and he's currently cutting Andrew Brotzman's Nor'easter. "Working on other people's films makes me a better director," admits Lowery, adding that he "loves all kinds of movies. I'm going to see Transformers: Dark of the Moon 3D today, despite myself." And when he's not writing or directing or editing film, he's often writing about it. His "Drifting: A Director's Log" is one of the best filmmaker blogs, filled with information on his own shoots but mostly his takes on other films, everything from Malick's The Tree of Life to work by the colleagues he meets on the fest circuit. "I feel that building an audience is part of being a filmmaker," Lowery says. "I was blogging in 1999, before blogging was even a word, and I've kept it up. I didn't go to film school, so seeing someone mentioning a title online and then going and watching it and exchanging ideas about it in the blogosphere — that's been my education."
Next up for Lowery? He's talking to a couple of Hollywood producers about larger projects but, for the moment, he says, "I'm in pre-production on my next feature, which is about an outlaw in the '70s who breaks out of prison to find his wife and daughter and build them a house." — Scott Macaulay
See the entire list of filmmakers at Filmmaker.
July 20th, 2011 • No Comments