INTRODUCING THE CANON FILMMAKER AWARD PROGRAM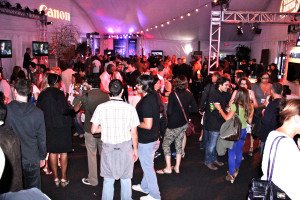 During this year's LA Film Fest, Canon celebrated cinematographers with the announcement of the Canon Filmmaker Award Program. Developed in collaboration with us, the Canon Filmmaker Award is a program for Film Independent Fellows, alumni of the Los Angeles Film Festival, and Spirit Awards nominees and winners.
If you missed this announcement during the Festival, we have some great news for you now: the original deadline for the Fall Period has been extended by ten days – you now have until Aug. 10 to apply!
Film Independent will select qualified filmmakers on a quarterly basis who will be loaned Canon camera packages for their production. These packages will be reserved for filmmakers preparing to shoot feature length narrative or documentary films—or, in special cases, short films.
"We are thrilled to be partnering with Canon, a company that shares our vision of supporting cinema as art, on this new Canon Filmmaker Award Program," said Josh Welsh, co-president, Film Independent. "So many of our Fellows are already working with Canon's existing equipment, so to be able to shoot their films with these new cameras will truly elevate their production experience and bring their films to life."
The Award includes a camera package of one (1) C300 package designed to assist the winning filmmaker with a qualifying feature. The application deadline for Fall Period has been extended: all applications are now due by August 10, 2012.
Details can be found at http://www.filmindependent.org/CanonFilmmakerAward.
August 6th, 2012 • 1 Comment