Love Film? There's an App For That
#FINDForum 2012: the MOVIE HACKATHON
By Cherita Smith / Web Coordinator / @lafemmecherita
If you missed it, the Film Independent Forum was three days of informative panels, in-depth discussions and some serious networking with industry insiders — kicked off with an awesome screening of the much buzzed-about Silver Linings Playbook. We're talking about decades of showbiz insight covering all facets of the industry shared with Forum attendees in less than 72 hours. Pretty intense, right?
For participants in our first ever MOVIE HACKATHON, those intensity levels were kicked up even higher — and not just because of the prospect of up to $2500 in cash prizes. Sponsored by ZEFR and Co.Create from Fast Company, 10 teams worked non-stop for 41 hours with only two rules: 1) they had to create a movie-centric app, and 2) they only had the 41-hour timeframe in which to build it. And build it they did. When it came time to present, a stream of bleary-eyed developers took to the DGA stage to share their newborn apps with the crowd. The apps were varied and diverse, but two main themes definitely stood out: search and social.
On the search end of things, the apps presented included everything from a Yelp-style search for user-generated movie reviews to an ambitious search engine for any and everything movie related — prompting one juror to suggest, "You guys really should keep it up, because IMDb needs to be disrupted." Another favorite was the curated discovery search offered by FLIXie (flixieapp.com), which streamlined the hunt for movies to watch online by aggregating results from Netflix, Hulu, Amazon and more in one platform (how many times have you searched for "watch [this movie] online" and gotten some rather, er… dubious… results?).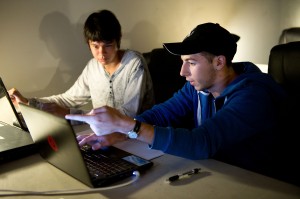 But like much in this digital era, the winning apps of the day were all about creating a more social experience. As the guys from Team Popsicle pointed out, "with the rise of online streaming sites like Netflix, movie watching has become less of a social activity." Which is all too true, so it makes sense that several of the apps would strive to bring that social aspect back to movie-watching.
The winning team even made use of the very technologies responsible for movies becoming more of a solitary-seen-on-my-computer-or-couch kind of thing. By coupling the functionality of Facebook events with direct movie-buying from retailers like Netflix and Amazon, Team Deutsch JV made it super easy to plan a movie night at home with friends (and maybe with popcorn of the Pop-Secret variety, if the minimalist site for their app — secretpops.com — is anything to go by). Making it easier for film lovers to share that passion via technology was the point of the Hackathon, so well done.
Speaking of winning teams and their apps, the Hackathon winners were:
1st Prize $2500 – Team: Deutsch LA Junior Varsity (PopOver)
As described above, PopOver is a host-your-own movie party app that allows you to invite as many Facebook friends as you like while limiting the number of RSVPs to the actual capacity of your living room. Friends can sign up to bring drinks and snacks, and users can purchase the selected movie directly from the app via existing digital retail channels like Amazon.
2nd Prize $1500 – Team: Bio-Digital Jazz (CinFes)
Film Festivals are amazing platforms to launch a new movie. Film Festival websites… not so much. CinFes (CinFes.com) is a movie-first application with an elegant user interface that positions the movie poster as the key element for interactivity. Bios, bylines, trailers and synopses are deftly concealed to celebrate the key movie-marketing asset: a killer poster. Festival attendees can indicate which fest film they're going to check out and invite their friends to tag along via social media.
3rd Prize $500 – Team: Code Frat (Act Roulette)
Tapping the popular social phenomenon, ChatRoulette, Act Roulette allows fans and actors hoping to beef up on delivering their favorite movie lines to interact with each other via a live video chat feature. Famous clips containing famous quotes form the structure of the chat rooms, and users can sign up to pop into those rooms to go head-to-head with other performers. An engaging way to bring movies to life, and maximize your acting chops anonymously.
While there is probably a joke to be made about "maximizing your chops anonymously" on a ChatRoulette-like platform, the high road beckons — so instead, check out these photos of all the hard-working developers who came out to code with us for almost two days straight. Many thanks to all of you for making our first Hackathon a success!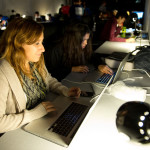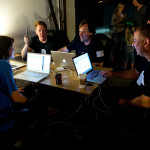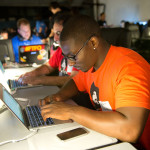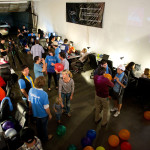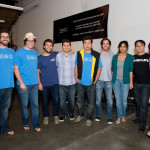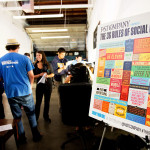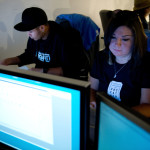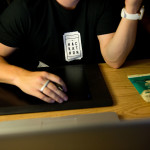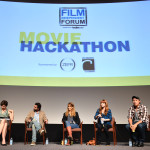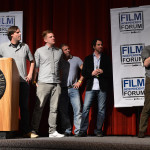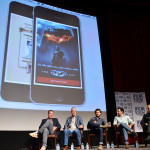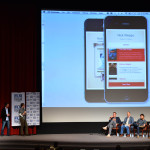 October 25th, 2012 • No Comments