LUV: AN INTERVIEW WITH SHELDON CANDIS AND JASON BERMAN
Writer/director Sheldon Candis and producer Jason Berman talk with Josh Welsh, Film Independent's Director of Artist Development, about their feature film LUV, which tells the story of William "Woody" Watson, a shy 11-year old boy who is forced to face the unpleasant truth about his only father figure during one harrowing day on the mean streets of Baltimore. LUV will have its world premiere in the narrative competition at the 2012 Sundance Film Festival.
First off, congratulations on finishing LUV, and of course for getting into Sundance!  Sheldon, what's your background and how did you get into film?
Sheldon Candis: I was born in Baltimore. Half of my childhood was there and the other half in Statesville, NC. My love for movies came from two places: One, my father would religiously take my mom and me to see movies on Sunday evenings down at the Inner Harbor. We would go to Bennigans for dinner and then faithfully see a movie together. Man, it felt like we were rich on Sundays! My dad used to show me a lot of rated R movies. So now as an adult I'm this hybrid 'emotional-comical' type with a real affinity for dark things. I guess this is the path chosen for a 9-year old who's watching Purple Rain, Golden Child, Howard The Duck and The Fly. That vast range of viewing alters you a bit.
Also, my grandfather, we call him Mr. Fish, in the 80s he had an amazing VHS collection – hundreds of movies.  I would sit inches from the screen on his Sears wooden floor model TV for hours. Star Wars, Indiana Jones, The Goonies, Rambo, The Karate Kid, and Rocky like every other kid at the time.
Your childhood and your film have a bit in common.  For people who are not familiar with the project, where did the story come from and how long have you been working on it?
Sheldon: LUV has been with me since I was a kid roaming the streets of Baltimore. It's inspired by a relationship I had with one of my uncles and other older family members. My writing partner Justin Wilson and I first started working on the script in 2003. We wrote over 45 drafts in a three-year period. We've been pushing to make it for 8 years (it's been an idea in my head since 1987). I'm very thankful to Film Independent – LUV was really championed by Josh Welsh and Jennifer Kushner.  Going thru the [Film Independent] Directors Lab really helped make the script better and myself a better filmmaker You're in that lab with other very talented filmmakers and you're hearing different creative point of views while getting the golden opportunity to exercise what has only been on the page for many years. My mentor from the Directors Lab, Keith Gordon, was very helpful in terms of 'developing a language' with my actors, especially since the lead of the story is an 11-year-old boy. I also found my editor Jeff Wishengrad through my relationship with Keith.
Jason Berman my producer did a great job sticking through some really tough times to get this movie over the hump. It took a group effort with his producing partners Joel Newton, Gordon Bijelonic, Datari Turner, Derek Dudley, and Michael Jenson to make this film real. I'm fortunate to have these guys, they sacrificed a lot.
Jason, how did you come to work with Sheldon and what drew you to the film?
Jason Berman:   I was introduced to Sheldon by his writing partner Justin Wilson right after I graduated from USC in 2006. I was immediately interested
to read the script because Justin told me Sheldon (also a USC grad) had grown up in Baltimore, MD and that the story took place in Baltimore, which is where I also grew up. Upon reading Sheldon and Justin's screenplay I was captivated by the relationship between Vincent and his nephew Woody, and the coming of age experience Woody has to go through so quickly during one day on the streets of Baltimore. I was also intrigued by the conflicted-ness of Vernon's character. Here was a man who was trying his hardest to get on the right track and starting a new, but no matter what he did he could not get away from his past.
After reading the screenplay, I met with Sheldon and got further excited by his personal story, his vision, and his desire to tell this story, and I knew then that this was a project I wanted to be involved in. LUV was the first feature film I had attached myself onto as a producer.
Give us the basics of your shoot – when and where did you shoot, and what format did you shoot on?  And where are you now in the post process?
Sheldon:  We shot in April 2011 in Baltimore, MD. We shot on the RED Mysterium-X with HAWK V series Anamorphic lenses. Now we're on the goal line of a picture lock, currently working with Composer Nuno Malo on the score.
What was your experience like shooting in Baltimore?  Is there a pretty strong crew base there, or did you find yourself needing to fly in a lot of your crew?
Sheldon: 'B-more' aka 'Be More Careful' aka 'Charm City' aka 'The Home of Edgar Allan Poe' is my hometown. It was a very surreal experience. I shot two scenes from the movie in my old neighborhood 'Park Heights'! A lot of my family hung out on set and were in the movie. My grandmother Delores is an extra in Lexington market scene, my uncle Tyrone and cousin Marc are security guards, my cousin Leon is a Metro Cop and my two great aunts Doris and Aunt Tiny did an elevator scene with Common's character. My Aunt Tiny is officially Common's stalker now! Haaa! My mom and two dads were there many days as well.
Jason: I had produced another film in Maryland last fall called The Brooklyn Brothers Beat The Best, about 7 months prior to the filming LUV, and because of that we knew who most of our local crew would be. We also had the same great Los Angeles based line producer, James Rosenthal, and the same DP, Gavin Kelly, on both films, which made the process of crewing up on LUV very easy because we had already worked with so many great Marylanders on the last project.
There is a strong crew base in MD because of the long-term TV shows that filmed there such as The Wire and Homicide.  We did still have to bring some key positions such as our production designer and costume designer from Los Angeles and New York.
You guys put an incredible cast together for this film – Common, Danny Glover, Dennis Haysbert, Charles S. Dutton, and Michael Kenneth Williams, to name a few.  Was Common the first person to get onboard?  How did you assemble the rest of this cast?
Jason: Casting LUV, like most independent films, was definitely a process of ups and downs, and was a very interesting journey. Over the course of 5 years we had gone out to different actors, and circled back to some again. There was definitely a building block process for all of us in our careers in being able to assemble this amazing cast. Sheldon and myself were definitely in much different places with our body of work and in our professional careers by the time we had rounded out the cast, than from where we had started years before.
Sheldon: No money was in place and we were attaching actors. Charles S. Dutton was the first on board. Something amazing happened within this meeting – Charles S. Dutton and one of my real life uncles were childhood friends! They went to reform school together, served time in prison together. Charles has even, to this day, helped him with his pursuit to get released from prison. He also saw my short film The Walk I had made in FIND's Project Involve. I was able to gain his trust as a filmmaker from it.
Jason: We were extremely lucky to get Mary Vernieu and Lindsay Graham on-board as our casting directors. I had worked with both of them on Seven Days in Utopia, and had such an amazing experience. The biggest challenge was finding a Woody. We did a nationwide search over the course of a few months, and at the last minute found the incredible Michael Rainey Jr.
He's amazing. How did you find him? Can you talk a bit about your audition process, especially when trying to fill the role of
Woody? I'm curious how you read actors and how you knew when you'd found the right guy.
Sheldon: There could be an entire gut-wrenching documentary made called Searching For Woody. We looked everywhere! L.A., Atlanta, Chicago, Baltimore, we couldn't find the kid. The clock was ticking – I went to New York three weeks before the start of pre-pro, believing we would find Woody there. I did a casting session with Jess Kelly and the same office that found Gabourey Sidibe for Precious, so I'm thinking we gonna find this kid here. An entire day and no kid. I was walking through Brooklyn with my head down and my phone rings, it's Common – 'Shel, did we find Woody?' I'm holding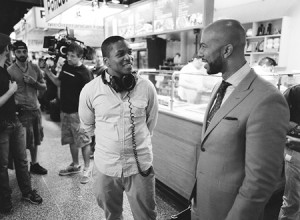 back the tears as I respond, 'Nah man, we didn't find him.' I wandered around Wall Street all night long depressed, even did a self-imposed homeless night, I was so depressed! Did God really bring me this far to fail? We were fully financed, entire cast in place… all of my savings gone! It felt like I was headed back to LA defeated and unemployed… and then producer Sean Banks calls and says, 'Shel, we got the kid!' I'm like, 'yeah right, you got the kid?!' Cause I just saw every New York kid actor – he's not in Gotham!
Michael Rainey Jr. shows up the next morning and the minute I saw him, I thought, he sure as hell looks like Woody. And then I asked him, what type of music he listened to, he said – 'I'm not really into New School Hip Hop, I'm more of an old school Hip Hop head.' Then the kid quotes a Slick Rick lyric from 'Lodi Dodi' – He's only 10 years old, Wow-zer! THANK YOU GOD!
He gave me a DVD of an Italian film he had done when he was 9 years old. I rode the Bolt Bus from New York back to Baltimore, knowing he was the kid. I popped his movie in and was blown away by what I saw: A Nine Year Old African American Kid Acting And Emoting In Fluent Italian.
Jason, you've been a busy guy lately. You were one of the producers on The Dry Land that was at Sundance 2010, JESS+MOSS last year at Sundance 2011, this summer you had Seven Days in Utopia, and this fall you had The Brooklyn Brothers Beat the Best at Toronto.  And now you have three films in post – LUV, The Most Fun I've Ever Had With My Pants On, and also Brian Dannelly's new film, Struck By Lightning, which also has a fantastic cast (Kristina Hendricks, Chris Colfer, Allison Janney). What is it about producing that you really enjoy?
Jason:  What is it that I enjoy about producing? It's very simple and straightforward. I love working with creatives and assisting them to realize their own dreams and visions and helping to tell their stories. I love the challenge of putting a film together, casting it up and raising the financing. There are so many intricate pieces that need to fit into place at the exact time to make a film happen, and I love helping to orchestrate that. I love pushing boulders up hills on a daily basis. And most importantly. I love being a part of the process of creating and being there from inception of a concept or story on paper, to finishing the final product within the medium of cinema.
Sheldon, you participated in Film Independent's Directors Lab a couple of years ago – as well as Project Involve – and then both of you were in our Fast Track film financing market.  I'm curious if there were any specific things you learned in those programs, or perhaps people you met, that were helpful or instrumental at all as you were getting LUV made.
Sheldon:  Honestly, many years after film school you will find yourself, or at least I did, very depressed about my dreams, and beginning to feel like I was crazy for believing in the impossible. So you work a ton of shit jobs, to keep the dream alive, Jedi mind trick yourself a bit that this all is the 'beautiful struggle'. You miss Christmas with the family back home, because you can't afford the plane ticket, and have too much pride to take family charity. So you cry in isolation and keep writing and keep crying and keep praying. Then you feel like 'Am I gonna be the guy that always buys DVD's and can barely afford the Arclight and never get a shot at making a movie…'
For me, the programs at Film Independent really helped invigorate my pursuit of filmmaking and creating the momentum LUV needed to become a real film beyond what was in my mind and on the page.
Finally, a question that is probably premature, since you're still in the process, but do you guys have any advice to filmmakers who are starting out on their first features? Any thing you wished people had told you right before you starting shooting?
Jason: Yes. Pick a focus guided by your passion, and go for it. Everyday, push the boulder up the hill. Never give up or look back, even when the going gets tough.  Surround yourself with people who are smarter in different areas of the filmmaking process then you are. Strive for excellence and do everything with a close attention to detail. Look for a mentor, someone who can give you guidance and advice. Let people learn from their mistakes. Don't try to solve every problem yourself.
November 30th, 2011 • 1 Comment