MAKING OUR WAY THROUGH LiTTLEROCK WITH MIKE OTT
Film Independent Forum panelists span a broad spectrum of filmmaker categories, from major Hollywood screenwriters, independent producers, crowd-funding experts, studio execs, and the list goes on. They're coming together the weekend of October 21 to engage in meaningful conversations regarding the state of the indusry, the challenges we are overcoming and to talk about what we all love: film. One of the panelists participating this year is Mike Ott, Spirit Award grant winner for his film LiTTLEROCK, the story of two Japanese siblings deserted in the small Californian town of Littlerock and the characters they come across. Mike is also a professor at USC, and writer/director of his latest film, Teenage Wasteland. I sat down with Mike to cover a range of topics, from his quirky and oft-used leading actor, filmmaking influences, and finding a community among his peers.
On LiTTLEROCK and Working with First Time Actors
So much of LiTTLEROCK seemed so natural and improvised, especially Cory Zacharia's (who plays one of the film's leads, also named "Cory") lines. Was it primarily improvisational?
It depended scene to scene. We went out a year before we shot the movie to do rehearsals with mainly Cory, Atsuko [Okatsuka] and Roberto [Sanchez] so based on the rehearsals that were improvised we kind of based the script around that. You can only prepare [Cory] so much, a lot of times he's going to say whatever he's going to say. But a lot of times in the context of that some people would be strict to the script and there would be room for someone like Cory to say different kinds of lines. For the most part if you go back and watch the dailies he's hitting the same marks. I'm not a big stickler on people being so true to a line that they don't want to say it a different way or a different beat.
Cory and Atsuko are both in your new project, how did you discover them?
They had never been in a film before, neither of them. I initially had this kind of loose idea for LiTTLEROCK about two people who get stuck in this small town and don't speak English, so me and the cinematographer were going up to Littlerock and at the time I'd just met Atsuko so we brought her up to kind of stand in these landscape shots that we were doing. That's really how she got involved, and she'd written this voiceover for this short version of LiTTLEROCK that I really liked. Then we just got to talking about the project and working on the script. Meanwhile while we were doing that I was doing a documentary on one of my students who I was teaching at this junior college and I had this really unctuous kind of student who was going to make this Scorsese type movie-rape and drugs and all this stuff. I had told him not to make it and he was like "I'm going to make it anyways". I just had this sense that it was going to be this disaster of a project. He had so many weird bizarre characters working on it, that me and the cinematographer decided to document the making of this movie. We started shooting this film, the behind the scenes, and one day Cory showed up to the set of this student film. Our minds were f—–g blown. We started following Cory around in the documentary. The first question I asked Cory was "What are you doing here, why are you here?" "Well, I'm trying to be an actor and a model, trying to get my foot in the door…" From there I was just fascinated with Cory. When we were going out to do test shots we realized that Cory lived 5 minutes away from Littlerock so we just called him and said "Hey do you want to come try be in these scenes, just as an experience?" and it ended up being amazing.
What keeps you working with the same actors?
As an actor Cory is very present as opposed to other actors who can just hit marks and say lines. Cory's present and I just have a different way of working with him than any other actors. Sometimes we'll shoot and I'll just yell lines at him to say off camera to respond and a lot of actors can't do that, they can't turn the line immediately and make it believable, which Cory can do. And Atsuko I'm really close with, which makes it easier to work with her.
New Projects, Creative Collaborations
Can you tell us a little more about your new film, is it based in the same kind of town?
It's kind of a made up small trucker town in the desert. In real life Cory just found out who his real dad is and went to meet him in real life, and the movie is based around that. Also in the new movie Cory's trying to get on a reality show and he's making these video diaries. Atsuko plays a woman who's moved to America and now has to face these realities of living here as an immigrant and doing this prostitution with the truckers and stuff.
I know you've gone to Cal Arts, as have a few other filmmakers involved with the Los Angeles Film Fest and our Artist Development programs. Do you all ever work together?
I worked with these two other filmmakers that went to Cal Arts a lot, David Nordstrom who did Sawdust City and this other guy Lee Lynch who's in my movie so there's similar themes in all of our movies. I couldn't make my movies without their help. A lot of LiTTLEROCK, like Cory's house and the backyard party scene, were shot at Lee's house. David edited my film. It's been this really nice thing where we all help each other out. If I was on my own without their help I couldn't do it.
It's great to see indie filmmaking communities pop up, usually geographically based, whose films can tend to deal with some of the same themes and organically influence each other. What are some of your other influences:
Growing up I was really into John Hughes. Although I guess getting older looking at John Hughes films I find they're more about fitting in than not fitting in. I always thought they were about celebrating the outsider but they're all about conforming so now that I'm older that is disappointing. What's weird about his films is that they all take place on the same block. Where Uncle Buck is taking care of the kids it looks like he's right down the street from Ferris Bueller's house which looks like its right down the street from the house they go to in Planes, Trains & Automobiles…  I like that idea. Maybe at first I wasn't even conscious of it working in the same milieu all the time, like suburban Chicago.
I really like Herzog a lot, and his approach to filmmaking. Kind of someone who says "F— it I'm gonna make a movie, I'm gonna figure out how I'm gonna make it." I find that really inspiring.
Yeah, we're excited to have Herzog be at the Forum as our Keynote Speaker.
I imagine it'll be pretty epic.
We stole a lot from his movie Stroszek for LiTTLEROCK. It's my favorite film that he made. It's about this German guy Bruno playing a version of himself, much like Cory is. He comes to America and ends up in Wisconsin and is trying to find the American dream. A lot of the dialogue that Atsuko says to her brother is taken from Stroszek.
/Professor and Navigating the Production Process
You're currently a professor and working with future filmmakers, is it exciting to see new ideas emerging from them?
What's exciting about working with students is that they're optimistic and not jaded. That's inspiring. For me as a filmmaker I've learned a lot more about filmmaking being a teacher than I did as a student.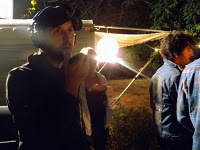 Our Forum intends to prepare filmmakers at all levels in the production process. What have you found to be the most important of pre-production in your experience?
Good question. I feel like it's everything. I would say casting, for me is the most important part. To me it's the most exciting part, if you find someone to bring this character to life that you've been living with in your head and all of a sudden find an actor bring it to life is exciting.
Pre-production for me is finding actors that you can work with that are good and committed. I've heard more than one director say that if you cast correctly most of your work as a director, which seems to be true. And also just really finding a small crew that's really dedicated as opposed to a bunch of people on your crew that are going at 75%. Better to have five people working on your crew that are going at 150%.
Is there one thing you wish an answer could be provided for that would make filmmaking a lot easier to navigate?
When I finished my thesis film, and even when I finished LiTTLEROCK, I'm one of the only people who went on the festival circuit as much as I did where I'd meet other filmmakers at all these festivals and be the only one that didn't have a sales agent or a sales rep and that's always been kind of confusing to me, especially when you're doing it yourself: what are the steps to prepare before you go out, getting a sales or producers rep. I feel like I've met so many shady producers reps and I feel like most of the filmmakers I've met who are on my same level with their films, and some that are even smaller, have sales agent or producers reps and that's one of the things I never knew how to tackle. All the legal mumbo jumbo especially when you don't have the money to get a lawyer [can be confusing].
—–
Join Mike Ott and dozens more panelists during the Film Independent Forum weekend, October 21-23 where we'll be tackling issues about sales reps, distribution, finding productions funds and more. Click here to register today. 
-by Jasmine Terán for Film Independent
October 10th, 2011 • No Comments