TRICKS FOR MASTERING THE DOC DISTRIBUTION CIRCUS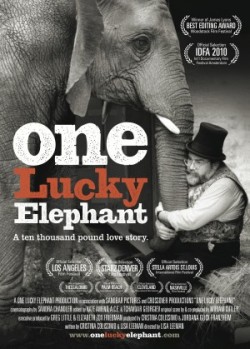 During the live case study of their acclaimed "father-daughter interspecies love story," also known as the poignant documentary One Lucky Elephant, director Lisa Leeman and producer Jordana Glick-Franzheim walked our members through the process of getting their labor of love funded, premiered at major festivals and distributed on multiple platforms. Here are some of their tips.
★ Catch-22 of Doc Fundraising:
You need money to shoot your doc, but cannot procure funding until you have a work sample.
When the feel-good story they originally set out to make in 2000 became more complicated, several funders for the film dropped out and the budding TV interest in the project had dried up.
Instead of resigning to produce the original concept, filmmakers Jordana Glick-Franzheim and Cristina Colissimo pursued the new direction their film was taking by purchasing a camera and filming for several more years. Once photography wrapped, their focus turned to serious fundraising. Knowing that the core audience of their film would be animal lovers was the first step in strategizing their outreach and relationship building.
★ Community Outreach:
Reach out to multiple organizations to aid your film.
The Humane Society of the United States is 11 million members strong and their main objective is to protect animal rights. The filmmakers of One Lucky Elephant started to develop a relationship with them and their member base as early as the development stage. Working with multiple animal rights organizations was instrumental in promoting the film. "The moral of the story is don't put all your eggs in one basket. Have a range of allies," said director Lisa Leeman.
As for raising private equity, in addition to the 17-minute trailer and treatment they presented to potential investors, the filmmakers included a recent New York Times cover story, "An Elephant Crack-Up?," about human-induced psychological trauma in elephants, which communicated the film's timeliness.
★ Festival Strategy:
Be engaged in the festival experience.
If you get accepted into a festival, offer to do a panel. "If they say no, that's fine, but they may actually be excited that you can do a panel," said Lisa. Keep in mind that you want press for your festival premiere, but not necessarily early reviews. For example, if the Los Angeles Times reviews your film too early, they will not review it again when your film is released theatrically. Instead, reach out to the trades for early reviews in order to get programmers at other upcoming festivals excited about your film.
★ Selling Your Film:
What is best for your story?
Their international sales agent, who had a TV sales background, recommended IDFA (in Amsterdam in November). After their acceptance, IDFA informed the filmmakers that they were only allowed to play two festivals prior to IDFA. November was several months away. Strategically, they decided they wanted to be in IDFA and have the TV market look at their film. So, they sacrificed playing at other festivals to play the one that would potentially help their film the most.
"Having a domestic sales agent/rep from the onset legitimized us, and Josh Braun (Submarine Entertainment) is one of the top sales agents in the U.S. We began negotiations for him to rep us because we felt he would maximize our negotiations with companies," said Jordana. After their premiere at the Los Angeles Film Festival, "we were faced with the decision between two networks that wanted our film – HBO and OWN." They ultimately chose OWN because they wanted Oprah's brand and a cable network that had a wider reach than subscription-based networks.
★ Theatrical and DVD Release:
Building Your Brand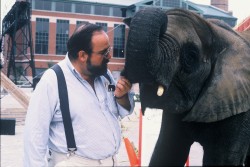 Budget for all of the phases, including your release. One Lucky Elephant had theatrical runs in New York's Film Forum, Laemmle Theaters in Los Angeles and Facets Cinémathèque in Chicago.
As Lisa points out, "Opening in L.A. can be between $7 – $10,000, not to mention prints and posters, etc. Theatrical is not really where you make you money, it is where you build your brand." For DVD sales, their deal with OWN allows them to sell DVDs on their website, while OWN also sells their film on iTunes, Amazon, Walmart, etc.
When OWN asked the filmmakers to live tweet for the film's first airing on the network, Jordana and Lisa enlisted someone more social media-savvy than they were to direct the conversation. For example, when the elephants hugged trunks in the film, he tweeted facts such as, "Did you know elephants have 40,000 muscles in their trunks?" This elevated the Twitter discussion in organic, educational ways that viewers responded to.
★ Resources:
Lisa and Jordana recommend Jon Reiss' Thinking Outside the Box Office for information regarding live, event-based theatrical releasing.
Check out the full Case Study of One Lucky Elephant >>
May 8th, 2012 • No Comments