ASK A PRO: Editor Terilyn A. Shropshire, A.C.E.
By Maria Bozzi / Director of Film Education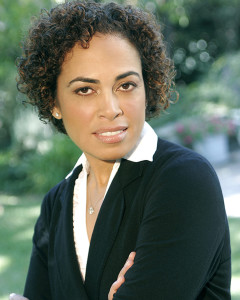 Francis Ford Coppola once said, "The essence of cinema is editing." Often referred to as the "invisible art," editors play a dynamic role in the making of a film — they are, after all, the ones who craft the images, story, dialogue, pacing and performances into a coherent whole.
Award-winning editor Terilyn A. Shropshire knows all about this invisible art, having edited nearly 25 films for screens big and small, including Salim Akil's Sparkle and Jumping the Broom; Gina Prince-Bythewood's award-winning The Secret Life of Bees; and a number of collaborations with director Kasi Lemmons, from her debut, Eve's Bayou, to her latest, Talk To Me, starring Don Cheadle.
Shropshire's work has garnered her critical acclaim as well. She received an Emmy® nod for the Lemmons' directed "Lifetime Achievement Award Tribute to Sidney Poitier" for the 74th Annual Academy Awards, and won an A.C.E. Eddie Award for Best-Edited Motion Picture for Commercial Television for Vondie Curtis Hall's Redemption: The Stan Tookie Williams Story.
Drawing from this extensive experience, Shropshire offers the following do's and don'ts to help filmmakers better understand the editing process – which, according to Shropshire, begins long before your raw footage reaches the editing stage.
TO DO… BEFORE THE SHOOT:
✓ Take the time to communicate with your editor at the start of your project. All films, no matter the size, scope or budget, have basic needs in all departments. Post-production is no exception. Take the time to communicate with your editor to know what those needs are from their perspective.
✓ Establish communication between the production and post-production team as early as possible. The communication between the post and production crew during the preproduction period is even more crucial as our industry transitions to digital cameras and workflow. It does not serve the film to have workflow decisions made in the production office and not involve the crew and departments who will ultimately have to live with those decisions and any repercussions of a badly organized workflow.
TO DO… ON THE SET:
✓ Be aware of the internal pace of a scene and provide the editor with enough choices to honor that pace. Contrary to common belief, editors appreciate not choosing to cut as much as choosing when and where to cut a scene. There is nothing more satisfying than to receive a well designed and executed shot where the action is meant to take place in that one single "master".
Equally, there is nothing more frustrating to an editor than when the character's actions or performance within this shot are not well paced and no alternate angles are available to adjust the rhythm of the scene. So I encourage filmmakers to create these moments, but be extremely aware of the internal pace of "one-er".
✓ Even if one take is brilliant, allow for a second take. You've filmed a scene in one take. It is the most brilliant take you've ever seen; you just can't see how take two could be any better. Shoot another one anyway.
✓ Mind the atmospheric sound, especially on emotional scenes. If at all possible, avoid shooting any difficult emotional scenes between actors in an environment where the atmospheric sound around them is a problem. You do not want to have to ask your actors to recreate this moment on an ADR stage if at all possible. And please give your production sound mixer time to gather room tone, ambience on set. A few silent recorded moments on set can make a huge difference when you are trying to initially build a soundtrack in the cutting room.
TO DO… AFTER THE SHOOT:
✓ Let your film develop. Give the film a realistic period of time to "gestate" in the post-production schedule. Discovery and refinement of a story is a process that can be best served by time.
WHATEVER YOU DO, DON'T…
DON'T… RUSH YOUR SCRIPT.
Story, structure and character "issues" in the script do not mysteriously disappear when the footage arrives in the cutting room. The term "we'll fix it in post" ideally should not apply to story problems that don't get addressed before the camera rolls.
DON'T… CUT YOUR FILM SHORT ON POST-PRODUCTION SOUND.
Don't underestimate the importance of giving your film a proper sound schedule and package. Get your sound post-production crew involved as early as possible.
REQUIRED VIEWING:
"I love a wide range of film genres and feel there is as much to learn from a badly executed film as a well executed film. I don't walk out of a film no matter how many times I've been tempted (much to the chagrin of the person who's joined me and wants to leave!) because I believe it's important to think about why a film doesn't work as much as why another one does.
REQUIRED READING:
"It depends on what perspective you are looking for. I like to listen to the DVD commentaries on films, especially those of the director and crew, and I like to encourage reading In the Blink of an Eye by Walter Murch."
December 4th, 2012 • 4 Comments