The Must-List: Six Delectable Movies to Satisfy Your Appetite this Thanksgiving!
As we enter what is already the grimmest–though with a vaccine looming, hopefully final–stretch of the COVID-19 pandemic, the holidays are going to look a lot different this year. Like spending Thanksgiving with only with immediate family at home, for example. But we still want you to have a relaxing Turkey Day experience, so do try to connect with your extended family virtuality… and perhaps watch these six great films, living vicariously through their love of food.
There's a scene in 2010's Eat Pray Love, where Julia Roberts's character, Liz, basks in the experience of eating a guilt-free pizza. It was an important character moment for her, and for many an audience member. And we want you to find your guilt-free pizza moment within these six films–something you can relate to or that feels real to you.
And of course, let us all be thankful for movies as they lift our souls and keep us sane. When we break bread on the dinning table, let's aim to uplift the less fortunate. These six movies have food as a driving tenet but at the core they represent the best that humanity has to offer. Enjoy!
JULIE & JULIA (2009)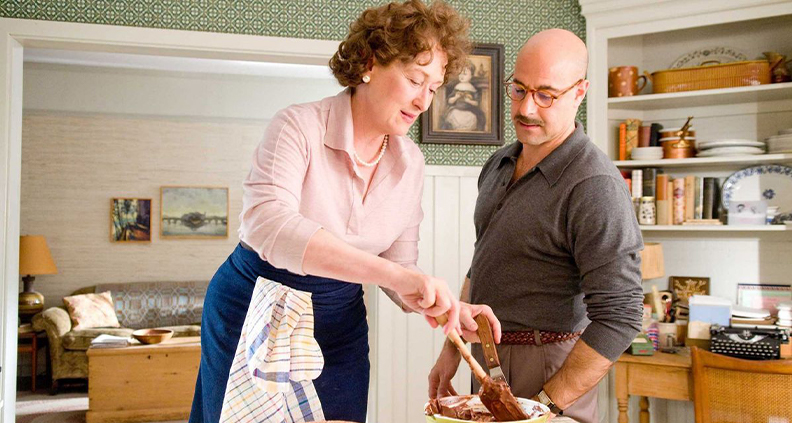 Directed by: Nora Ephron
Screenplay by: Julia Child, Julie Powell, Nora Ephron
Producers: Nora Ephron, Laurence Mark, Eric Steel, Amy Robinson
Why We Love It: Ephron's final film before her death leaves a long-lasting impression. Based on two books, My Life in France and Julie & Julia: 365 Days, 524 Recipes, 1 Tiny Apartment Kitchen, Julie & Julia creates an immersive food-centric world, diving into the lives of Julia Child and Julie Powell. Los Angeles Times critic Kenneth Turan commented: "A consummate entertainment that echoes the rhythms and attitudes of classic Hollywood, it's a satisfying throwback to those old-fashioned movie fantasies where impossible dreams do come true." You can never have too much butter, says Amy Adams' Julie, as she puts three large cubes into the frying pan–a moment in the film not to miss.
Where To Watch: Hulu
RATATOUILLE (2007)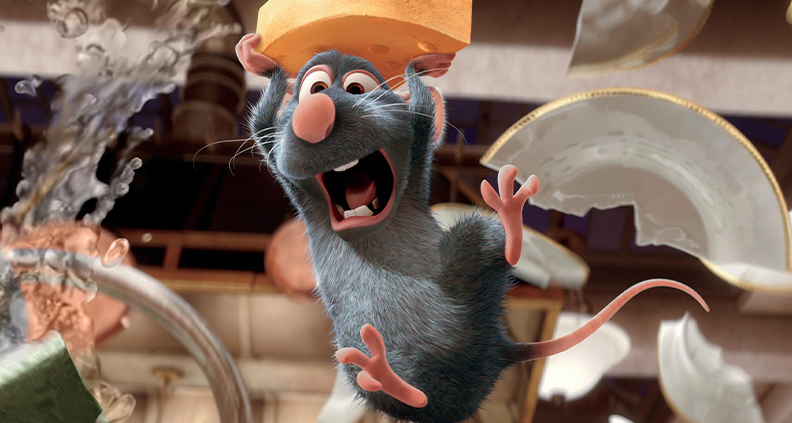 Directed by: Brad Bird
Screenplay by: Brad Bird, Bob Peterson, Kathy Greenberg, Emily Cook
Producer: Brad Lewis
Why We Love It: From the creator of The Iron Giant and The Incredibles, Brad Bird's unlikely Pixar hit highlights the irony of a rat aiming to become an exquisite chef. This irony is powerful and necessary, blurring the line between the proletariat "Us" and the elite "Them." A.O. Scott of The New York Times called Ratatouille, "A nearly flawless piece of popular art, as well as one of the most persuasive portraits of an artist ever committed to film." This film empowers us to pursue our passion against all odds.
Where To Watch: Disney+
THE HUNDRED-FOOT JOURNEY (2014)
Directed by: Lasse Hallström
Screenplay by: Steven Knight
Producers: Juliet Blake, Steven Spielberg, Oprah Winfrey
Why We Love It: in In the opening scene, an Indian mother and her young child, Hassan, shop for sea urchins in a fish market. Hassan smells the sea urchin and tastes it, offering an auspicious reaction. Later, her mother later says, "You cook to make ghosts." Variety's Justin Chang called the film, "The most soothing brand of cinematic comfort food." Breaking cultural boundaries, Hassan learns the French style of cooking–and makes it look like magic!
Where To Watch: Netflix
THE LUNCHBOX (2013)

Directed by: Ritesh Batra
Screenplay by: Ritesh Batra
Producers: Arun Rangachari, Vivek Rangachari, Anurag Kashyap, Karan Johar, Shahnaab Alam, Guneet Monga, Ronnie Screwvala, Siddharth Roy Kapur, Meraj Shaikh, Vikramjit Roy, Danis Tanovic
Why We Love It: Late actor Irrfan Khan, who passed away earlier this year, shines in this epistolary-style romance. A wrong tiffin gets delivered, leading to romance between two individuals through food. Critic Rajeev Masand of CNN-IBN gave a rating of five out of five stars to the film, stating: "The greatest love stories are the ones that make you root for the protagonists to come together, despite their destinies. This film illustrates how love transforms the unlikeliest of people." This masterpiece makes you believe in love in the purest of ways, love can transcend physicality, and this movie emphasizes just that.
Where To Watch: Amazon (rental)
EAT DRINK MAN WOMAN (1994)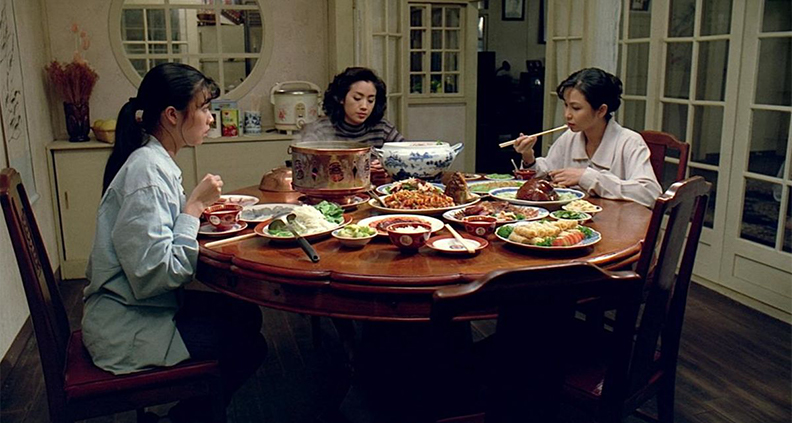 Directed by: Ang Lee
Screenplay by: Ang Lee, James Schamus, Wang Hui-ling
Producers: Hsu Li-kong and Hsu Kong
Why We Love It: A feast for the eyes (especially in the opening scene), the intricate detail of the traditional Chinese style of cooking is remarkable. In her review in The New York Times, Janet Maslin praised Ang Lee as "a warmly engaging storyteller," writing: "Wonderfully seductive, and nicely knowing about all of its characters' appetites, Eat Drink Man Woman makes for an uncomplicatedly pleasant experience" Eat Drink Man Woman was nominated for Best Feature, Best Director, Best Female Lead, Best Male Lead, Best Screenplay and Best Cinematography at the 1995 Spirit Awards.
Where To Watch: Amazon (rental)
WILLY WONKA & THE CHOCOLATE FACTORY (1971)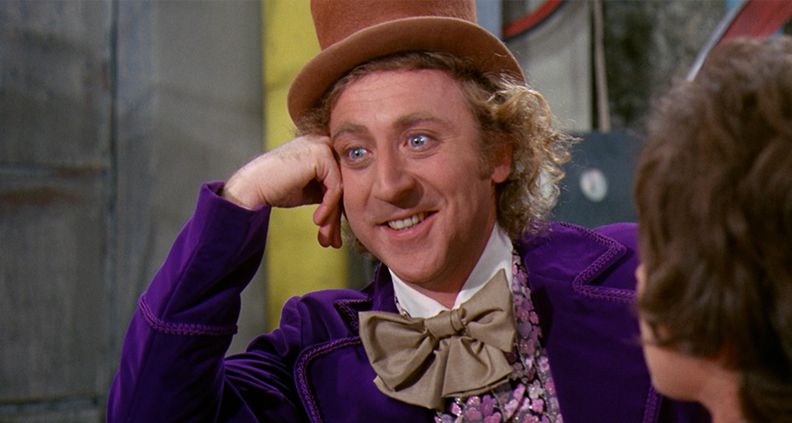 Directed by: Mel Stuart
Screenplay by: Roald Dahl, David Seltzer
Producers: Stan Margulies, David L. Wolper
Why We Love It: This 1971 adaption of Roald Dalh's Charlie and the Chocolate Factory (1964) is a visual treat. Beneath the richness of the film, themes such as self-indulgence and greed play an important part of the film. Roger Ebert gave the film a perfect four out of four stars, calling it: "Probably the best film of its sort since The Wizard of Oz. It is everything that family movies usually claim to be, but aren't: Delightful, funny, scary, exciting, and, most of all, a genuine work of imagination. Willy Wonka is such a surely and wonderfully spun fantasy that it works on all kinds of minds, and it is fascinating because, like all classic fantasy, it is fascinated with itself."
Where To Watch: Amazon (rental)
Film Independent promotes unique independent voices by helping filmmakers create and advance new work. To become a Member of Film Independent, just click here. To support us with a donation, click here.
More Film Independent…
(Header: Eat Drink Man Woman)