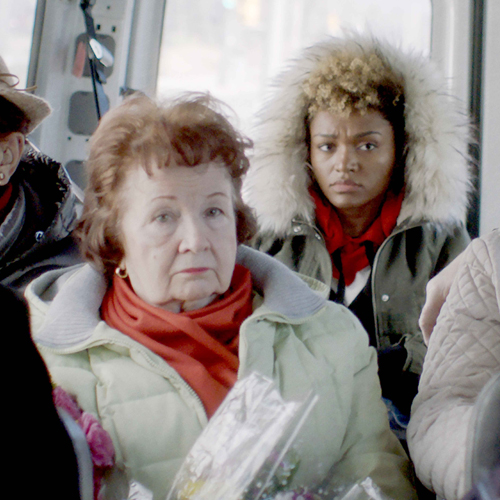 Nominated for Best Editing
Credits
Editor: Give Me Liberty
Synopsis
Medical transport driver Vic is late, but it's not his fault. Roads are closed for a protest and no one else can shuttle his Russian grandfather and émigré friends to a funeral. The new route uproots his scheduled clients, particularly Tracy (Lauren "Lolo" Spencer in a breakout performance), a vibrant young woman with ALS. As the day goes from hectic to off-the-rails, their collective ride becomes a hilarious, compassionate and intersectional portrait of American dreams.
Biography
Kirill Mikhanovsky's first feature, the Brazilian Sonhos de Peixe (Fish Dreams) premiered at the Cannes Film Festival (Critic's Week) and received the Prix Regard Jeune. Give Me Liberty, for which Mikhanovsky served as writer/director/editor/producer, premiered at Sundance 2019 (Next) and had its "definitive version world premiere" at the Directors' Fortnight section of Cannes 2019. In the US, the film has been released by Music Box. Mikhanovsky served as a cowriter and consultant editor on Barbosa's Gabriel and the Mountain (Cannes 2017, Critic's Week).
Kirill's current projects as writer/director include Coming to You (post-production; 2016 Sundance Institute Skywalker Sound Lab, 2016 Sundance Institute post-production grantee) and The Ninth Fall (development). He is also an associate producer on Koguashvili's Brighton Four (post-production). Mikhanovsky is a 2015 Film Independent Fast Track and Producing Lab Alum. Born in Russia, he immigrated to the US and settled in Milwaukee, where he studied linguistics and anthropology, and had a series of odd jobs, including driving a medical transport for people with disabilities. An alumnus of NYU's Graduate Film Program and the Sundance Institute Screenwriters Lab (Fuga Mortis), he founded Give Me Liberty Productions with Alice Austen in 2015.