Bringing It Home

Sometimes unexpected friendships are the most important...
Project type: Narrative Feature
Project status: Development
Writer/Director: Sabine El Gemayel
Consulting Screenwriter: Laura Durkay
Producer: Jonathan Vanger
Executive Producer: Bahman Naraghi

Email: sabineelgemayel@gmail.com

Help independent filmmakers tell their stories.
Make a donation to Bringing It Home today.
Film Independent's Fiscal Sponsorship program opens the door to nonprofit funding for independent filmmakers and media artists. Donate today and help bring Bringing It Home to life.
Logline
When an American veteran falls pregnant, doctors dismiss her debilitating health issues, until an Iraqi refugee and former midwife explains the horrific pregnancy health risks associated with her exposure to depleted uranium.
Synopsis
War veteran Kay, 24, returns from her tour in Iraq, happy to reunite with her family and excited to attend college, until her family's financial hardships force her to get a job and put all college plans on hold. Once home, she meets Hadiya, 32, her new Iraqi refugee neighbor and former midwife, whose daughter becomes fast friends with Kay's, forcing the two women to develop a somewhat cordial relationship; but everything changes once Hadiya discovers that Kay is an Iraqi Freedom veteran.
After falling pregnant shortly after returning home, Kay becomes increasingly sick. While her doctor attributes her unusual symptoms to an autoimmune deficiency, Hadiya reveals they are, in fact, related to her exposure to Depleted Uranium (DU) from US ammunitions used in Iraq, resulting in the risk of her child being born with severe birth defects. Kay seeks Hadiya's help and must make the difficult decision whether to carry on with her pregnancy.
Meet the Filmmakers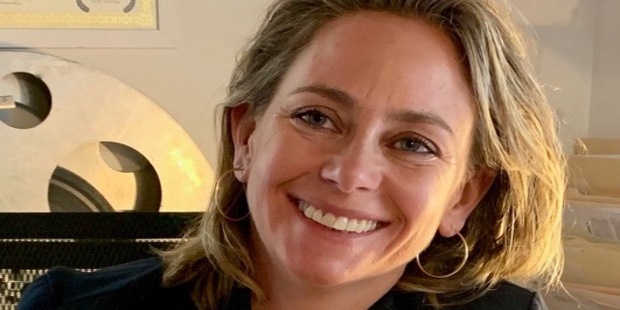 Sabine El Gemayel – Writer/Director
As a writer-director, Sabine El Gemayel focuses on bringing social issues to light advocating for peace in a world of conflict. Her storytelling gravitates around socio-political differences between the Middle East, the US and France. She is best known for her narrative feature Niloofar produced by Jean Bréhat, her award-winning feature documentary, Generation Zapped, and for co-editing the Lebanese submission to the 2020 Oscars, 1982 directed by Oualid Mouaness, produced by Alix Madigan. She was awarded screenwriting fellowships from Hedgebrook in 2019 for her screenplay Bringing It Home and DreamAgo for The Three Of Us, 2009 and Bringing It Home, 2012.
Laura Durkay – Consulting Screenwriter
Laura Durkay is an independent filmmaker based in Portland, OR. She has an MFA in screenwriting from the University of Southern California and studied writing and directing with Ela Thier of the Independent Film School in New York City. She has been a finalist in the Austin Film Festival screenplay competition and the Equal Writes screenwriting competition for racial and gender diversity in genre film.
Laura has worked as a producer and assistant director on numerous shorts, web series and feature films. Natalie, a microbudget murder mystery and her first feature as a writer/director, will be completed in 2021.
Jonathan Vanger – Producer
Jonathan Vanger has been involved in film production in one way or another for over 35 years. He began his career working as a completion bond rep for his father's Los Angeles based completion bond company Performance Guarantees, overseeing projects in Australia, South Africa and Europe. After settling in Los Angeles for ten years, Jonathan moved to Montreal where he began working on setting up production financing and production services on feature films with Claude Léger from Transfilm International, the first of these being Grey Ow (starring Pierce Brosnan, directed by Sir Richard Attenborough & produced by Jake Eberts) A relationship with French media powerhouse Lagardere leads to the production of several high-end miniseries such as the Emmy-nominated Napoleon (starring Christian Clavier, Gerard Depardieu, Isabelle Rossellini & John Malkovich). Vanger has produced and executive produced several feature films with Europa Corp including Brick Mansions (Paul Walker), Shut In (Naomi Watts), The Warriors Gate (Dave Bautista), and Miss Sloane (Oscar-nominated Jessica Chastain). His most recent projects include the feature film Crisis, starring Oscar-winner Gary Oldman, Armie Hammer and Evangeline Lilly, written & directed by Nicolas Jarecki, as well as comedy-drama Best Sellers, starring Michael Caine and Aubrey Plaza, directed by Lina Roessler and written by Anthony Grieco.
Bahman Naraghi – Executive Producer
Bahman Naraghi is an independent producer/financier with over 30 years of senior executive positions at both major studios and independent production companies. Acting as an independent producer/financier, he has over the past few years successfully raised funding for numerous media ventures including two major motion pictures: Oliver Stone-directed Snowden and the Playmobil animated film that first released theatrically in 2019. Ever since leaving his executive position at the studios in 2002, he has spearheaded the funding of dozens of films that have generated over $3 billion at the box office worldwide. He was until June of 2012 COO of GK Films, a highly respected production company founded by the Academy Award winning producer Graham King, and whose credits include the acclaimed box office and critical successes Argo, Tim Burton's Dark Shadows and Martin Scorsese's Hugo, as well as Rango, The Town and the Johnny Depp and Angelina Jolie pairing in The Tourist. Naraghi was also the co-founder of Film District launched in 2010, the most successful independent distribution company start-up with such commercial successes as Insidious, Soul Surfer and Drive in its first year.
Prior to joining GK Films, Naraghi founded in 2006 and ran Red Envelope Entertainment as a wholly-owned subsidiary of Netflix, spearheading Netflix's foray into ownership and distribution of original content. Previously, Mr. Naraghi worked alongside Moritz Borman as COO of Intermedia Films from 2002 to 2006, he was at Miramax Films as EVP Finance & Operations in 2000 and at Universal Studios as CFO in 1997 where he was put in charge of the integration Polygram Films into Universal's operations in 1999.
Contact
For inquiries, please contact fiscalsponsorship@filmindependent.org.