Bringing It Home

Sometimes unexpected friendships are the most important...
Project type: Narrative Feature
Project status: Development
Producer: Ellen Pittleman
Producer: Francine McDougall
Writer/Director: Sabine El Gemayel
Writer: Laura Durkay

Email: ellenp@hybridentus.com

Help independent filmmakers tell their stories.
Make a donation to Bringing It Home today.
Film Independent's Fiscal Sponsorship program opens the door to nonprofit funding for independent filmmakers and media artists. Donate today and help bring Bringing It Home to life.
Logline
Kay, a middle-class female war veteran returns home in 2008 to find an Iraqi refugee family as her new neighbors. Reticent to engage and unlikely friends, Kay soon discovers that the Iraqi mother and former mid-wife holds the key to her potentially fatal, mysterious illness, forcing the two women to try and understand their different perspectives on war, motherhood, and more, as they each readjust to a new life.
Synopsis
Kay, 24, a U.S. Iraqi war veteran, returns from a tour of duty, happy to reunite with her husband and daughter at home in Detroit. But discovering new, unexpected financial constraints and some mysterious physical ailments, her plans quickly change.
Around the same time, Hadiya, 32, an Iraqi refugee and former nurse-midwife, seeks asylum in the US with her family, embracing the difficulties as new US immigrants settling in Detroit. They move in down the street from Kay, where Kay and Hadiya's daughters become fast friends. Consequently, the two mothers are forced to interact with each other and while Hadiya is hoping to make a new friend, Kay is guarded. That changes when Hadiya finds that Kay is an Iraqi war veteran.
As Kay becomes increasingly sick, she learns of her unplanned pregnancy. Her VA doctor attributes her unusual symptoms to an autoimmune deficiency worsened by her pregnancy. But Hadiya reveals that her symptoms are, in fact, related to her exposure to Depleted Uranium (DU) from U.S. ammunition used in Iraq, and Kay's baby is at risk of severe birth defects. Kay's reluctance to accept Hadiya's genuine concern makes her question Hadiya's motives but later discovers that her concerns are founded.
Meanwhile, Kay's relationship with her husband and daughter is pushed to the limit, tearing the family apart. Unable to have a second-trimester abortion and unbeknownst to her husband, Kay seeks Hadiya's help to get rid of the baby.
The two women overcome their socio-political differences and their views about the war in general, to support each other and their families.
Meet the Filmmakers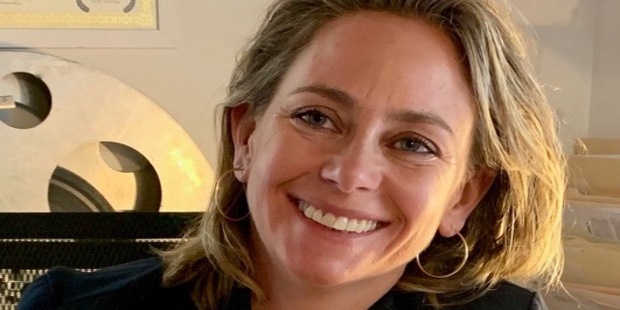 Sabine El Gemayel – Writer/Director
As a writer-director, Sabine El Gemayel focuses on bringing social issues to light advocating for peace in a world of conflict. Her storytelling gravitates around socio-political differences between the Middle East, the US and France. She is best known for her narrative feature Niloofar produced by Jean Bréhat, her award-winning feature documentary, Generation Zapped, and for co-editing the Lebanese submission to the 2020 Oscars, 1982 directed by Oualid Mouaness, produced by Alix Madigan. She was awarded screenwriting fellowships from Hedgebrook in 2019 for her screenplay Bringing It Home and DreamAgo for The Three Of Us, 2009 and Bringing It Home, 2012.
Laura Durkay – Screenwriter
Laura Durkay is an independent filmmaker based in Portland, OR. She has an MFA in screenwriting from the University of Southern California and studied writing and directing with Ela Thier of the Independent Film School in New York City. She has been a finalist in the Austin Film Festival screenplay competition and the Equal Writes screenwriting competition for racial and gender diversity in genre film.
Laura has worked as a producer and assistant director on numerous shorts, web series and feature films. Natalie, a microbudget murder mystery and her first feature as a writer/director, will be completed in 2021.
Ellen Pittleman – Producer
Veteran film studio executive and producer Ellen Pittleman is responsible for the development, production, and distribution of over 25 feature films, more than five series, and various specials throughout her 25+ – year entertainment career including 10+ years as an SVP at Paramount Pictures.
Francine McDouglas – Producer
Francine has directed hundreds of commercials, promos and branded content spots since launching her career at the Sundance Film Festival with her award-winning short film Pig! which she wrote, produced, and directed. She went on to direct Sugar & Spice for New Line Cinema, multiple MOWs, documentaries, and TV episodics. Besides producing her own short films, Francine also produced the VH1 documentary on world-famous jazz singer Little Jimmy Scott and Mosaic– a six-part series for PBS on sub-cultures of Los Angeles. Francine's film experience spans a 30-year career in Australia, Canada, and the U.S.
Contact
For inquiries, please contact fiscalsponsorship@filmindependent.org.