Alaska Is a Drag

In a world of fish guts and fist fights, a drag superstar is born...
Project type: Narrative Feature
Project status: Post-production
Director: Shaz Bennett
Producers: Diane Becker, Jean-Pierre Caner, Melanie Miller
Cinematographer: Alison Kelly

Email: alaskaisadrag@gmail.com

Help independent filmmakers tell their stories.
Make a donation to Alaska Is a Drag today.
Film Independent's Fiscal Sponsorship program opens the door to nonprofit funding for independent filmmakers and media artists. Donate today and help bring Alaska Is a Drag to life.
Logline
Tough, but diva fabulous, Leo, aspiring drag superstar, is stuck working in a fish cannery in Alaska. He and his twin sister are trapped in the monotony of fist fights and fish guts. Out of necessity, Leo learned to fight back, which catches the attention of the local boxing coach. When a new boy moves to town and wants to be his sparring partner, Leo has to face the real reason he's stuck in Alaska.
Synopsis
Alaska Is a Drag is a fish out of water story – literally. Leo is an aspiring superstar (Martin L. Washington, Jr.) stuck working in a fish cannery. Everyone who slices fish all day, daydreams – Leo sees disco balls in the scales of the fish he slices. Most of the time, Leo and his twin sister Tristen (Maya Washington) are left to fend for themselves. To escape the monotony of fist fights and fish guts, they create their own magic – the Northern Lights follow them. They hang out at the one gay bar in town, owned by their surly surrogate mom – Jan (Margaret Cho). Their real mom (Nia Peeples) left years ago and their dad George (Kevin Daniels) is absentee. After years of getting beat up by his former best friend, Kyle (Christopher O'Shea), Leo has learned to fight back – his skills catch the eye of an amateur boxer (Jason Scott Lee) who offers to train him. When a new kid, Declan (Matt Dallas), offers to spar – Leo's world turns upside down. Tristen enters Leo in a drag competition – his worlds collide – the drag auditions fall on the same day as the qualifying round for boxing and Leo has to face the real reason, he's afraid to leave Alaska.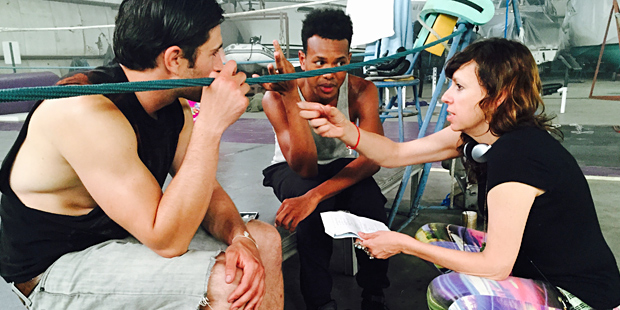 Meet the Filmmakers
Shaz Bennett — Writer/Director
Shaz Bennett is a writer, director and rabble-rouser currently working on her directorial debut of the narrative feature film, Alaska Is a Drag. Shaz's past work has been predominantly in television (The Glades, UnReal, Bosch), though her career features unique and varied roles including working in a fish cannery, bartending at a mafia bar, as a film programmer for the Sundance Film Festival, LA Film Festival and AFI Fest, peddling liquor undercover, developing films for actor Giancarlo Esposito and was even Cher's stand-in for a day. Her films and performance pieces have been seen in festivals, theaters, museums and abandoned warehouses all over the United States, Mexico, Canada, South Africa and Europe. Shaz was one of eight women selected for the prestigious AFI Directing Workshop for Women, is a 2017 Sundance Screenwriting Lab Fellow and was selected for Fox's Inaugural Global Directors Initiative, a multi-year program that develops the talents and networking pools of promising women directors.
Diane Becker — Producer
Diane is an award-winning photojournalist, graphic designer and graduate of the American Film Institute. She has successfully bridged her producing career into the feature and documentary film worlds. Diane has worked with Passion Pictures (Listen to Me Marlon) and Motto Pictures (Life, Animated, Weiner) and on Greg Barker's last four films for HBO, including the award-winning Sergio and Manhunt, chronicling the search for Osama bin Laden, which won the 2013 Emmy Award for Outstanding Documentary. The team's newest, Homegrown: The Counter-Terror Dilemma, premiered on HBO in early 2016. She produced Stephen Kijak's We Are X, about Japan's legendary rock band. It premiered at the 2016 Sundance Film Festival and won a special jury award for Best Editing in the World Cinema Documentary competition. Other credits include Jaco, about bass guitar legend Jaco Pastorius, directed by Kijak and Paul Marchand which can currently be seen on Netflix, and Chicken People, which premiered at SXSW and will be broadcast on CMT in the fall.
Jean-Pierre Caner — Producer
Half French and half Spanish, Jean-Pierre Caner is a first generation American, born in New Orleans. Growing up he moved frequently because of his father's job as an executive chef. Arriving in a new city every few years exposed him to different cultures and characters. After graduating from UCLA, Jean-Pierre began working in film and television full time. He has worked on HBO's Doll & Em, David O. Russell's The Fighter, Morgan Freeman's Through the Wormhole, Curtis Hanson's In Her Shoes, Azazel Jacob's Terri, Miranda July's The Future, National Geographic's Hunter and Hunted and more. In the last decade, Jean-Pierre has worked in short form storytelling, creating short documentary work for Urban Outfitters, profiling Tavi Gevinson, Petra Collins and Hattie Stewart; commercial work for Orly Beauty and Hudson Jeans; and fashion video work for publications including Dossier Journal, Rookie, Foam Magazine, So Chic, and Remember Paper. Jean-Pierre has also created a series of short documentaries profiling artists like Anthony Lister and Milo Reice.
Melanie Miller — Producer
Melanie Miller has over two decades of experience in the entertainment industry as a producer, acquisitions & marketing executive, festival programmer and music supervisor. During her tenure at Gravitas Ventures as Vice President of Acquisitions & Marketing, she played an integral role in the growth of the new paradigm of independent distribution. Prior to Gravitas, Miller was the Artistic Director at the Jackson Hole Film Institute and in 2009 co-founded production company Fishbowl Films with producing partner Diane Becker. The company's first feature, Detour by William Dickerson, received a day & date theatrical release. Miller is currently Executive Vice President at Samuel Goldwyn Films. She is responsible for distribution, marketing and PR strategy for all films. In addition, she works closely with President Peter Goldwyn and Executive Ben Feingold on ways to expand the Goldwyn footprint, in both long form and episodic content with existing and new partners.
Alison Kelly — Director of Photography
Alison Kelly was born and raised in Cleveland, Ohio. She studied cinematography at the American Film Institute in Los Angeles. Since then she has shot over forty-eight feature films, single camera TV shows, pilot-to-series and countless short films, including A Happening of Monumental Proportions, Traces, Shady Neighbors, The Squad, Split, Finding Carter and Blue. Many of her films were shot on location around the globe and have premiered at the most prestigious festivals and major television networks.
Contact
For inquiries, please contact fiscalsponsorship@filmindependent.org.