God & Salsa

A time to mourn, and a time to dance...
Project type: Narrative Feature
Project status: Development
Writer/Director/Producer: Jess Thomas
Writer/Producer: Anayancy Thomas
Choreographers/Performers: Enio Cordoba and Terryl Jones
Composer/Band Leader: Carlos Navarro
Director of Photography: Pedro Avila

Email: godandsalsa@gmail.com
Facebook: facebook.com/Godandsalsathefilm
Twitter: @godandsalsa

Help independent filmmakers tell their stories.
Make a donation to God & Salsa today.
Film Independent's Fiscal Sponsorship program opens the door to nonprofit funding for independent filmmakers and media artists. Donate today and help bring God & Salsa to life.
Logline
A grief-stricken therapist determined to help a suicidal teen regains her faith in the process with the help of her Salsa instructor and pastor.
Synopsis
"God & Salsa" is the embodiment of Ecclesiastes 3:4, "There is… a time to mourn and a time to dance."
Raquel is a divorced single mother in her 40s, reeling from the loss of her daughter to suicide. Shane is a disgruntled teenager whose parents are in the midst of a nasty divorce. Both are seeking answers, both angry, both hurting; yet, completely different people in different phases of life. In a beautiful, emotional collision, their stories become one. Shane and Raquel are about to change each other's lives, with a little bit of help from a father who won't give up, a sage yet flamboyant dance instructor, a wise elder nun, and a sermon.
These two polar opposite people each have what the other needs. Shane receives someone who listens, someone who sees his struggle. Raquel receives a second chance, an opportunity for closure. How often in life do you meet someone who understands exactly what you're going through because they've lived it?
God & Salsa offers a dramatic, entertaining film with heartbreaking characters that delivers on its Ecclesiastes 3:4 promise.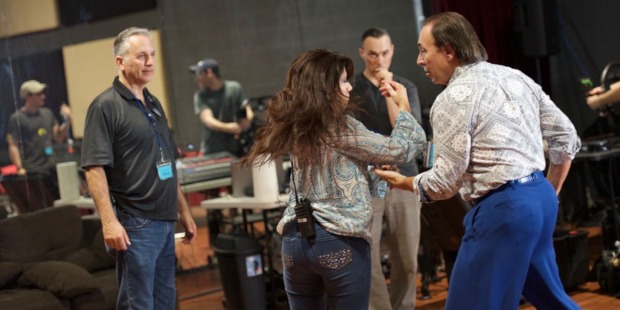 Meet the Filmmakers
Jess Thomas — Writer/Director/Producer
Jess studied theater/film at San Francisco State University. In 2000 he wrote, directed and edited a micro-budget digital feature B-Action-Movie entitled Checking the Gate which was picked up for distribution by Echelon Entertainment. Since then, Jess decided to focus on more up-lifting, inspired films such as The Seeker (2004) a human-interest story, which was his first feature length documentary. It won Best American Documentary at the Rome International Film Festival. It was picked up by Passion River Films and is available at Netflix, Amazon, and more. In 2007 he co-wrote, directed and edited the short film Forever, which premiered at Dances With Films Film Festival. That same year, His second feature documentary Beijing Girl: Made In China was an Official Selection of the Santa Fe Film Festival and was picked up for distribution. Jed (2010) is his third documentary about Opera singer Jess Thomas senior. In 2013 Jess was a Production Manager on the USC Peter Stark funded film The Sweetest Part. His (2017) short Love Always was nominated for five awards at 168 Film Festival, nominated Most Inspirational at Christian International Film Fest, and was an Official Selection at others.
Anayancy Thomas — Writer/Producer
Anayancy went to Watterson College, a vocational school in Pasadena, California. She has worked in the health care field since 2001 at various Los Angeles-based organizations and currently works as a contract administrator. In 2007 she was certified as a domestic violence support group facilitator working with battered women. In 2010 She was trained as family-to-family support group facilitator for NAMI. In 2011, Anayancy joined a mission trip to Mexico with Bel Air Presbyterian Church where she helped build a home for a family in need and served as a translator. Under the instruction of Enio Cordova and Terryl Jones, she participated in dance showcases and joined a salsa dance team coached by Enio and Terryl, the team won first place at the Aloha Ball in Kona, Hawaii. In 2017 Jess and Anayancy's short film Love Always was nominated for five awards at 168 Film Fest, was nominated for Most Inspirational Short at the 2018 International Christian Film Festival. She is currently developing the Feature film God & Salsa with her husband and producing partner Jess Thomas.
Enio Cordoba and Terryl Jones — Choreographers/Performers
Enio is a world-renowned competitive dancer who has won the US Championship, and has also placed in numerous worldwide competitions. Enio trained ice skaters at the Olympic Training Center in Colorado Springs where he choreographed nine couples over the next 18 years. At that time World and Olympian legend Dick Button called Enio the hottest choreographer in skating today on ESPN. He worked on the movie Dance With Me — trained the actors and assisted with choreography and has performed in over 26 countries with partner Terryl Jones. Enio has judged The World Salsa Championships for ESPN and LA Salsa Congress and opened salsa club The Granada, Winning Pasadena Best Salsa Club and 3rd place in MyFoxLA's Best of LA nightclubs, the only Salsa club to place. The Granada won Pasadena Weekly Best Salsa club awards, Best Place to Dance and Best Live Venue as well as 3rd place in MyFoxLA's Best of LA nightclubs, being the only Salsa club to place. Currently he and Terryl continue to instruct and still perform from time to time.
Carlos Navarro — Composer/Band Leader
"Son y Clave" Orchestra, founded by singer/percussionist/producer Carlos Navarro has been part of the Salsa-Latin-Mambo dance genre in the United States for many years. This band is well known for being dancer friendly from beginners to professionals with their tight, contagious rhythm and impeccable elegant presence. One of Hollywood's best, this band has participated in many media events including, dance competitions, festivals, concerts, etc. They we also featured in the film Almost A Woman which won two Imagen awards and one Peabody award. Carlos Navarro will compose original music for the feature film God & Salsa and they with perform in the film.
Pedro Avila – Director of Photography
A Durango native, Pedro Avila launched his career in Mexico City prior to arriving to Los Angeles where he currently resides. He is a 14-year veteran with experience shooting both film and digital. He acquired his lighting skills and learned how to work fast while shooting episodic television for multiple award-winning directors and networks such as NBC/Telemundo, Univision, TV Azteca, Gourmet Channel, and Televisa. Pedro has DP'ed on recently theatrically released feature film Shine (2018), Jack County Demons (2015), and Zulu Six (2015). Pedro has had two nominations for best cinematography for the short film Songbird (2018). Pedro is a member of the International Cinematographers Guild (IATSE Local 600) and the Mexican Society of Cinematographers (AMC).
Contact
For inquiries, please contact fiscalsponsorship@filmindependent.org.