Good Times at Mike Kelso's
Comically highlighting the medical disparities women face, one dance floor at a time!
Film Independent's Fiscal Sponsorship program opens the door to nonprofit funding for independent filmmakers and media artists. Donate today and help bring Good Times at Mike Kelso's to life.
Logline
A club-dancing enthusiast grabs life by the ovaries when her disinterested gynecologist delivers news about a threatening diagnosis. Inspired by the filmmaker's true-life experience of being misdiagnosed with cancer and losing a uterus… ouch!
Synopsis
Good Times at Mike Kelso's follows the adventures of CARLY, (late 20s, confident, clever, and sassy) – an emerging fashion designer living in Soho (New York City) and faithful clubgoer who never misses an opportunity to take centerstage on the dance floor at the local hotspot, Good Times at Mike Kelso's Night Club in Chelsea!
Never more than a text message away, is Carly's BFF, MEGAN,(late 20s, Cajun-Asian fusion chef, queen of comedic, snappy comebacks), who is devoted, caring and protective of Carly. Together, they exude "Wonder Twin" power energy and never fail to have a good time and sprinkle that same joy all around wherever they go.
After being diagnosed with uterine cancer, Carly's entire world is turned upside down. Between chemo, radiation treatments and a pending hysterectomy, she slowly loses sight of who she is, along with the loss of her hair.
When Carly realizes her hair is falling out it is far too much and she retreats to the sanctity of her home, falling into a deep sleep. In her dreams, she has a paradigmatic moment when she is visited by her mother who helps her confront her fears to face her future. This dream sequence takes place underwater and represents a rebirth and baptism of a new life for Carly.
Through laughter, tears and a host of love and support from her friends Carly reclaims her power!
Good Times at Mike Kelso's is a drama-infused comedy highlighting real-life issues that women face when dealing with reproductive health issues. The club is Carly's church and when she is there, she feels invincible.
Make a donation to Good Times at Mike Kelso's.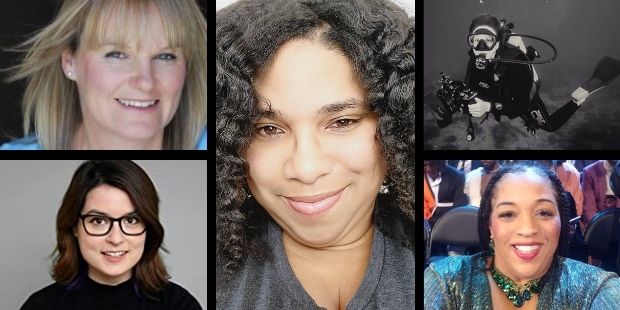 Meet the Filmmakers
V.C. Rhone – Writer/Director/Producer
President Barack Obama describes her as "a woman of great strength and character" in a letter of commendation. V.C. Rhone's life experiences permeate her filmmaking, and she often creates stories that shine a light on women, cultural awareness, and social justice.
As a New York University alum, she studied under professor and Academy Award-Winner, Carol Dysinger (Learning to Skateboard in a Warzone if You're a Girl). She is a member of The Writers Mob LA and was a finalist in The Quarantine Monologues produced by Leah Daniels Butler (Coming 2 America, The United States vs. Billie Holiday). Her award-winning documentary, Pie a la Mode serves up a slice of history revealing the confederate origins of a small town and the Black pioneers who homesteaded there. Her comedic script, "Pastor Chris" was a finalist for the CEG Half-Hour Television Comedy Screenwriting Workshop, granting her an opportunity to train with Primetime Emmy Nominee, Jim O'Doherty (3rd Rock from the Sun, Kickin' It, The Tracy Morgan Show).
Because of her passion for helping other creatives, she founded and directs the Huntington Beach Cultural Cinema Showcase, which has been featured in the Los Angeles Times and the OC Register, and highlights films from underrepresented groups.
Kate Rees Davies – Producer
Kate is an award-winning director-producer with experience in narrative features, short films, music videos and commercials. Her feature film Altered Perception, starring Jon Huertas (Castle, This is Us), is currently streaming on Amazon and was a DGA Newcomers Award nominee.
Several of her films screened at the Cannes Short Film Corner and a few were picked up for distribution. She was previously the shadowing director on Amazon's Transparent where she was mentored by Jill Soloway.
Kate is the founder of New Hollywood Collective – an inclusion initiative that gives BIPOC members the tools to develop, finance, and produce short films.
Pamela M. Staton – Producer
Having worked at both The Walt Disney Company and Warner Bros. Studios, she is able to bring experience, knowledge, relationships and hands on know-how to the field of Casting and Producing. She has a keen sense for comedy as well, and was part of the team that launched BET's classic Comic View for cable television. Pamela has cast over 100 films and assisted with the marketing campaign for the Matrix Trilogy and the Harry Potter franchise. Her most recent projects, The Fifth of July starring Jaleel White, and Reality Queen! with Denise Richards, are currently available on multiple streaming platforms.
Jenny Baumert – Director of Photography
Jenny Baumert is a cinematic visionary who specializes in underwater photography and cinematography. She recently worked with Grammy Award-winning pop-punk sensation, Avril Lavigne, and was a part of the creative team for Grammy, MTV, and Billboard Award-winner, Harry Styles' ethereal, underwater music video, "Falling." Recently, she was featured in the groundbreaking, premiere magazine for underwater photography and cinematography, Waterproof.
Edith Mudge – Composer
Edith earned Skidmore College's elusive Periclean Award for her work in composition. Edith has been a featured composer and contributed to the music departments of various projects including: Saturday Night Live, 90 Day Fiance, Catfish: The TV Show, Married at First Sight, Project Runway, and The Circus: Inside the Greatest Political Show on Earth. Most recently she worked on Disney's Marvel podcast, "Declassified" as a featured composer.
Make a donation to Good Times at Mike Kelso's.
Contact
For inquiries, please contact fiscalsponsorship@filmindependent.org.