Ivar Tunnel: Shook Ones

A thrilling ride through Hollywood's Ivar Tunnel where one Black Girl finds out... they SHOOK!
Project type: Narrative Short
Project status: Production
Writer/Director/Producer: Akilah "AK" Walker
Producers: Diana Gonzalez-Morett, Leon Pierce Jr.
Cinematographer: Michelle Clementine

Email: goodmotherfilms@gmail.com
Twitter: @akthewayy

Help independent filmmakers tell their stories.
Make a donation to Ivar Tunnel: Shook Ones today.
Film Independent's Fiscal Sponsorship program opens the door to nonprofit funding for independent filmmakers and media artists. Donate today and help bring Ivar Tunnel: Shook Ones to life.
Logline
A ping from a neighborhood watch app reveals what a young black woman had feared: She is not welcome here.
Synopsis
Ivar Tunnel: Shook Ones is a darkly comedic social thriller that glimpses into the psyche and isolation of a black woman. Our protagonist, Leigh Jones, has recently moved into a picturesque apartment building at the base of the Hollywood Hills, just beyond the Ivar Tunnel. Since moving to the area she's been bombarded with notifications from the NEIGHBORLIE APP about all the insidious happenings in Holly-hood. One post about an "unhoused" woman taking refuge underneath the Ivar Tunnel shakes something alive in Leigh that'd been lying dormant. Leigh takes counsel in her friend Nicole, who helps manage Leigh's intense curiosity for the unhoused woman and her deep resentment for how the people on the NEIGHBORLIE APP seem to rally around her. We discover that what's below the surface of Leigh's consciousness is a throbbing sense of inferiority that is exploded by the presence of the unhoused woman, along with the willful ignorance pouring from the people in closest proximity to her–her neighbors. After a night of conversation and drinks with Nicole, Leigh decides to confront the unhoused woman, which results in someone paying the ultimate price.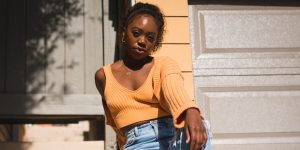 Meet the Filmmakers

Akilah "AK" Walker — Writer/Director/Producer
Akilah "AK" Walker is an actress, auteur, and creative producer fascinated by the performative, the magical, and the absurd–especially as it relates to people of the Black diaspora.
In 2020 AK co-founded the creative company Good Mother which specializes in producing visually stunning, innovative and community-conscious content for film, television, web, theatre and beyond. Good Mother is currently developing Freeda, a TV series based on a true experience of an American personal driver working for foreign Saudi royalty, in the secretive hills of Bel Air.
AK recently wrote and directed the short film Yoga Love which is currently in post-production AK also co-directed Broke Brie along with Khomari Flash, a television pilot following a young woman living in LA on a hilariously tight budget. Broke Brie premiered at the Women of African Descent Film Festival in April 2018.
Primarily an actress, AK was selected and performed in the highly selective 2020 ABC Discovers Talent Showcase. On film, she can be seen in Under The Lantern Lit Sky from Emmy-nominated director Jaclyn Bethany and Sorry To Bother You helmed by the legendary Boots Riley. AK holds an MFA in acting from American Conservatory Theater in San Francisco as well as a BA in Acting from Fordham University.
Originally from Atlanta, AK is now proud to call Los Angeles home.
www.akilahwalker.com
Twitter/IG: @akthewayy
Diana Gonzalez-Morett — Producer
Diana Gonzalez-Morett is an emerging creative producer and actress, con mucho amor. Diana finds creative strength in her fluidity as a multi-hyphenate and is passionate about supporting creative visions. She received her MFA in Acting from the American Conservatory Theater in SF, where she received awards for her innovation and work within the program, which included co-producing and co-directing several community based theater projects and a short-film. As an actress, Diana has worked on several short films, plays and commercials. Select Producer Projects: TORMENTA (Producer/Writer), #Hashtagtheshow (Associate Producer) a sketch comedy web-series about being a person of color in America . In 2020 Diana and creative partner Akilah AK Walker co-founded Good Mother Films, which Ivar Tunnel: Shook Ones will be their debut.
Leon Pierce Jr. – Producer
Leon Pierce Jr. is a Los Angeles native and a natural-born storyteller. Leon is a writer/filmmaker, who has written, produced, and directed several short films including the award-winning Without Her and Broke Lovers. Recently he wrote, produced, directed and executive produced his first feature film, Welcome Matt, a dramedy starring Tahj Mowry and Deon Cole, about an agoraphobic filmmaker, who tries to make a film in his apartment, while taking therapy, so he can venture back out into the real world. The film will be distributed by Gravitas Ventures and set for a nationwide release in 2021. Leon is currently developing his next feature, Horror Camp, a horror-comedy that he's set to produce and direct in the fall of 2021.
Michelle Clementine – Cinematographer
Michelle Clementine is a cinematographer with an eye for the sublime. Raw, deconstructed visuals to draw audiences in for layered storytelling, the Bronx native brings a unique perspective to any project. With 15 years experience working in camera for celebrated filmmakers like Spike Lee and Barry Jenkins, Michelle has weaved her way through film festivals with her short films and is a rising auteur in cinema.
Contact
For inquiries, please contact fiscalsponsorship@filmindependent.org.